CONSTRUCTION SPECIALTIES - WALL PROTECTION
Suppliers of: Acrovyn wall protection wall protectors wall guards impact protection wall corner protection wall corner protectors corner guards crash rails wall protection panels handrails bumper guards bed locators bed head protectors hygienic cladding acrylic sheet
Construction Specialties (UK) Ltd is the leading manufacturer of specialist building products for the healthcare, education, commercial, retail, leisure and industrial sectors. The company works closely with architects, interior designers, contractors and end users, offering comprehensive project support and in-house installation service.
CS product ranges include wall protection, impact resistant doors, entrance matting, performance coatings, expansion joint covers, cubicle curtain track, solar shading systems, natural ventilation louvres and explosion venting.
CS Acrovyn® Wall, Door & Corner Protection:
CS Acrovyn offers a stylish and effective protection to interior walls, doors, corners and other surfaces which are likely to suffer from impact damage.
The latest addition to the range is Acrovyn 4000, C/S' most environmentally friendly and 100% recyclable, PVC-free wall protection. Formulated to eliminate PVC, it is also free from Persistent Bioaccumulative Toxins (PBTs), Bisphenol A (BPA), as well as halogenated and brominated fire retardants. Acrovyn 4000 is available as an option for most profiles.
Our Range includes:
Approved Document M compliant handrails for use in public access areas
Available in Acrovyn, Acrovyn 4000, timber, solid bamboo and stainless steel
CS Acrovyn® Combined Hand/Crash Rails
Combined hand/crash rails offering pedestrian support and impact protection
Rapid Fix™ mounting brackets for ease and speed of installation
Anti-ligature options for use in Mental Health Units
Available in Acrovyn, Acrovyn 4000 and Acrovyn/timber combinations
CS Acrovyn® Crash Rails and Bumper Guards
Models ranging from light duty rub rails to severe duty crash rails
Choice of profile depths and stand-offs to suit project requirements
Available in Acrovyn, Acrovyn 4000, stainless steel and synthetic rubber
Designed to prevent damage to walls and wall mounted equipment at the bed head
Horizontal and vertical configurations and various stand-offs available to suit project needs
Available in Acrovyn or Acrovyn 4000
A range of heights and styles to suit project requirements
Surface mounted or flush mounted variants
Available in Acrovyn, Acrovyn 4000 clear acrylic, stainless steel and synthetic rubber
Durable sheet, suitable for protecting walls, doors and other interior surfaces from impact damage
Integral colour and impervious surface
Can be formed and easily cut to design shapes
Available in Acrovyn or Acrovyn 4000
Choice of colours, textures and finishes
Bespoke panels incorporating high resolution photography, graphics, artwork or branding
Used to protect interior walls and other surfaces
Durable and scratch resistant
Easy to clean and maintain
CS Acrovyn® Wall Protection Panels
High impact wall panels comprising Acrovyn Sheet laminated to a rigid board
Installation using construction adhesive, suitable for cutting on site
Impact resistant doors clad in Acrovyn Sheet for increased durability and reduced maintenance costs
Post-formed and fully encapsulated cladding options
30 or 60 minute resistance to fire and/or smoke, or non-fire rated options
BM TRADA Q-Mark certification for fire doors
Easy to clean and maintain finish
A wide range of configurations, colour and vision panel options
CS Acrovyn® Door and Frame Protection
Manufactured from 2mm Acrovyn Sheet to customer defined sizes
Door protection solutions include kick plates, push plates and full or partial height door face plates and channels
Frame protection built up from a series of channels and angles
Other Products Available from Construction Specialties:
CONSTRUCTION SPECIALTIES - ENTRANCE MATTING
CONSTRUCTION SPECIALTIES - EXPANSION JOINT COVERS
CONSTRUCTION SPECIALTIES - EXPLOSION VENTING
CONSTRUCTION SPECIALTIES - LOUVRES
CONSTRUCTION SPECIALTIES - SOLAR SHADING
CONSTRUCTION SPECIALTIES - WALLGLAZE
ACROVYN
Door, Wall & Corner Protection
ACROVYN 4000
Wall Protection System
ACROVYN BY DESIGN
Bespoke Wall Protection
ACROVYN HYDROCLAD
Wall Surface Protection Sheets
ACROVYN IMAGINE
Wall Protection with Embedded Graphics
RAPID FIX
Installation System
Construction Specialties (CS) have launched a new palette of colours and finishes
September 2021
C/S Acrovyn Showcase is an easy-to-use app
September 2021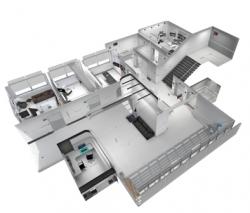 Acrovyn Showcase is an easy-to-use app for creating a variety of wall protection concepts, comparing products and testing their effectiveness.

Acrovyn Showcase was designed to help you find the best protection for your hospital projects and make sure it looks good too.

Easily create your ideal wall protection scheme by choosing the wall protection products you think are most suitable for the wear and tear of your premises. Style your surroundings with the attractive designs and extensive array of contemporary colours and textures in the Acrovyn range.

Contact us on Tel: +44 (0)1296 652800
List all press releases