HEWI - SANITARY AND ACCESSIBILITY SOLUTIONS
Suppliers of: washroom accessibility products stainless steel grab rails nylon washroom accessories stainless steel bathroom accessories chrome bathroom accessories accessibility wash basins shower curtains disabled shower seats soap dispensers
HEWI Sanitary and Accessibility Solutions
HEWI believe in creating aspirational spaces for everyone. By combining innovative engineering with contemporary & functional design HEWI have become world leaders in accessible bathroom & hardware supply. Working alongside architects and designers HEWI offer a full specification service which seamlessly combines the design aesthetic with the specific requirements and standards of a project's region. HEWI finishes include Chrome, Stainless Steel, Matt Black, Matt White & Anthracite Grey. Once combined with our unique functions HEWI become the first choice for any type of development. Our systems and solutions have been tried and tested in multiple markets including Hotels, Care & Retirement, Student Living as well as Local Authority Housing.
COVID-19 UPDATE. HEWI Active Plus+
In these unprecedented times we have all been looking to protect ourselves and our loved ones as much as we possibly can. A worldwide consensus has been to ensure that the surfaces we interact with are as free from contaminants as possible. We are all doing our part by ensuring we wash our hands regularly and touch foreign surfaces as little as possible.
For those of us however who find this impractical or have to interact with support products regularly, the risk of infection from germs and bacteria is obviously higher and so the need for a higher level of confidence of a surface's cleanliness is required.
HEWI Active Plus+ introduced to the market in 2015, is specifically designed with this in mind. Active Plus+ incorporates Microsilver into the product material. The Microsilver then discharges silver ions, which inhibit the growth of bacteria, germs, fungi and microbes. Over 24 hours, germs on the surface of the products are reduced continuously, so that during this period 99.9 % of the germs are reduced.
HEWI active+ does not harm the environment or the human body. The active ingredient is ECO CERT-certified and suitable for the use of skin care products.
CPD Seminars: Hewi UK offer a range of RIBA CPD Seminars to Architects and Specifiers. Please contact us for further information at: info@hewi.co.uk, or call us on 01634 258200
To find a Hewi Distributor in the UK please email us at info@hewi.co.uk
------------------------------------------------------------------------------------------------------------------------------------------------------------
Range 477: Glass and transparent plastic combined with high-quality plastic are optimally shown to their best advantage.
System 900: The new System 900 products have been designed to meet the requirements of Doc M and British Standards, including a beautifully stylish and totally compliant 650mm shower seat.
System 800: The various chrome or white holders and elements are optionally combined with inserts made of plastic or satin-finish glass. The result is a modern system for commercial and public buildings, which is used both in highly-frequented areas and in domestic bathrooms.
Range 801: The steel core sheathed in polyamide is the guarantee for a high degree of stability and safety of numerous Range 801 products.
Range 805: Range 805 made of brushed stainless steel is a contemporary and clear solution for public areas
LifeSystem: Developed for the professional hospital, rehabilitation and retirement home sector
Washbasins: New from HEWI – cast mineral washbasins matching all HEWI sanitary ranges and systems.
------------------------------------------------------------------------------------------------------------------------------------------------------------
System 100: An expressive, overall architectural concept. All sanitary accessories are available in chrome and white.
System 800: A modern project system with sanitary accessories and accessibility products, which offers a wide variety of uses and absolutely continuous form and - harmoniously rounded with a clear line.
System 162: This system has now been perfectly extended to include stainless steel sanitary accessories.
System S 01: A complete system with washstand, WC and urinal modules. The internal, fold-down functions do not become visible until just before they are needed.
Shower Curtains: Whether for the shower spray guard or as a curtain for the threshold-free shower: it protects, supports and sets decorative accentuations.
Washbasins: New from HEWI – cast mineral washbasins matching all HEWI sanitary ranges and systems.
------------------------------------------------------------------------------------------------------------------------------------------------------------
Further technical information is available to download from the Hewi Website or the BPi Download Library.
CIRCUM
Balustrades & Handrails
ELOCK
Electronic Locking Systems
ELOCK LEARNLOCK
Locking Systems
ENTRO
Door Signs & Handrails
GARD BASIC
Corner Protection
GARD CIRCUM
Corner Protection
GARD COLOUR
Corner Protection
GARD LIGNUM
Corner Protection
HEWI ACTIVE
Anti-Microbial Coated Sanitaryware
LIFESYSTEM 802
Accessibility Products
MATT EDITION
Bathroom Accessories
RANGE 801
Accessibility Products
RANGE 802
Accessibility Products
RANGE 802 LIFESYSTEM
Accessibility Products
RANGE 805
Accessories & Accessibility
RANGE 805 CLASSIC
Accessories and Accessibility
S 50
Bathroom Fittings for the Disabled
SENSORIC
Hand Sanitiser Dispensers
SENSORIC
Toilet Roll Dispensers
SENSORIC
Touch Free Soap Dispensers
SENSORIC
Touchless Hands-Free Bathroom/Washroom Fittings
SYSTEM 100
Accessories & Accessibility
SYSTEM 111
Accessibility Products
SYSTEM 800
Accessories & Accessibility
SYSTEM 800 K
Accessories & Accessibility
SYSTEM 815
Accessories & Accessibility
SYSTEM 900
Accessories & Accessibility
SYSTEM CIRCUM
Stainless Steel Handrails
SYSTEM FURNITURE M 40
Bathroom Furniture
SYSTEM S 01
Washroom Concept Solutions
SYSTEM S 50
Accessible Bathroom Products
WARM TOUCH
Accessories & Accessibility
ICONIC Awards 2023: Award for HEWI magnetic shower holder
October 2023
The new magnetic shower holder from HEWI improves showering comfort
February 2023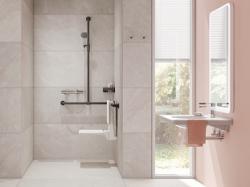 A new sense of comfort

User-friendly, safe, easy to clean: The new magnetic shower holder from HEWI improves showering comfort

Innovations are usually in the details and mean a significant improvement in the system or product range. Thus, the international expert for barrier-free sanitary solutions HEWI continuously develops products that increase ease of use, contribute more safety and make a difference in terms of hygiene and ease of cleaning. One such product is the new System 900 magnetic shower head holder from HEWI, which the company has already patented and which is used primarily in healthcare facilities (Professional Care) as well as in the hotel industry and in public sanitary rooms.

Well thought out down to the last detail and timeless in design

In stainless steel, chrome and powder-coated in white, black and grey, the new product follows the minimalist, high-quality and timeless design that characterises all range from HEWI and forms another building block in the diverse range of barrier-free solutions. In terms of handling, the new magnetic shower head holder has been significantly simplified and is, in the sense of universal design, an optimal product for everyone and especially for users with physical limitations. Characteristic features are easy, magnet-function-based height adjustment by sliding the shower head, intuitive one-handed operation, a fully rotatable cone bracket and the conscious lack of the buttons and knobs that usually feature on such products. Thus, the shower holder can be used without strain and even by those with motor limitations. Wet hands no longer matter, as the traditional clamping mechanism has been replaced by the novel magnetic principle, thus eliminating the need to exert pressure when adjusting the shower holder. As virtually no mechanical forces act on the product, wear is reduced to a minimum. Thus, the new magnetic shower holder is also an extremely hard-wearing and durably aesthetic product, tested for hand showers weighing up to one kilogram. HEWI also emphasises that incorrect operation can be ruled out and this new product can be used without hesitation by people with pacemakers.

Since the product has only a few joints, it is easy to clean and maintain – an important aspect especially in hygiene-sensitive healthcare facilities.

Products are developed according to the criteria of universal design

"We continuously develop new products according to the requirements of universal design. They should be intuitive to use and easy to handle," is HEWI's guiding principle, which Florian Haude consistently implements in product management.

For HEWI, designing in the spirit of universal design means enabling the most independent use possible. Rooms and objects should be adaptable to individual needs at any time, and the products used should, as far as possible, promote independence and thus self-determination. Products such as the new shower head holder help ensure that people with physical limitations can enjoy a high level of showering comfort with minimal physical effort.

Planning sanitary areas consistently down to the last detail

As with all new developments from HEWI, this innovation is also based on the system concept. In the first step, the shower head holder and all other products, such as the L-shaped support rail or shower handrails of the System 900 are realised with a diameter of 32 mm. This is followed by other diameters. The aim is to give planners in architectural and interior design projects the option of a consistent, functional and visually appealing design of sanitary areas down to the last detail.

List all press releases