RADMAT BUILDING PRODUCTS LTD
HOLLAND HOUSE
VALLEY WAY
ROCKINGHAM ROAD
MARKET HARBOROUGH
LEICESTERSHIRE LE16 7PS

Tel: 01858 410372
Fax: 01858 410572

Suppliers of: Flat Roof Waterproofing, Structural Waterproofing, Hot Melt Bitumen Membranes, Waterproofing, Green Roofs, Roof Gardens, Access Decking Podiums, Car Park Roofs.
Radmat Building Products.
Radmat Building Products is an independent British company marketing a range of waterproofing systems for wherever it is required to waterproof a structure or part of a structure.
Social Media: Twitter / Facebook / Linkedin
Radmat Building Products are suppliers of high performance waterproofing materials marketed via specification assistance to architects, consulting engineers and quantity surveyors. The company is committed to providing technical support to the specifier and construction team with the elements of service that give comfort and a satisfactory waterproofing solution to meet the parameters given. Our range of products include:
A Radmat Blue Roof system offers an effective means of providing a Sustainable Drainage solution (SuDS) in inner city and urban environments, attenuating rainfall at roof level to provide controlled drainage of rainwater from the site. Suitable for zero falls flat roofs, terraces and podiums a Blue Roof can be finished with paving, ballast or a green roof system: delivering amenity and rainwater source control without having to locate storage tanks underground.
MedO is a green roof solution that uses established green roofing technologies in a simple and straightforward way. A variety of green roof solutions can be created - from low maintenance sedum matting and wildflower meadows, to landscaped roof gardens with lawns, shrubs and water features.
PermaQuik 6100 Monolithic membrane roofing system is a one part, hot applied, seamless rubberised self-healing membrane made from bitumen, natural rubbers, and a blend of polymers, further reinforced with a high tensile polyester fabric. This mix combines excellent waterproofing performance with toughness, flexibility, and strong adhesion to a variety of substrates.
ParaFlex is a fast curing, cold applied polyester resin waterproofing system. It is 'wet on wet' between layers so it doesn't need to be left to cure between coats. This means a faster application to give a continuous monolithic waterproof material.
Esha is universal waterproofing and roofing membrane not only made from recycled end-of-life bitumen polyolefin products it is also 100% recyclable. A patented manufacturing method Esha is a shrink-free, fully adhered membrane that is more flexible and stronger than conventional membranes and has greater stability and durability.
EshaFlex membranes feature Groove Technology®, a patented underside finish that ensures the heat acts only where it is needed, reducing warming of the membrane and increasing melting of the PE foil.
Single Ply Membranes for use as mechanically fastened or adhered roof waterproofing on flat or pitched roofs. Suitable for refurbishment and new build applications.
Radmat Protherm Quantum - The world's thinnest inverted insulation system
A global leader in the manufacture of high-performance materials, Kingspan Insulation has worked exclusively with Radmat to develop Quantum as the system choice for any inverted roof, terrace or balcony.
ProTherm Rockface A2 – Non-Combustible Upstand Insulation Board
A Non-Combustible Upstand Insulation Board used to thermally insulate and protect upstand walls in inverted flat roof systems. Classified Euroclass A2-s1,d0 to BS EN13501-1:2108 by WarringtonFire under classification report no. 19808F dated 10 10 2019. Building Regulation Approved Document B volume 1 – dwellings and volume 2 - non-dwellings compliant solution for buildings over 18m high in England. Technical Handbook – domestic Annex 2.C and Technical Handbook – non-domestic Annex 2.F compliant solution for buildings over 11m high in Scotland.
ALUBASE XL
Roofing Membranes
ESHA FLEX
Roofing Membranes
ESHA GUM
Self-Adhesive Roofing Membranes
ESHA RBM
Roofing Membranes
ESHA UNIVERSAL
Roofing Membranes
ESHABASE ALU
Vapour Barriers
ESHABOND
Membrane Adhesives
ESHAFLEX
Reinforced Bitumen Membranes
ESHAFLEX FIRESAFE
Roofing Membranes
ESHAFLEX PROTRIM
Roof Trims
ESHAFLEX TOTAL
Bituminous Waterproofing Membranes
ESHAGREEN SBS
Bituminous Waterproofing Membranes
ESHAGUM
Reinforced Bitumen Membranes
ESHAPLAN
Roofing Membranes
ESHAPLAN B
Single Ply Roofing Membranes
ESHAPLAN FB
Single Ply Roofing Membranes
ESHASTICK
Membrane Adhesives
ESHASTIK
Adhesive for Insulation Materials
ESHATHERM
Vapour Pressure Layer Membranes
ESHATHERM BLACK MINERAL
Roofing Membranes
ESHAUNIVERSAL
Roofing Membranes
ESHAVENT
Vapour Pressure Layer Membranes
PARAFLEX
Liquid Membrane System
PERMAQUIK
Traffic Bearing Waterproofing
PERMAQUIK 6100
Liquid Membrane System
PERMAQUIK PQ 2016
Fabric Reinforcement
PERMAQUIK PQ 2060
Reinforcement Sheet
PERMAQUIK PQ 2063
Reinforcement Sheet
PERMAQUIK PQ 2178
Glass Ply Reinforcement
PERMAQUIK PQ 6100
Bitumen Waterproofing
PERMAQUIK PQ 6145
Bitumen
PERMAQUIK PQ 6170
Bitumen
PERMAQUIK PQ ECTOFLEX 4020
Concrete Waterproofing
PIPEPOCKETS
Pipe Penetration Seals
PROFAST
Roof Membrane Fastening System
PROFLOW
Rainwater Outlets
PROSAFE
Roof Safety Systems
PROSCAN
Thermographic Roof Surveys
PROTHERM CELGLAS
Warm Roof Insulation Boards
PROTHERM G XENERGY MinK
Geotextiles
PROTHERM G XENERGY SL-EP
Inverted Roof Insulation Boards
PROTHERM G XENERGY ULTRA
Inverted Roof Insulation Boards
PROTHERM QUANTUM
Roof Insulation
PROTHERM QUANTUM HYBRID
Inverted Roof Insulation Systems
PROTHERM QUANTUM PLUS
Inverted Roof Insulation Systems
PROTHERM QUANTUM PURE
Inverted Roof Insulation Systems
PROTHERM ROCKFACE A2
Non-Combustible Upstand Insulation Boards
RADMAT MIN-K
Vapour Permeable Membranes
RADMAT PROCLAD
Insulation Boards
READYSEAL
Liquid Applied Cold Resin Membrane
READYSEAL ONE
Liquid Waterproofing Membranes
SEDUMPLUS
Green Roof Vegetation Mats
Radmat EshaFlex BBA Updated
January 2021
Supporting the Greenprint, a vision for a fairer, more sustainable UK
January 2021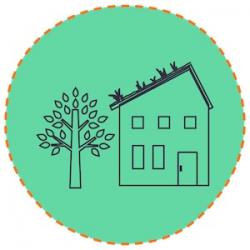 Mark Harris, Head of Technical at Radmat Building Products and Chair of the Green Roof Organisation outlines the companies' support for Hubbub's Greenprint and the drive to ensure no roof is unused.

Radmat Building Products have joined forces with The Green Roof Organisation (GRO) and National Federation of Roofing Contractors (NFRC) in support of Hubbub's Greenprint, a 10-point policy plan that is asking the Government to support 5 key themes which, if adopted, would contribute to a green recovery and reduce inequality in communities across the country.

Radmat will be joining GRO in the specific support of the Changing the way we use space theme, and specifically the policy of Ensure no roof is unused. This policy aims to drive the use of green roofs, using neglected roof spaces by covering them with plants and vegetation, which bring a number of excellent benefits for both the home and environment. Government backed small grants to help businesses and households green their roofs with plants and mosses and wherever possible combine with solar panels would help transform urban centres, by increasing their biodiversity and building resilience to climate change.

To highlight this policy, and launch the 2021 Green Roof Code of Practice, GRO and Hubbub are looking for a location in Manchester where green roofs can be installed to highlight the benefits to the local community, businesses and Government. The project could include accessible green roofs, a roof level market garden, a biodiverse wildflower meadow for butterflies, bees and insects and possibly a convalescence garden.

The project will also aim to engage and empower the local community to take ownership of their green roofs through local partnerships and multiple volunteering opportunities for Manchester residents. This will help build and sustain capacity in the sector and local area, support job creation and retention, as well as develop skills in the green roof sector, including teaching installation and maintenance. Local schools and universities will be encouraged to use the green roof spaces as part of primary, secondary and tertiary education in a variety of subjects including geography, art, mathematics, environmental studies etc.

Hubbub is an award-winning charity and social enterprise that inspires ways of living that are good for the environment – disrupting the status quo to raise awareness, nudge behaviours and shape systems. Their aim is to revolutionise communications with the public about environmental issues – using everyday language and good design to make environmental actions desirable and tapping into things people are passionate about such as food, fashion, homes and neighbourhoods. This innovative approach saw Hubbub win the Charity of the Year Award at the prestigious Charity Times Awards in 2020.

Hubbub's Greenprint is seeking to change the way we:

Live, by creating greener homes and connecting our communities.
Eat, by creating 'Community Food Hubs' and introducing mandatory reporting on food waste by major food companies.
Travel, by creating 'Community Cycling Hubs' and helping consumers make the switch to electric vehicles.
Use Space, by ensuring no roof is unused and creating on-the-go recycling in green spaces.
Dress and shop, by supporting textile innovators and introducing a single-use clothes levy.

List all press releases