POWER ACCESS SYSTEMS LTD
Suppliers of: roof protection system, suspended cradles, maintenance cradles, powered cradles, roof gantries, travelling ladders, fall arrest systems, fall restraint systems, mansafe safety wires, roof safety systems, roof edge protection, access systems,
Power Access Systems Ltd specializes in the design and manufacture of high quality, custom designed suspended cradle systems (BMUs), traveliing ladders & Gantries, Safety wire systems and Cladding & Glazing installation & maintenance solutions to meet access problems on the most prestigious buildings.
Through our associations with PL-Access (Switzerland), Kaeufer (Germany), NorAcon (Norway) and Roodsafe (UK) we can offer efficient, high quality permanent solutions to most access and safety problems.
Systems can range from:
Fixed safety harness anchors
'Mansafe' safety wire systems
Kaeufer travelling ladders and gantries
NorAcon monorail systems
Sophisticated fully power operated suspended access equipment
All in accordance with the requirements of the latest British and European Standards.
Suspended Cradles (BMU's)
We have supplied the slimmest of cradle units for operation in restricted passages to machines with a reach in excess of twenty metres as well as installation systems and other systems for special applications.
All suspended access systems comply with or exceed the requirements of BS EN 1808 Safety Requirements for Suspended Access Equipment and the recommendations of BS6037-1: and BS6037-2:; Codes of Practice for Permanently Installed Suspended Access Equipment.
Although we supply access equipment incorporating 'state-of-the-art' technology the result is a system that is a long-term asset to the building it serves both from a visual standpoint and in its operating efficiency.
Travelling Ladders & Gantries
We have supplied custom-designed travelling ladders and gantries in many shapes and sizes with spans in excess of 20 metres.
Special features such as an integrated suspended cradle system to provide access to facades below a gantry, a raised platform to reach areas above a gantry and facilities for glazing replacement can be incorporated. All units comply with the latest British and International Standards including: EN 1808:2015 – Safety Requirements on Suspended Access Equipment BS 6037-2:2004 – Code of Practice for Permanently Installed Travelling Ladders and Gantries.
Cladding & Glazing Installation
We have supplied bespoke, rugged systems for the installation of cladding and glazing on new and refurbished buildings. Cladding panels weighing up to 1500kg have been catered for.
Two types of installation systems are possible, one based on temporary or permanent monorails and the other based on floor cranes. In both cases remote operation ensures safe and efficient operation to meet tight construction deadlines.
Roof Safety Protection systems
Power Access Systems has been an installer of cable based fall-arrest systems since 1988.
We also install bespoke walkways, fixed ladders and other means of improving access for maintenance.
Systems comprise horizontal and vertical 'Mansafe' safety wires as well as fixed 'Pushlock' safety harness anchors, 'Hadrian' safety rails, window cleaner's eyebolts and deadweight anchors.
Power Access Systems has been trading continuously in the UK for more than thirty years and have successfully completed many contracts. A selection of our completed projects can be seen on our website at www.poweraccess.co.uk.
Following installation we offer a full after-sales programme of maintenance and testing in accordance with the latest British and European Standards.
As well as manufacturing, installing and servicing access and safety systems we participate fully in the British and European committees responsible for the drafting of new and revised standards that affect our industry.
ARIANA
Safety Wire Systems
EVOLUTION
Safety Wire Systems
KAEUFER
Travelling Cradle
MANSAFE
Safety Wire Systems
NORACON
Roof Access Systems
PK CRADLES
Travelling Cradle
PL ACCESS
Roof Access Systems
Power Access Systems Goes Back To University
September 2017
IBM CHOSE POWER ACCESS SYSTEMS TO KEEP A CLEAN FACE
September 2017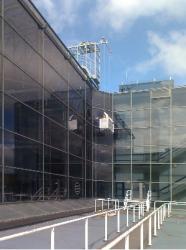 After several years of neglect IBM needed a new access system to clean and maintain their prestigious offices in Portsmouth and they turned to Power Access Systems for a bespoke solution. IBM had a problem. With a very large area of glazing to keep clean and no permanent access system installed over the glazed walkways Power Access Systems, working directly for IBM, was able to install a pair of travelling gantries and cradles specially designed for the task.

The travelling gantries provide safe and efficient access to the curved glazing over the walkway that connects the four satellite office buildings, while the suspended cradles provide access to the vertical glazing thus enabling IBM's cleaning contractor to maintain the building to the high standards expected by a leading multi-national company.

This is one of many bespoke access systems that Power Access Systems has installed since 1983.

List all press releases