SAFETELL LTD
Suppliers of: Reception Desk Windows communication windows cash desk windows security counters security windows bullet proof screens
We provide physical security products and services to protect sites against criminal and terror attacks. Our products have been tried and tested for over 30 years and are designed to provide full comprehensive levels of protection for employees and company assets, protecting against attacks, intrusions and theft.
We adopt a consultative approach to clients, using a combination of standard and bespoke physical security products to provide organisations of all size with total peace of mind.
Our network of nationwide engineers can provide service and maintenance on ours and third-party products, avoiding costly and unplanned expenditure, keeping you fully operational at all times.
BIM and In-House design capabilities:
Safetell can provide a free design service to specifiers including BIM and CAD files. Please contact us for further information.
CPNI Accredtation:
Our products comply to the most rigourous standards including CPNI accreditation.
Safetell product ranges include:
Protect staff and encourage social distancing by introducing safety precautions to workplaces and public facing environments.
Desk Guard Screens
Hygiene shields/screens
Counter & Reception shields/screen
Swing Gates
Cash Drawers / Hatches
Timber, steel and glazed security doors are available at a range of security levels.
Glazed Security Doors
Stalwart Steel Doors
Timber Security Doors
Protect staff with moving screens, fixed glazing and transfer windows at a range of security levels.
Moving Screens/Counters
Pay Windows
Fixed Glazing & Screens
Security walling and glazed partitioning for a range of applications and security specifications.
Panic Rooms / Safe Rooms
Guard Houses
ATM Pods
Security Glazed Partitions
Secondary Security Glazing
A range of Building & Site entrance security solutions to mitigate risk of tailgating, unauthorised access and entry with weapons.
Speed Gates
Full Height Turnstiles
Swing Gates
Security Passdoors
Tripod Turnstiles
Access Control Systems
Revolving Doors
Security Portals
Transfer of cash, bulk items and valuables from a secure area to a non-secure area without compromising the safety of staff or assets.
Speech Transfer Systems
Extending Transaction Drawers
Pay Stations
Cash Scoops
Nightpay Drawers/Hatches
Vision Panels
Meridien Transfer Units
Hopper Transfer Units
We provide a range of solutions for cash protection, cash recycling and cash in transit.
Cashier Pedestal
Smoke & Dye Protection
Cash Tray Inserts
Cash Drawers
Further technical information in available on the Safetell website or through the BPi download Library.
BIDISAFE
Cash Management Systems
CASH SCOOPS
Cash Transfer Trays
CASHFAST
Night Pay Hatches
CIRCLE PORTALS
Security Portals
CITYWALL
Security Walling Systems
COUNTERSHIELD
Security Screens Physical Attack Resistant
COUNTERSHIELD
Communications/Security Windows
DESK GUARD
Infection Control Screens
eSMOKENOTE
Smoke and Dye Cash Protection
EYE2EYE
Security Screens BS8300/DDA Compliant
FLEXIGLAZE
Security Glazing Systems
HYGIENE SHIELD
Infection Control Screens
MERIDIAN
Cash Transfer Units
MERIDIAN COMPOSITE
Cash Transfer Units
MERIDIAN MODULE
Secure External Cash Transfer Window
NIGHTPAY
Night Pay Hatches
ROLLERCASH
Cash Management System
SQUARE PORTALS
Security Portals
STALWART DOORS
Fire Exit Doors
TRIO
Cash Handling Machines
VERTISLIDE
Parcel Transaction Hatches
Safetell - School's out for CCTV
July 2020
Safetell - Secure Interaction for a European Embassy
July 2020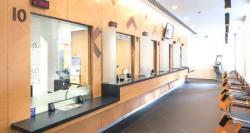 Secure Interaction for a European Embassy
Physical Security products installation at a London Embassy

Challenge
Provide greater protection for staff in a Central London Embassy.

Solution

Refurbish and upgrade physical security system with a higher level of protection, offering bullet resistant counterwork and glazing.

"The provision of these types of services necessitates face to face interaction between embassy staff and members of the public. This presents an ever-present security risk to staff; and of course, it's also important that embassy visitors feel secure and confident while in the building."

Managing Director, Safetell
List all press releases