SAFETELL LTD
Suppliers of: Reception Desk Windows communication windows cash desk windows security counters security windows bullet proof screens
Safetell is the UK's leading designer, manufacturer, installer and maintenance provider of fixed and reactive security screens, reception counters, cash management systems, security doors and associated security equipment.
BIM and In-House design capabilities:
Safetell can provide a free design service to specifiers including BIM and CAD files. Please contact us for further information.
CPNI Accredtation:
Our products comply to the most rigourous standards including CPNI accreditation.
Bespoke Products:
Safetell can manufacture a wide range of purpose made products and components to suit your exact needs. Please contact us for further information.
Safetell product ranges include:
Safetell supply a range of Bullet Resistant products for large and small businesses at risk from attack with firearms. These include:
Fast rising Screens
Bullet Resistant Windows
Bullet Resistant Doors
Safetell supplies security glazing and security doors for use in secure line systems, such as cashier windows, reception windows, and bank counter lines. These include:
All types of Attack resistant Security Screens
All types of attack resistant Security Glazing
All Types of attack resistant Security Doors
Safetell can also supply, Countertops, Cash Scoops, Speech Transfer Systems, cashier pedestals, time delay cashier safes, access control, CCTV and other security products.
SECURABLINDS Manual Attack and Blast Resistant Blinds provide enhanced protection against explosion and forced entry.
SECURABLINDS are able to be retrofitted without disturbing existing exterior glazing
Closure of SECURABLINDS are caused by the blast wave and require no mechanism for closure
Looks and acts as a typical blind in an office environment
SECURABLINDS can be applied to just the windows in areas at risk, providing a cost effective solution
Safetell supply a range of cash handling safes devices to improve branch security and cashier efficiency. Benefits include:
Minimization of till cash holding.
Cashiers are not required to leave counter position to top up or reduce till cash holding.
Nationwide installation service.
Project management services for 'no hassle' installation.
Product profiles for incorporation into architectural layouts.
Safetell supply a range of secure line Accessories including, cash scoops, cash trays, cash cans, nightpay hatches, tills, cash drawers, speech transfer, counterworks, slip bins, quick deposit units, time delay pedestals and bullion trolleys.
Safetell repairs, maintains, and installs cctv nationwide to meet the exacting requirements of clients throughout the UK. Benefits include:
Supporting your operations.
Our own helpdesk and technicians for high quality service.
SAFEContractor & CHAS accredited.
BS7858 security screened staff.
UKPIA (Petrol Industry) accredited technicians.
Safetell install & repairs key locks, digital locks, mechanical and electronic locks, fire exit locks, electric strikes, and magnetic locks. Safetell also repair and install access control systems of varying type and complexity, including scramble pads, card readers, fob readers, and more.
Service Repair & Maintenance:
We provide complete maintenance and repair call out services for all Safetell products, attack resistant security screens, cash management safes and for many third party manufactured products. These include:
24hr Locksmiths / Lock Repair / Access Control
CCTV Repair / CCTV Services
Nightpay Repair
Cash Drawers / Till Repair
Further technical information in available on the Safetell website or through the BPi download Library.
ACCESS4ALL
Modular Counter System
BIDISAFE
Cash Management Systems
BIDISAFE DUO
Cash Handling Devices
BIDISAFE MAGNUM
Cash Handling Devices
BIDISAFE MAGNUM PLUS
Cash Handling Devices
CASHFAST
Cash Handling Machines
CITYWALL 100
Ballistic Walling
CITYWALL PLUS
Secure Walling Systems
CLEARCOMM
Speech Transfer Systems
COUNTERLINE
Ballistic Doors
COUNTERSHIELD
Security Screens Physical Attack Resistant
ECLIPSE
Security Screens Ballistic Resistant
EYE2EYE
Security Screens BS8300/DDA Compliant
FLEXIGLAZE
Security Glazing Systems
ROLLERCASH
Cash Management System
SAFECELL
Interlocking Door Modules
SAFESERVE
Merchandise Payment Transfer System
SECUR DOR
Blast Resistant Armoured Doors
SECURABLINDS
Security Blind Systems
SENTINEL DOORS
Steel Fire Doors
STAFFSAFE
Audio Monitoring Systems
STALWART DOORS
Fire Exit Doors
STRONGHOLD DOORS
Steel Security Doors
SUREFIRE
Security Screen Control Systems
TRIO
Cash Handling Machines
Safetell Blast and Manual Attack Resistant Blinds
March 2019
Safetell - Swiss Precision
September 2018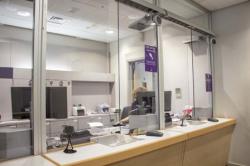 A nationwide Bank situated in the North London Borough of Camden was looking to refresh their Swiss Cottage branch's service counter and screens to compliment a new branch renovation program while still maintaining the same high level of protection and ability to provide cash and asset transfer.

With banks struggling to justify the cost of a physical presence on the high street, it has become a delicate balance to provide reliable, cost-effective security solutions without imposing on the customer's experience. It's also necessary to minimize downtime as much as possible, allowing the 10,000+ residents of Swiss Cottage to carry out their financial transactions without interruption.

In the summer of 2018, Safetell assembled an installation team to provide a complete counter and screen upgrade. The team carried out the North London branch's installation out-of-hours to minimise disruption, installing a comprehensive retrofit counter solution through counter over-cladding wherein a new counter surface replaces the existing surface. In addition to fitting new glazing and vertical transaction gap that seamlessly blends into the newly modernised branch.

Mike Libman, Project Manager at Safetell, noted "Our experience working with this London Bank has been terrific, and our team have been able to provide great-looking counterwork solutions at a fraction of the cost through our unique retrofit capabilities. We have also been asked to provide a similar uniform security solution to a number of their branches."

Safetell is a proud designer and installer of a wide variety of counter, screen and security solutions for high street banks and businesses.
List all press releases