HOWE GREEN ACCESS COVERS
Suppliers of: Access Covers, wall access covers, floor access covers, access hatches, wall access hatches, floor access panels, wall access panels, floor covers, ceiling access panels, ceiling access hatches, gypsum access covers.
Since 1983, Howe Green has been a market leader in the manufacture of purpose-made high performance floor access covers, access hatches and edge trims. With a manufacturing facility in Ware, Hertfordshire, Howe Green supply products across the UK and export across the world.
Howe Green's floor access covers provide safe, easy access to building services concealed under flooring.
Useful Resources:
BIM Models: Click Here
NBS Specifications: Click Here
CAD Drawings: Click Here
Installation Videos: Click Here
Find out more about the RIBA Accredited CPD: Safe Access All Areas: Floor Access - Call Sue on 01920 463230
View the Bilco UK entry on BPi: Click here
View the Profab Access entry on BPi: Click here
Howe Green Access Covers supply the following systems:
Howe Green floor access covers and hatches provide safe and easy access to building services concealed under flooring.
Our range of floor access covers includes products suitable for all types of hard flooring finishes. Products are suitable for interior and exterior use and any type of application including, domestic, commercial, retail, healthcare, education and industrial projects.
Products include:
Small Access Covers and Duct Access Covers
Light, medium and heavy Duty Access Covers
Access Covers for wood floors
Access Covers for flexible floors
Hinged Access Covers
Tread Plate Access covers
Wall Access Panels & Wall Access Covers
The Howe Green range of wall access panels are designed for use in tiled or plastered walls to provide access to concealed services. Products to suit regular or infrequent access - standard or bespoke sizes are available.
Products include:
Wall access panels, covers & hatches for tiled walls .
Metal faced access panels, covers & hatches for Plastered walls.
Gypsum faced access panels, covers & hatches for plasterboard walls.
The Howe Green range of Linear Drainage provides the perfect solution for changing rooms, shower areas, spas, commercial kitchens, laboratories, veterinary surgeries and other areas that require wash-down or water drainage. The Linear Drainage is manufactured from Stainless Steel offering a high-quality finish. It is discreet, easy to clean and hygienic.
The HG100 Channel Drain and HG200 Slot Drain are made to measure systems, manufactured in the UK to your exact layout requirements with no cost or time constraint.
Howe Green Tree Grilles are used in interior and exterior public spaces where living trees have been specified as an enhancement to a landscaped or paved area, such as a shopping centre or airport concourse. The Tree Grille provides access to the root ball and facilitates any ongoing maintenance of the trees that will be required.
The special purpose access cover Tree Grilles can be produced in unique sizes and shapes, accurately and cost-effectively.
Further information is available on the Howe Green website along with technical information and assistance.
1050 SERIES
Access Covers
2500 SERIES
Access Cover Trims
5 BAR SERIES
Acesss Covers
5000 SERIES
Access Covers
COVER SKATE
Access Cover Lifting Device
F1 SYSTEMBAU
Access Panels
F2 SYSTEMBAU
Access Panels
F3 SYSTEMBAU
Access Panels
F5 SYSTEMBAU
Access Panels
F6 SYSTEMBAU
Access Panels
FF SYSTEMBAU
Access Panels
HG 200
Slot Drainage Channel
HG100
Linear Channel Drainage Systems
HSE 75 SERIES
Acesss Covers
JFR FIRE DOORS
Fire Rated Access Covers
VISEDGE
Flexible Flooring Edge Trim
VISEDGE
Flexible Flooring Access Cover
Howe Green Short Listed as Finalist in Pro Landscaper Business Awards
March 2022
The lie of the land: key access considerations for landscaping projects
March 2022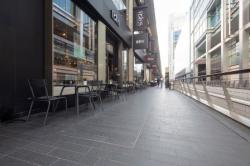 One of the most essential parts of an urban experience is the visual appeal the environment creates for its visitors. Whilst aesthetics will be one of the main considerations, urban designers and specifiers must also address the functionality and durability of the public space to ensure its long-term usability.

Chris George, Business Development Manager at Howe Green, discusses the key considerations that should be made when specifying floor access solutions for landscaping developments to provide a safe and efficient installation, without compromising on the overall visual effect.

Urban designers and specifiers have a responsibility to prioritise public safety when designing external public areas, particularly high trafficked spaces such as parks, walkways and outdoor shopping centres.

A factor that must be carefully considered for these types of commercial spaces is the floor. It must offer the highest standards of longevity and durability, whilst also providing instant access to essential underfloor services for necessary maintenance and emergency repairs.

Whilst the functionality of these dedicated access areas is critical, it is also important to ensure the access solutions do not impact the overall design scheme or usability of the landscaped area.

Design stage considerations

By working closely with a manufacturer from the initial design stages, urban design professionals can successfully implement floor access solutions into hard landscaped areas to provide ease of access for regular maintenance and keep any potential disruption to a minimum.

The hard flooring should seamlessly integrate with the floor access covers to provide the highest quality finish, without impacting the location or functionality of the services beneath.

Here specifiers should look for discreet floor access covers that allow safe and simple access to concealed underfloor services, whilst simultaneously providing a flush and unobtrusive design that achieves a smooth finish and flat walkway to eliminate any potential trip hazards. The sleek aesthetic is enhanced by the access cover frame being manufactured to suit the tile module, and the edge profiles reflecting the dimension of the join between the tiles to create a unified and cohesive finish.

The configuration of the access covers will be dependent on the size and requirements for access. Professionals are able to choose from a range of configurations, including single covers, duct runs and multi-part options.

Many urban areas are now also adopting the introduction of trees in order to reap the benefits they bring, including improved mental and physical wellbeing for residents and a positive impact on the environment.

But how can specifiers ensure they are planted in a safe and secure way? External tree pits and tree grilles are particularly popular, as they effectively provide easy access to tree root balls, whilst also providing discreet access to electrics, valves, pumps, and water features.

Performance and functionality

Not only do the visual aspects of urban landscaping projects play a major role in the specification process, but the choice of materials used can seriously affect the performance and longevity of the space.

When specifying floor access covers, specifiers should consider solutions manufactured of stainless or galvanised steel. These materials provide long-term resistance to rust and corrosion for the highest standards of performance and can accommodate a wide variety of hard floor finishes in greater depths.

When embarking on a new design project, safety and compliance are at the forefront of every specifier's mind. How to achieve quick and straightforward access to key areas is extremely important to consider at the specification stage, as once the project is complete, the main tasks that are undertaken within these areas are usually for routine maintenance checks and emergency access.

Access covers that are constructed with lifting points in the corners as standard, in addition to offering inset or barrel lifting point options, provide contractors with safe and secure methods of lifting the access cover. This ensures minimal disruption to visitors without impacting the overall security of the access cover.

Choosing products that not only look the part, but perform to the highest standard, is key to a successful and durable installation. Howe Green's team of in-house design and engineering experts offer a broad range of custom and standard tree pits and floor access covers to meet the most demanding project requirements.

This includes its 1050 Series, which is available in single, duct or multipart configurations, for use in exterior areas up to 6.5 tonne pneumatic tyre wheel load. Manufactured in the UK and third party CERTIFIRE fire rated to BS 476 Part 22, these floor access covers are suitable for use with thicker and hard-wearing floor finishes enabling permanent, safe access to services concealed underneath.

For further information on Howe Green's floor access solution call 01920 463230.
List all press releases