GEORGE FISCHER SALES LTD
Suppliers of: Pipe Fittings, Malleable Iron, Flexible Polybutylene Pipe, Chemical Waste Drainage Systems, PB Pipes, PVDF pipes, ABS Pipe actuated valves
George Fischer offer a full range of plastic pressure pipe systems, fittings and valves. George Fischer pipes are available in a wide range of materials including flexible PB pressure pipes for hot and cold water supply. We also manufacture PVC-U, ABS Cool-Fit, PVC-C, PP, PE, PVDF, PVDF-HP and malleable cast iron pipe fittings.
Each of our ranges are complemented by a range of actuators and Signet process control equipment. Specialist ranges are also available including Cool-fit ABS pre-insulated pipes and fittings. Also available is comprehensive range of pipefitter's equipment for the installation of plastic and piping systems.
George Fischer provide compreshensive CAD and BIM files which are available on our CAD download section on our website.
George Fischer Sales is part of the international George Fischer Group who have a worldwide reputation for quality products. The product range includes complete systems from mains to meter including systems for service pipe relining/renovation. All fittings are designed to be easily installed with a minimum of tooling and pipe preparation. George Fischer products are approved to ISO 9002.
George Fischer offer a comprehensive range of piping system components for use in building services applications. For use on hot and cold water services, heating, chilled water and compressed air systems. Our range of pipeline systems include:
INSTAFLEX is GF modern all plastic hot and cold water flexible pressure pipe supply system. Made of polybutylene (PB) INSTAFLEX is a noise-insulating and hygienic, ideally suited for both residential and commercial applications. INSTAFLEX has outstanding flexibility and includes a wide range of PB fittings including electrofusion, socket fusion, compression joints. Our Flexible pressure pipes allow fast and reliable installation.
Fields of Application include: Hot and cold water Cooling & Air Conditioning Systems Compressed air pipes.
Malleable cast iron fittings are the most common pipe fittings. Because of their durability and mechanical strength these fittings continuously enjoy great popularity.
Fields of Application include: Sanitary, heating and gas supply installation. Cooling and air conditioning Fire sprinkler and fire extinguishing systems. Industrial plants, gas and pressured air pipe work.
George Fischer also manufacture a full range of plastic pipes:
Polybutylene was developed specifically for supplying hot and cold water from the distribution to the extraction point. PB pipes have a high chemical resistance and outstanding resistance to hot water.
Polythene pipes have the most widespread use in pipeline construction is for underground gas and water pipes. PE pipes have outstanding flexibility, high impact resistance even at cold temperatures.
Polyvinyl chloride unplastizised offers the best value for money for many applications with a silicon-free product range also offered. PVC-U pipes have a wide range of applications and is also suitable for water treatment and chemical process applications.
Polyvinyl chloride chlorinated is corrosion-resistant, has a long service life in a corrosive environment. PVC-C also has high burning resistance and even with high temperatures it has very good mechanical characteristics. PVC C pipes also have excellent chemical resistance.
Acrylnitrile-Butadiene-Styrene has high impact resistance, even at very low temperatures. ABS pipes and fittings from GF Piping Systems are also offered for cooling equipment as a pre-insulated system under the COOL-FIT brand. ABS pipes are ideal for air conditioning systems in buildings, chilled water systems, food & beverage piped distribution.
Polypropylene has become a key material for building services thanks to its its resistance to thermal distortion and its chemical resistance. PP is weldable, has high impact strength and high thermal ageing. Applications for PP pipes include water and waste treatment pipes and the chemical process industry.
Widely used in chemical distribution systems for the delivery of pharmaceutical grade purified water and DI water, using hot water, steam chemical or ozone sanitisation. PVDF pipes, fittings and valves from GF Pipings Systems are sold under the SYGEF brand.
The multilayer push-fit system for installations requiring high bending stiffness. iFIT is an innovative installation system featured with the unique adapter module technology for plumbing and heating. Thanks to its proven modular system, iFIT enables identical installation options compared to conventional systems, but using 50% less system components. This results in low stocking costs, allows low inventories and maximum flexibility. The fast and simple connection technology and the possibility to apply polybutene- or multi-layer composite pipes meets the highest economic standards.
AQUASYSTEM
Polypropylene Pipe
BCF PLUS
Pipe Jointing Machines
BLAZEMASTER
Fire Sprinkler Pipe
CONTAIN-IT
Secondary Containment Piping
COOL-FIT
Insulated ABS Pipe
DEKAPROP
Polypropylene Pipes
DIASTAR
Pneumatically Actuated Diaphragm Valves
DOUBLE-SEE
Double Containment Piping Systems
DRAWLOCK
Polyethylene Pipes
DYTEX
Pipe Solvent Cement
EASY FLOW
Flow Measuring Instrument
ecoFIT
Polyethylene Pipes
ELGEF PLUS
Electrofusion Pipe Fittings
FUSEAL SQUARED
Double Containment Piping Systems
GF DEKA PE-100
Polyethylene Pipes
IJOINT
Compression Fittings
INSTAFLEX
Flexible Polybutylene Pipe
IR PLUS
Infrared Fusion Pipe Jointing Machines
MULTI/JOINT
Pipe Fittings
PIPE WIN-WELD
Pipe Documentation Software
POLY 16
Compression Fittings
POLY16 PLUS
Pipe Clamp Saddles
POLYFAST
Compression Fittings
PRIMOFIT
Compression Fittings
PRO-FIT
PVC-u Pipe Fittings
PROCESSPRO
Magmeter Flow Sensors
PROGEF
Polypropylene Pipes
SIGNET
Pipe Flow Measuring Equipment
SIGNET SMARTPRO
Tank Monitoring Systems
SMARTPRO
Tank Level Controls
SYGEF
Compression Fittings
TANGIT
Pipe Solvent Cement
TANGIT PVCU EXPRESS
Pipe Solvent Cement
VARIOFLECKS
Sealing Rings
Solving water loss with cutting-edge technology and innovative training techniques
May 2022
Connections for life – GF Piping Systems at IFAT 2022 in Munich, Germany
May 2022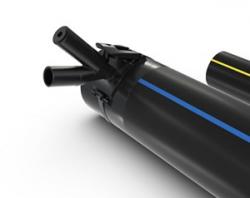 IFAT is the world's leading trade fair for water, sewage, waste, and raw materials management. As the leading flow solutions provider, GF Piping Systems will present innovations for the utility and industrial sectors between 30 May and 3 June 2022.

Social megatrends such as climate change or digitalization have already reached the water sector and represent a tough challenge for companies involved. What does a sustainable and connected future entail? Under the motto "Connections for Life," the GF Piping Systems exhibition at IFAT 2022 will introduce innovative solutions that make piping systems more efficient, sustainable, and digital.

Utilities will be one of the focus areas. As an expert in flow solutions made of plastic, GF Piping Systems has been striving to help its customers solve water loss and infrastructure problems. With its latest innovation, the NeoFlow pressure regulating valve, utility customers will benefit from its intelligent balancing and precise and optimized pressure management. Another highlight, the ELGEF Y-Tapping Saddle, introduces a pioneering design that helps to improve flow characteristics, while the tool-free assembly and a patented electrofusion heating element simplify the installation process.

Furthermore, with IR PVC-U, GF Piping Systems will introduce the world's first infrared welded PVC-U piping system allowing reliable joints in a machine-controlled process. A groundbreaking solution for the chemical processing industry and water treatment applications.
Process automation will also play an important role at IFAT. Industrial companies rely on sustainable and modern solutions to prepare for the future. GF Piping Systems will also present the Ball Valve 543 Pro, which, when connected with a newly developed pneumatic actuator, provides process automation technology that is completely manufactured from plastic - benefiting its customers with a maintenance-free and long lifespan like the piping system. The Ball Valve is suitable for a wide spectrum of applications and requirements.

Additionally, GF Piping Systems will showcase its leading specialized solutions. High-tech industries, in particular, need solutions that are sustainable and fulfill very specific requirements. In this context, the company will demonstrate ultrasonic non-destructive testing for pipe connections and introduce virtual reality training methods that help customers achieve the best possible quality and operational safety.

Ingo Pfirrmann, Head of the Business Unit Utilities at GF Piping Systems in Germany, is excited ahead of IFAT 2022: "For many years, we have been using plastic as a sustainable, cost-effective, and highly efficient material for our flow solutions. At IFAT, we want to highlight how our latest innovations and piping systems can future-proof our customers' installations thanks to modern materials, innovative technologies, and connected products. Whether used for water supply, industrial systems or production processes."

List all press releases