DULUX TRADE PAINTS
Suppliers of: Specialist Trade Paints, Acrylic Trade Paints, Trade Gloss Paints, Trade Matt Paints,Trade Emulsion Paints, Dulux Trade Paints, Gliddens Trade Paints, Hammerite Metal paints, Ecosure environmental paints, Exterior Trade Paints, Interior Trade Paints,
Dulux Trade Paints leads the way in professional specification services, providing 'Total Solutions' that can add value to your projects. Whatever your business sector or building type, we believe that we can be your expert partner.
Dulux Trade is a leading brand in the UK trade paint market.
Offering an outstanding combination of product quality and performance together with unsurpassed levels of service and technical support, the Dulux Trade range can be used and specified with complete confidence.
Dulux Trade Main Ranges include:
Great looking results are essential as they reflect on you and your professional reputation. With this in mind, Dulux Trade are proud to offer a range of essential paints that deliver the quality finish you demand every day.
New Dulux Trade Vinyl Matt uses the latest technology to offer improved application properties and an even better finish. With an improved in-can consistency, Dulux Trade Vinyl Matt can now be applied with or without thinning for great results.
Dulux Trade Diamond Matt and Diamond Eggshell are formulated with ground breaking stain repellent technology, an innovative industry first. Unlike traditional paints, stains bead on contact with the paint's surface, actively repelling spills that would normally stain. Plus there's Dulux Trade Diamond High Performance Eggshell, the most durable Diamond emulsion yet proving 43% more scruff resistant than Diamond Eggshell.
Quick Dry is the water-based trim paints range from Dulux Trade that enable faster and more productive working while creating a finish that mimics the high sheen and flowout properties of traditional solvent-based products; delivering quicker drying times and speeding up efficiency on site without compromising on the finished result.
Weathershield products offer unbeatable protection for exterior masonry, wood and metal trim. Wherever there is a need to protect and enhance the exterior of a building, Weathershield delivers outstanding performance.
Heritage is our range of classic colours hand-picked by our designers for today's most beautiful homes and available in a range of Professional quality paints, trusted by craftsmen since 1931. The 112 beautiful shades have been expertly curated by Dulux colourists. To help find the perfect shade, each colour area is arranged into pale, mid, and deep tones, plus a specially selected white that will coordinate effortlessly with the other tones in the same column.
Dulux offer a wide range of Woodcare Paints and treatments. Outstanding finishes that provide the right long term protection for wood, inside and out.
Upgrade painted surfaces to meet fire regulations and protect occupants by delaying the spread of flame. Pyroshield Basecoat, Pyroshield Durable Matt and Pyroshield Durable Eggshell are three alternative versions of a revolutionary new flame retardant coating formulation developed by Dulux Trade after a rigorous research and testing programme, and are especially suitable for communal areas of public buildings.
Metalshield from Dulux Trade is a range of high performance metal coatings that provide up to 8 years protection for ferrous and non-ferrous metals, thanks to a revolutionary formulation that employs new barrier technology to lock out air and moisture.
Sterishield from Dulux Trade represents a revolutionary step-change in hygiene coatings, containing active in-film bactericides which inhibit the growth of bacteria such as MRSA, E. Coli and Pseudomonas aeruginosa, available in two durable finshes sustainable for a wide range of environments.
Further technical information is available to downlaod from the BPi Download Library
CLADSHIELD
External Cladding Paint
CLEARCOAT
Anti-Graffiti Coatings
COLOUR FUTURES RANGE
Paint
DIAMOND GLAZE VARNISH
Wood Floor Lacquer
DIAMOND HIGH PERFORMANCE
Paints
DULUX TRADE DIAMOND RANGE
Paints
DULUX TRADE EVOLVE
Paints
DULUX TRADE LIGHT & SPACE RANGE
Paints
DULUX TRADE MOULDSHIELD RANGE
Paints
DULUX TRADE PLUS SMARTSHIELD
Exterior Waterproofing Coatings
DULUX TRADE PLUS SMOOTH & PROTECT
Energy Saving Thermal Wall Coating Systems
DULUX TRADE PLUS THERMACOAT
Energy Saving Thermal Wall Coating Systems
DULUX TRADE PYROSHIELD RANGE
Paints
DULUX TRADE QUICK DRY RANGE
Paints
DULUX TRADE STERISHIELD RANGE
Paints
HYDROSTRIP
Paint Stripper
LIGHT & SPACE
Light Reflective Paints
LIGHT AND SPACE
Light Reflective Paint
POLYFILLA DEEP HOLE
Filler
POLYFILLA EASY SAND
Fillers
POLYFILLA FINE SURFACE
Filler
POLYFILLA ONE FILL
Filler
POLYFILLA QUICK DRYING
Filler
POLYFILLA WOODFLEX
Fillers
PYROSHIELD
Flame Retardant Coatings
ULTIMATE OPAQUE
External Cladding Paint
ULTIMATE WOODSTAIN
Wood Stain
WEATHERSHIELD
Exterior Gloss Paint
WEATHERSHIELD ALL SEASONS
Exterior Wall Paint
WEATHERSHIELD MAXIMUM EXPOSURE
Masonry Paint
WOODSHEEN
Wood Protection
Dulux Explore Colour of the Year 2022 - Bright Skies™
November 2021
Dulux Announces ColourFutures™ 22
September 2021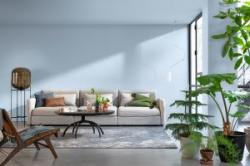 REACH FOR THE SKIES: DULUX ANNOUNCES COLOURFUTURES™ 22

Dulux Trade has revealed its ColourFutures™ 2022 trend palettes, including Dulux Trade Colour of the Year Bright Skies™.
The launch is supported by the Dulux Trade Colour of the Year 2022 Specifier brochure, designed to inspire commercial design professionals working in all sectors, from hospitality to healthcare.
This brochure is part of Dulux Trade's ongoing dedication to supporting specifiers with their latest projects, and is part of a wider package of ColourFutures™ content, including design mood boards and advice videos, that can be harnessed by professionals looking to create the perfect space - in any setting - using Bright Skies™.
Now in its 19th year, the four ColourFutures™ 2022 palettes have been selected using insights from a range of market-leading experts from across the globe, to support design professionals when it comes to colour and design projects for their clients across all sectors.

The new Dulux Trade Colour of the Year, Bright Skies™ is an airy, light blue that perfectly captures the optimism and desire for a fresh start that is the mood of the moment. It can bring any space to life, a true breath of fresh air.

For the 19th year in a row, AkzoNobel assembled leaders across a diverse set of design disciplines including, fashion, colour and the built environment, to consider the global social, cultural and political trends that are sparking new innovations and events that will impact the way we all live and work. This was a year like no other and for the first time, rather than attending the AkzoNobel Global Aesthetics Centre in Amsterdam, the group gathered online for a virtual summit.

With millions of people now adopting hybrid home and office working patterns, there is a need for colour that is flexible and open, to empower this multi-purpose lifestyle and the demands we put on our spaces. This is where Bright Skies™ comes to the fore, as a colour that is good for the soul.

The four colour palettes will inspire and facilitate commercial projects in a range of sectors - they are Workshop, Greenhouse, Studio and Salon.

Workshop is about creating adaptable spaces that reinvent the space. Whether this is zoning a multi-purpose space or creating breakout areas in an open plan office, these are light and positive colours that make the functional fun.

Greenhouse is full of fresh greens and blues that serve the purpose of being the perfect backdrop for bringing other natural materials into a room, in the form of plants or materials such as bark or cork.

The Studio palette seeks to soothe, with a mix of pale pinks, reds and oranges. Subtle and inspiring, decorating with this palette enables the creation of a sanctuary, away from the hustle and bustle of modern life, so will be perfect for quiet areas or breakout spaces in offices or gyms.

Finally, the Salon is an enabler of fresh ideas and creative thinking. Consciously pale and soft, this palette is for those who want a room, or space that's ready for anything.

Marianne Shilingford, Creative Director of Dulux UK, says: "Right now, people want to feel revitalised and enjoy the freedoms that are returning to them, to look out and bring in new ideas. What better inspiration can we take than the endless skies around us?

"Biophilic design which embraces design cues inspired by nature, is entering the mainstream, and it is now widely known that nature makes us feel better and taking steps to bring the outside in enhances our sense of wellbeing.

"So whether clients want spaces to work, relax, teach or exercise, it is essential to have colours that reflect the optimism and desire for a fresh, new start that is top of the agenda for the year ahead.

"However, Bright SkiesTM and the palettes are not about idle day-dreaming. It is about turning those dreams into reality and forging ahead with the changes that we want to make.

"This is why the Dulux Trade Colour of the Year and supporting palettes are practical, open and flexible to all kinds of requirements. Professionals should relish talking to their customers about the transformative impact these colours can have."

Heleen van Gent, head of the AkzoNobel Global Aesthetics Centre, says: "Over the past 19 years, we've seen a dramatic shift from a concentration on brighter tones to an emphasis on neutrals.

"This year, however, vibrant colours and light tones are re-emerging – a reflection, perhaps of our need for positivity and a fresh approach. After a spell of feeling shut in, we crave expansion – the great outdoors. The 37 curated colours in this year's collection help to make it easy to choose complementary shades."

Dulux Trade Colour of the Year 2022 Bright Skies™ and the palettes are available to specify from 14 September 2021.

To download the Dulux Trade Colour of the Year 2022 Specifier Brochure visit www.duluxtrade.co.uk/CF22.

List all press releases