AKW-MEDICARE
LIBERTY HOUSE
POINTON WAY
HAMPTON LOVETT
DROITWICH SPA
Worcestershire WR9 0LR

Tel: 01905 823298
Fax: 01905 823297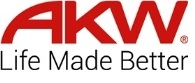 Suppliers of: bathrooms for the disabled disabled shower enclosures care home showers bathrooms for the disabled shower enclosures for elderly disabled access shower trays easy access bathrooms level access showering easy access showering disabled access showers grab
AKW are leading suppliers of high quality showering, daily living and kitchen solutions to the elderly and less able.
With over 35 years experience in the accessibility market we design and manufacture products specifically for the end user. We do not adapt existing products to suit our client's needs.
AKW supply solutions to the majority of local authorities, housing associations and contractors within the UK through a highly experienced national sales team. Our national sales team and trained surveyors are dedicated to providing detailed product knowledge and advice on which products would best suit the user's requirements.
Useful Resources:
Our full range of sanitary ware and bathroom accessories gives you a complete bathroom solution, whatever your need. Our bathroom products are optimally designed for maximum comfort; conforming to national standards for guaranteed quality and specially developed, although not exclusively, for users with reduced mobility.
Our commercial sanitaryware range is designed for the individual wants and needs of our customers:
Specially developed for users with reduced mobility
Conforms to national standards for guaranteed quality
Strong and reliable with safety features
Lifetime warranty for your total peace of mind
Showering is an important part of life. That's why we've carefully chosen a range of care showering products to give you safe and comfortable showering experience, whatever your space or need.
AKW also offer several easy access shower tray designs, electric showers, shower screens, shower seats, wastes, pumps and accessories.
With a wide choice and contemporary designs, AKW is here to help you create a domestic Wet Room with plenty of style, along with high levels of accessibility and functionality.
The AKW Kitchen range offers the exciting combination of intelligence, style and function. Inspired by leading Occupational Therapists and created using our 15 years of design experience the range from AKW goes above and beyond standard design concepts for disabled kitchens.
Carefully designed around you, all our Mobility Support products are designed to help you make the most of your home, whatever your needs. Products include Free Standing Shower Seats, Grab Rails, Ramps and Toilet Plinths.
Our attractive new brassware range isn't just designed for ease of use and installation – it's designed for a lifetime of satisfaction. That's why it comes with a lifetime guarantee, giving you timeless style and total peace of mind.
Further technical information, including Brochure Downloads and Product Videos are avialable on the BPi Download Library and on the AKW Website.
ACTIVMOTION
Kitchen Units
APRES
Warm Air Body Dryers
AQUADUCT 1800
Shower Tray
ARCHIMEDES 4
Waste Water Pump
BARIATRIC
Shower Accessories
BLACK LEVEL BEST
Shower Screens
BOND IT
Ceramic Wall Tile Adhesives
BOND IT STERI-GROUT
Ceramic Tile Grout
BOND-IT
Contact Adhesives
BOND-IT
Floor Levelling Compounds
BRADDAN
Shower Enclosures
CUT-TO-LENGTH
Shower Tray
DIGIPUMP SMARTCARE
Shower Waste Pumps
EASY GRIP
Thermostatic Radiator Valves
FORMSAFE
Shower/Wetroom Tanking Systems
FREEWAY
Portable Shower Screens
GEBERIT AQUACLEAN 8000 PLUS CARE
Shower Toilets
GEBERIT AQUACLEAN MERA CARE
Shower Toilets
GEBERIT KAPPA DUOFIX
Sanitaryware Installation Frames
INDEPENDENCE KITCHEN
Kitchen Units
LARENCO
Glass Shower Screens
LARENCO DUO
Glass Shower Doors
LARENCO DUO CARE
Glass Shower Screens
LEVEL BEST
Shower Enclosures
LEVEL BEST
Wet Room Showering System
LEVEL BEST
Glass Shower Screens
LEVEL BEST
Bathroom Accessories
LUDA TWIST
Electric Showers
MARLBROOK
Bathroom and Shower Waterproof Wall Panels
MERMAID
Bathroom and Shower Waterproof Wall Panels
MIRA ADVANCE
Electric Shower
ONYX
Bathroom Accessories
PENTACUBE
Shower Enclosure
RISE AND FALL
Kitchens for the Disabled
SCREEDMASTER
Shower Enclosures
SHOWERLOO
Shower Cubicles
SILVERDALE
Shower Screens
SMARTCARE
Electric Showers
SMARTCARE PLUS
Electric Showers
STANDALONE
Shower Cubicles
SUPER UNIVERSAL
Shower Enclosure
SUPER WHEELER
Shower Tray
SUPER WHITE
Ceramic Tiles for the Visually Impaired
SUPER WHITE
Dementia Friendly Ceramic Tiles
TRIFORM
Wet Room Floor Formers
TRITON
Thermostatic Shower Controls
TUFF FORM
Shower Waste Fitting
TUFF FORM8
Wetroom Floor Formers / Wet Room Floor Formers
TUFT FORM
Wet Floor Former
UNIVERSAL
Shower Enclosure
VARME
Underfloor Heating Mats
VELENA DEVOTE
Shower Seats
VETTORA
Thermostatic Shower Controls
WORCESTER
Kitchens for the Disabled
Specialist Dementia Bathroom Design Guide Launched by AKW
September 2021
AKW Donates Respiratory Equipment to Help India
August 2021
AKW Donates Respiratory Equipment to Help India

AKW, one of the UK's leading providers of accessibility solutions, is pleased to announce the donation of four Positive Airway Pressure (PAP) respiratory ventilation machines to help ease the suffering of those struggling with the coronavirus in India.

With the help of AKW's logistics partner, XPO, and global relief agencies, the machines have arrived at the Vitasta Health Care Trust in Bantalab Jammu, India, where they will be used to help treat patients struggling with coronavirus complications.

Nick Parsons, Group CEO of AKW Holdings Ltd comments: "we acquired the four PAP machines to donate to the UK, to help fight the effects of the coronavirus. However, with so many other Government led initiatives to create PAP machines, we were unable to make this contribution. We decided therefore to hold onto this equipment in anticipation of a needy cause. India's recent spike in COVID-19 cases and subsequent struggle to provide respiratory equipment to all those in need made the choice to donate an easy one".

For more information, please contact AKW on 01905 823298, Email: sales@akw-ltd.co.uk or visit www.akw-ltd.co.uk
List all press releases