RUNDUM MEIR (UK) LTD
Suppliers of: timber garage doors sliding garage door curved corner opening garage doors sliding bespoke garage doors timber garage door oak garage doors Cedar
Rundum Meir are the manufacturers of the original round the corner sliding garage door and are UK suppliers of new build garage doors for prestigious properties.
We also specialise in making garage doors for restoration, conservation and refurbishment projects. Rundum can meet your individual designs or copy existing doors to satisfy planners.
The Original Side Opening Garage Door.
Our round the corner and side sectional garage doors can be remotely operated using our unique system requiring only 40mm - 150mm of headroom. There is no need for u-channels in the floor!
Our garage doors are made from quality treated timber including a wide range of hardwoods such as oak and cedar, larch and aluminium or insulated steel are also available. Our sliding doors operate very quietly and have many other additional advantages and features.
Our range includes:
The Rundum is the original round the corner sliding garage door. These doors are suitable for listed buildings, luxury new build, conceptual architecture and replacement projects. This door combines the function of an automatic remote controlled garage door with an integral pedestrian door.

The Rundum sliding garage door has been installed in many projects including aircraft hangars, curved buildings, out houses, coach houses, over sized and underground multi-user garage doors. Even children and the elderly find these doors easy and safe to handle.

These doors are often specified on grade II listed or ultra modern designed buildings. The panels are made with a subframe, are externally boarded and come complete with tracks, gearing and other options.

Ceiling mounted sectional doors open vertically upwards and along the ceiling. For safety, a finger safety guards are incorporated between the panels. A wide range of individual panel patterns and designs are available.
Glass Garage Doors

Rundum Mier specialise in bespoke glass doors to match facades for either underground or multi user properties.

Bespoke Garage Doors

Our bespoke wooden and metal garage doors have numerous options for personalisation and adaptation and are therefore perfectly suited to even the most complex designs. Simply supply Rundum your designs and we will make your design a reality.
Rundum Mier garage doors come with their own unique MZ4 door mounted operator and modern 4-channel remote control hand-sets which can be programmed to achieve a pedestrian door within the door. Rundum Meir operators have been specifically designed to provide outstanding operation, convenience and safety. Developed in accordance with the latest Euro standards 13241-1, 12453 and 12445 relating to dynamic and static forces at the leading edges and sides.
Materials:
Rundum Meir take great care to select the best materials. Quality materials such as timber, copper, aluminium, steel and glass can be used. We purchase tree trunks specifically for our customers. Our solid timber range includes spruce, sapele, hemlock, cedar, larch, European oak and iroko. Other timbers may be available on request. Timber finishes can include a range of products such as stains, paints or oils from a variety of manufacturers. Metal doors can be powder-coated to any RAL or BS colour.
Further technical information and guidance is available on the Rundum Meir (UK) Ltd website or via the BPi download Library
DOORS COMMERCIAL Bullet Resistant .
DOORS COMMERCIAL Timber Sliding
GARAGE DOOR GEAR Remote Control .
GARAGE DOOR OPERATORS Openers .
GARAGE DOOR OPERATORS Remote Control Units .
GARAGE DOORS Aluminium Colourcoated
GARAGE DOORS Bi-Parting .
GARAGE DOORS Bullet Proof .
GARAGE DOORS Child Safety .
GARAGE DOORS Colourcoated Steel .
GARAGE DOORS Commercial .
GARAGE DOORS Custom Made .
GARAGE DOORS Design Your Own .
GARAGE DOORS Georgian Panelled .
GARAGE DOORS Metal Purpose Made
GARAGE DOORS Power Operated .
GARAGE DOORS Purpose Made .
GARAGE DOORS Renovation .
GARAGE DOORS Replacement .
GARAGE DOORS Retractable (Fully) .
GARAGE DOORS Ribbed Steel .
GARAGE DOORS Rolling Shutter / Roller .
GARAGE DOORS Round The Corner .
GARAGE DOORS Sectional Overhead .
GARAGE DOORS Sectional Overhead Automatic
GARAGE DOORS Sectional Overhead Insulated
GARAGE DOORS Sectional Side Sliding .
GARAGE DOORS Side Sliding .
GARAGE DOORS Standard Sizes .
GARAGE DOORS Steel Imitation Timber Finish
GARAGE DOORS Steel Insulated
GARAGE DOORS Steel Purpose Made
GARAGE DOORS Timber Cedar
GARAGE DOORS Timber Hand Finished
GARAGE DOORS Timber Hemlock
GARAGE DOORS Timber Horizontal Slatted
GARAGE DOORS Timber Iroko
GARAGE DOORS Timber Larch
GARAGE DOORS Timber Norwegian Spruce
GARAGE DOORS Timber Purpose Made
GARAGE DOORS Timber Replacement
GARAGE DOORS Timber Sapele
GARAGE DOORS Timber Solid Wood Cedar
GARAGE DOORS Timber Superior Spruce
GARAGE DOORS Timber Traditional
GARAGE DOORS Timber Vertical Slatted
GARAGE DOORS Tongued and Grooved .
GARAGE DOORS Underground .
GARAGE DOORS Undersized .
GARAGE DOORS Up and Over .
GARAGE DOORS Ventilated .
GARAGE DOORS Wicket Door Combined .
GARAGES Stand Alone Timber Purpose Made
INDUSTRIAL DOORS Hangar .
SECURITY DOORS Bullet Resistant .See Also DOORS COMMERCIAL: Bullet Resistant
HILD TORE
Industrial Doors
A unique garage door fit for one of Scotland's 'homes of the year'
December 2021
Creating the perfect garage for classic Humber car collection
September 2021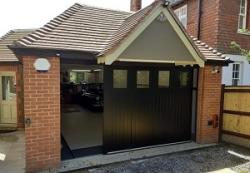 A bespoke timber side sliding sectional garage door by Rundum Meir has proved to be the perfect fit for a private collector of classic 1950s Humber cars.

After moving into the period property around six years ago, Cab Ellis was keen to redevelop the unloved garage to create a space for housing his collection of mark IV B Humber Super Snipe cars. Having purchased and maintained four of these specific models over the past 15 years, Mr Ellis wanted to ensure the new garage would reflect the beauty of the vehicles as well as mirror the period architecture of his 1910-built home.

The Humber Super Snipe was very much regarded as an upmarket car of choice amongst senior public and business figures in the mid 1950s, providing a level of luxury beyond that of the more mainstream Humber stablemate in that era, the Humber Hawk – for which the Super Snipe is often mistaken. Elegantly styled with powerful 4,138 cc 113 bhp engines, they were built between 1952 and 1956 and today their heritage lives on thanks to the efforts of dedicated collectors like Mr Ellis.

The vehicles are now housed in a garage accessed via an automated timber side sliding sectional door, featuring glass apertures, designed, manufactured and installed by Rundum Meir UK. The six-section door spans 4m to provide easy access to the garage and painted in a high quality black finish to achieve a period look.

Cab Ellis said: "We're delighted with our new garage and thankful to Rundum Meir for the sliding doors which have made the dream a reality. When we started on the project we researched numerous garage door types, but we struggled to find one that was out of the ordinary, automated and available in the stable-door style we sought.

"Danesch and the team at Rundum Meir were fantastic. Following an initial visit to our home, they helped us explore the options within our available budget and the door that they proposed was perfect. With the windows, it is great to be able to see our Super Snipes in all their glory with ease.

"This particular Super Snipe model holds fond memories for me as we had one when I was a child. They have so much character and are a real head-turner today, usually accompanied by the question 'is it an 'Awk?' given their similarities. It's not of course, it's the Hawk's more refined cousin!"

The side sliding sectional door installed here demonstrates how Rundum Meir is able to develop a bespoke solution for most applications. All its doors are designed in the UK, hand crafted in Germany and assembled back in the UK prior to installation.
In addition to many different varieties of timber, Rundum Meir routinely manufactures garage doors in high strength extruded aluminium, as well as special materials such as glass and façade substrates. These can be designed as side sliding sectional doors, side sliding 'round the corner' doors or up and over options.

Find out more at www.rundum.co.uk.

List all press releases