HONEYWELL GENT
Suppliers of: Complete Fire Detection Systems commercial Fire Alarm systems Voice Alarm systems Fire Detection products commercial Fire Alarms commercial Voice alarms Emergency Lighting products Fire Detection consultancy Emergency lighting Luminaire Emergency Lightin
Honeywell Gent is synonymous with quality and innovation in the fire detection and alarm industry and safeguards the lives of everyone who enters some the worlds most prestigious buildings.
Honeywell Gent fire detection systems have been developed to the highest possible standards to deliver the most advanced fire detection and alarm systems available in the market today. As market leader, we have a broad range of Analogue Addressable and Conventional fire detection systems. In addtion to this we have built up our expertise in voice alarm systems and have a range of systems to suit to most applications.
Honeywell Gent offer the following Product Ranges:
OSID provides reliable, cost-effective smoke detection for open spaces where fire detection presents unique challenges and where very early warning is not always the priority.
The Honeywell conventional flame detection range comprises of 2 families: the FSX range being suitable for industrial type applications, Zone 1 hazardous area units and the FSL range being Zone 2 hazardous area units.
From control panels through to manual call points, detectors, bells, door releases and sounders, Honeywell Gent provides a cost effective conventional fire detection system scalable for sites of all types.
Nano is the latest fire detection control panel from Honeywell Gent. Ideal for smaller sites that require advanced fire sensing and evacuation options, the single loop, analogue addressable panel offers end users a compact system backed by the power of Vigilon loop technology. Certified to EN 54 parts 2 & 4 the standard panel is self contained with batteries to maintain 24-hour standby.
Vigilon is the most comprehensive life safety system available in the market today. The combination of the powerful software in the control panel and the intelligent loop powered devices delivers a flexible, easy to use system for all types of buildings.
The strength of Vigilon and Nano lies in the combination of powerful control panel software with Honeywell Gent's market-leading range of intelligent devices.
WINMAG Graphics Management System is an invaluable software tool for any size of network that allows for complete management of the fire detection and alarm system from a central PC.
A range of interface units are available to connect the fire detection system with other detection equipment or to control plant and fire protection equipment.
Honeywell Gent offers a complete range of Voice Alarm systems integrated with the Vigilon Detection system to suit a wide range of sites and applications.
Honeywell Gent's range of Aspirating Smoke Detection, also known as Air Sampling Detection (ASD) systems can detect fires at a very early stage, often before visible smoldering takes place, before an open fire occurs and before intense smoke develops.
This Emergency Voice Communication System (EVCS) is designed to fully comply with BS5839 Pt9 2003 (abb. Pt9) for use as a fire telephone system, disabled refuge call system or as a combined system when both fire telephones and disabled refuge points are required.
The Response Paging System offers the latest innovations in wireless paging and monitoring. It's a cost effective and flexible paging system that offers the ability to quickly respond to activated alarms.
Honeywell Gent's central battery systems provide peace of mind – they ensure that emergency lighting continues to function regardless of the fire situation, facilitating a safe and orderly evacuation. Central battery systems also simplify maintenance by providing a single testing point for all luminaires.
Discover Honeywell Gents latest range of fire ancillary devices.
Further technical information is available to download from the BPi download library of from the Manufacturer's own website.
ALL-SPEC ASD
Smoke Detector
AUTOQUENCH AQ2000
Automatic Bin Room Fire Protection Systems
COMMISSIONTool
Fire Alarm Commissioning System
COMPACT ASD
Smoke Detector
FAAST
Aspirating Smoke Detection
HI-SPEC ASD
Smoke Detector
NANO
Analogue Addressable Fire System
PLEXUS
Wireless Fire Alarm Systems
S-CUBED
Audio Visual Alarm Devices
S-QUAD
Multi Sensors with Integrated Sounders & Strobes
S-QUAD
Automatic Fire Detection Devices
VIGILON
Fire Detection and Alarm Systems
VIGILON PLUS
Fire Detection and Alarm Systems
WINMAG
Text and Graphical Management System
XENEX
Conventional Fire System
Honeywell Gent Fire Alarm Technology Ensures Staybridge Suites' Guests Sleep Soundly
February 2022
Honeywell Gent - Happy 20th PWP
June 2021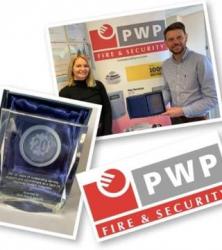 Honeywell Gent - Happy 20th PWP

We are extremely proud to present Gavin Clarke and Holly Daubney of PWP our Honeywell Gent 20-year award.

PWP were one of the founder members of the Gent24 network joining in 2000 and holding 'Elite' status since 2005.

Their continued success has been built on providing specialist support by designing and commissioning fire systems for their major clients and projects division, whilst also providing comprehensive installation and maintenance services to a substantial end user client base which continues to show growth year on year across many diverse sectors.

Their ethos of building great long-term partnerships with suppliers and customers as fire detection and alarm specialists for over 20 years, has gained a strong reputation for outstanding technical excellence, flexibility and integrity. This along with their dedication to utilising the latest technology ensures they provide the highest level of service and support to their customers.
List all press releases