HONEYWELL GENT
Suppliers of: Complete Fire Detection Systems commercial Fire Alarm systems Voice Alarm systems Fire Detection products commercial Fire Alarms commercial Voice alarms Emergency Lighting products Fire Detection consultancy Emergency lighting Luminaire Emergency Lightin
Honeywell Gent is synonymous with quality and innovation in the fire detection and alarm industry and safeguards the lives of everyone who enters some the worlds most prestigious buildings.
Honeywell Gent fire detection systems have been developed to the highest possible standards to deliver the most advanced fire detection and alarm systems available in the market today. As market leader, we have a broad range of Analogue Addressable and Conventional fire detection systems. In addtion to this we have built up our expertise in voice alarm systems and have a range of systems to suit to most applications.
Honeywell Gent offer the following Product Ranges:
OSID provides reliable, cost-effective smoke detection for open spaces where fire detection presents unique challenges and where very early warning is not always the priority.
The Honeywell conventional flame detection range comprises of 2 families: the FSX range being suitable for industrial type applications, Zone 1 hazardous area units and the FSL range being Zone 2 hazardous area units.
From control panels through to manual call points, detectors, bells, door releases and sounders, Honeywell Gent provides a cost effective conventional fire detection system scalable for sites of all types.
Nano is the latest fire detection control panel from Honeywell Gent. Ideal for smaller sites that require advanced fire sensing and evacuation options, the single loop, analogue addressable panel offers end users a compact system backed by the power of Vigilon loop technology. Certified to EN 54 parts 2 & 4 the standard panel is self contained with batteries to maintain 24-hour standby.
Vigilon is the most comprehensive life safety system available in the market today. The combination of the powerful software in the control panel and the intelligent loop powered devices delivers a flexible, easy to use system for all types of buildings.
The strength of Vigilon and Nano lies in the combination of powerful control panel software with Honeywell Gent's market-leading range of intelligent devices.
WINMAG Graphics Management System is an invaluable software tool for any size of network that allows for complete management of the fire detection and alarm system from a central PC.
A range of interface units are available to connect the fire detection system with other detection equipment or to control plant and fire protection equipment.
Honeywell Gent offers a complete range of Voice Alarm systems integrated with the Vigilon Detection system to suit a wide range of sites and applications.
Honeywell Gent's range of Aspirating Smoke Detection, also known as Air Sampling Detection (ASD) systems can detect fires at a very early stage, often before visible smoldering takes place, before an open fire occurs and before intense smoke develops.
This Emergency Voice Communication System (EVCS) is designed to fully comply with BS5839 Pt9 2003 (abb. Pt9) for use as a fire telephone system, disabled refuge call system or as a combined system when both fire telephones and disabled refuge points are required.
The Response Paging System offers the latest innovations in wireless paging and monitoring. It's a cost effective and flexible paging system that offers the ability to quickly respond to activated alarms.
Honeywell Gent's central battery systems provide peace of mind – they ensure that emergency lighting continues to function regardless of the fire situation, facilitating a safe and orderly evacuation. Central battery systems also simplify maintenance by providing a single testing point for all luminaires.
Discover Honeywell Gents latest range of fire ancillary devices.
Further technical information is available to download from the BPi download library of from the Manufacturer's own website.
ALL-SPEC ASD
Smoke Detector
AUTOQUENCH AQ2000
Automatic Bin Room Fire Protection Systems
COMPACT ASD
Smoke Detector
FAAST
Aspirating Smoke Detection
HI-SPEC ASD
Smoke Detector
NANO
Analogue Addressable Fire System
S-CUBED
Audio Visual Alarm Devices
S-QUAD
Multi Sensors with Integrated Sounders & Strobes
S-QUAD
Automatic Fire Detection Devices
VIGILON
Fire Detection and Alarm Systems
VIGILON PLUS
Fire Detection and Alarm Systems
WINMAG
Text and Graphical Management System
XENEX
Conventional Fire System
Honeywell Gent Supports FAFS at 'Building a Safer Future'
January 2020
Gent's Vigilon Flying high with HESIS at Liverpool John Lennon Airport
January 2020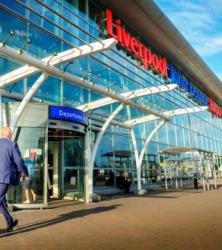 Gent's Vigilon Flying high with HESIS at Liverpool John Lennon Airport

Honeywell Gent SI, HESIS, takes on the challenge to replace an obsolete fire system in a live and busy Liverpool John Lennon Airport
Liverpool John Lennon Airport, which sees over 400,000 passengers pass through every month, needed to replace the obsolete fire alarm system. They called in HESIS to take care of this project using Honeywell Gent system technology.

THE CUSTOMER

Liverpool John Lennon Airport (LJLA) is one of the UK's longest established operational Airports. It opened on 1st July 1933. More recently, LJLA's passenger volume rose ten-fold since the 1990s, taking the airport to the 12th busiest in the UK. LJLA currently handles over 5.1 million passengers per year.

The Airport is owned by a partnership of The Peel Group, a leading infrastructure, transport and real estate investment company in the UK, who first became involved with the airport in 1997, Ancala Partners LLP, the independent infrastructure Investment Manager and Liverpool City Council. Peel and Ancala each own a 45% interest in the Airport and Liverpool City Council 10%. Recent investments has focused on the airport passenger experience with queue times for airport security amongst the lowest in the industry for an airport of this size. LJLA is recognised for its relaxed,
hassle-free environment and best in class operational performance.

THE CHALLENGE

It was necessary to replace the obsolete fire alarm system to respond to emergencies more quickly and efficiently. This required LJLA to undertake a significant technological investment in a critical life safety system. With over 400,000 people passing through the airport per month, the fire alarm system is crucial, not only to rapidly identify the source of a fire, but to distinguish a false alarm from a real event. In the event of a real fire, the engineering team need to have control over the crisis with maximum visibility of the incident.

Whilst there was no question the Honeywell Gent system was the technology of choice for HESIS. The challenge was to upgrade over three phases, during the daytime and evenings whilst the airport was fully operational. This created a unique situation, as the building needed to have a fully functioning fire alarm at all times.

THE SOLUTION

The robust Honeywell Gent system was selected as it provided full compliance with the fire system standard EN54 Part 23 and BS5839 Part 1:2017. This means the product is capable of meeting the required Lux levels in all areas, providing visual indication of a fire alarm activation for the hard of hearing. The majority of the design work was completed in a live environment, using the VAD design tools provide by Honeywell Gent. This allowed HESIS to plot the dimensions of all areas, and use an app to test Lux levels for compliant design.

The system comprised of three fully networked new Honeywell Gent Vigilon fire alarm panels, thus allowing full functionality, visibility and control from several different locations. This is ideal for the engineering team and the fire service when dealing with an incident. As part of the project there was also a requirement to interface with other systems on-site, including the PA/VA voice alarm system, and access control, along with all of the commercial units around LJLA. The largest challenge was the full integration, and mapping of the Cortech platform, which was again carried out by the HESIS engineering team.


RESULTS & OUTCOME

The upgrade took place in the live airport environment, whilst keeping the original system operational, ensuring the safety of the passengers was a priority at all times. The new network, installed specifically for the three main panels, is running successfully, providing full coverage from different locations. Fully designed, installed and commissioned by HESIS, with no disruption to passengers, LJLA has now been upgraded to EN54-Part 23 and BS5839 Part 1:2017 compliance. HESIS delivered a robust, intelligent system to address the issue of adequate fire protection in the distinctive high volume facility that is Liverpool John Lennon Airport.
List all press releases