DOMUS VENTILATION
CAMBRIA HOUSE
CAERPHILLY BUSINESS PARK
VAN ROAD
CAERPHILLY CF83 3ED

Tel: 03443 715523
Fax: 03443 715524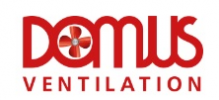 Suppliers of: Ventilation Ducting Ventilation Ducts Extractor Fans Bathroom Fans Kitchen Fans MVHR Mechanical Ventilation Heat Recovery MEV Mechanical Extract Ventilation
Domus Ventilation, formerly Polypipe Ventilation, manufacture and supply high quality and solution based ventilation products for the domestic and light commercial building industry. Our range of products provide a cost effective way of meeting the requirements of the latest Building Regulations.
Main Product Ranges:
Fan Range:
The range includes award winning, high performing and energy efficient mechanical extract ventilation appliances and fans that are suitable for a wide variety of domestic applications and dwelling sizes.
Mechanical Ventilation with Heat Recovery (MVHR):
Ideal for new build
Continuous supply and extract ventilation incorporating heat recovery – for whole house applications
Mechanical Extract Ventilation (MEV):
System 3 in Approved Document F of the Building Regulations
Centralised ventilation unit that continuously extracts waste air
Decentralised Mechanical Extract Ventilation (dMEV):
System 3 in Approved Document F of the Building Regulations
dMEV fans continuously extract the waste air at both low trickle or boost speeds
In-Line / Axial / Centrifugal Extract Fans:
Domus Extract fans remove condensation and moist air and include options ideal for new build and refurbishment applications
NEW to the range are Sapphire fans – Designed to complement internal decor with extremely quiet performance.
House Packs:
Suitable for multi-floor, single-floor and apartment configurations
Over-the-counter full ventilation system
Fan Ancillaries & Controls:
Domus has a wide range of Accessories and Controls to use with our vast rage of ventilation solutions. These include:
Extract Fan fitting & Fixing kits
Extract Fan Control Options
MVHR Accessories / Filters / Duct Kits
Condensation Drain Kits
MEV Air Supply
Sapphire Fan Fascia
Spotvent Ceiling Light Grille
Domus Ducting:
Our range of Domus ducting offers a high quality solution for domestic & commercial applications.
Ducting Kits
Rectangular / Round / Thermal Ducting
Flexible / Semi-Rigid / Acoustic Ducting
Internal / External Grilles
Fire Prevention Solutions
Domus Adapt / Domus Radial Ducting Systems
Further Technical information is available to download from the BPi download library or from the Manufacturer's own website.
BLUEBRAIN
Mechanical Ventilation Controller
DOMUS
Ventilation Ducting
DOMUS ADAPT
Ducting Systems
DOMUS CLASSIC
Extractor Fans
DOMUS CMX
Mechanical Extract Ventilation Systems
DOMUS CMX-MULTI
Mechanical Extract Ventilation Systems
DOMUS CURZON
Extractor Fans
DOMUS ENERGEX
Thermoactuators
DOMUS KITCHENAIRE
Extractor Fans
DOMUS MAYFAIR
Extractor Fans
DOMUS RADIAL
Whole House Ventilation
DOMUS SPOTVENT
Shower Ceiling Lights
DOMUS THERMAL
Duct Insulation
DOMUS TRIPLEVENT
Power Circuit
MICROBAN
Rigid Duct Attenuator
NOX FILT
NOx Filtering Ventilation Ducting Systems
NOX-FILT
NOx Filtering Ventilation Ducting Systems
SAPPHIRE
Domestic Extractor Fan
Domus Ventilation Introducing the NOX-FILT
November 2019
Domus Ventilation - MEV vs MVHR – Making an informed decision
June 2019
MEV vs MVHR – Making an informed decision

Over the last few years we've done a great job of improving the energy-efficiency of new build homes, with a particular focus on sealing buildings to prevent any wasteful heat leakage.

In general, this has worked remarkably well – in some cases it's worked too well! We've created air-tight homes that can sometimes overheat or trap stale, humid air – along with a mixture of indoor air pollutants.

What we've failed to do in that period of improvement is match our more efficient homes with equally efficient ventilation.

Why not just open a window or two if you need ventilation?

It's a common question and definitely works as a quick fix, but in cooler or damp weather it's not ideal, nor is it enough in the warmer summer months. That's where continuous mechanical ventilation systems steps in.

So, what's the right system for you?

To better understand what's right for you, first you should know the strengths and weaknesses of MEV & MVHR.

The Options – Continuous Mechanical Ventilation

According to Building Regulations Approved Document F, for whole-house continuous mechanical ventilation systems you are looking at a choice between System 3 Continuous Mechanical Extract Ventilation (MEV) or System 4 Continuous Mechanical Ventilation with Heat Recovery (MVHR).

The Breakdown – MEV

Simple and efficient to install, MEV systems actively extract air from 'wet rooms' (kitchens, bathrooms, utility spaces) via ducting to a central ventilation unit. This then removes the stale air though an exhaust point.

The systems are typically dual speed, providing low-speed continuous trickle ventilation and high-speed boost flow when needed. Replacement fresh air is drawn into the property via background ventilators located in the habitable rooms and through air leakage.

Decentralised Mechanical Extract Ventilation (dMEV), a sub-set of System 3 (MEV), are an extremely cost effective and easy to install ventilation solution. They offer continuous low levels of ventilation to a single wet room, coupled with virtually silent operation.

The Breakdown – MVHR

MVHR systems combine supply and extract ventilation in one system - working on the principle of extracting and re-using waste heat from wet rooms.

MVHR systems make use of the waste stale air by pre-warming the fresh air drawn into the building using a heat exchanger; up to 95% of waste heat can be recovered by this mechanism. The filtered, pre-warmed air is then distributed around the home, helping share the load for heating the home.

MVHR systems provide effective ventilation, are energy efficient, massively help reduce the risk of condensation and cold air draughts and, with their built-in air filters, are particularly useful in more polluted urban areas. They are the champions of domestic ventilation!

BUT. All those benefits do come with a naturally higher price tag than their counterparts and are considerably more complex to install and commission.

Installation

MEV systems are far easier to install since they require less ducting because air is being drawn only one way: out. With MVHR, there is a further set of ducting to take the air from the unit into rooms.

MEV systems are easy to use – more of a fit and forget scenario than MVHR systems which require maintenance, including regular filter changes. In the case of our own CMX range of MEV systems, the optional speed and user controls enable simple operation and control for the homeowner, making them less likely to experience difficulties. Models are also available with an integral humidistat which identifies changes in humidity and automatically adjusts the air flow of the unit accordingly.

So which is for me?

Both MEV and MVHR systems are most suitable for new properties rather than retrofit, but MVHR systems do require a more airtight property where virtually all of the air flow can pass through the heat exchanger, if they are to perform efficiently.

With inner cities obviously having higher pollution levels, MVHR systems are seen as more suitable because of the filter element, but in apartment blocks it's often the case that only the first four floors are fitted with MVHR and the remaining with MEV as polluted air is heavier and therefore stays closer to the ground.

MVHR systems are the undisputed kings of whole-house ventilation solutions, hence the recent boom in popularity of the units. However, if simple low maintenance, ultra-quiet ventilation is what you're looking for then MEV could be the way to go.
List all press releases