DOMUS VENTILATION
CAMBRIA HOUSE
CAERPHILLY BUSINESS PARK
VAN ROAD
CAERPHILLY CF83 3ED

Tel: 03443 715523
Fax: 03443 715524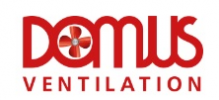 Suppliers of: Ventilation Ducting Ventilation Ducts Extractor Fans Bathroom Fans Kitchen Fans MVHR Mechanical Ventilation Heat Recovery MEV Mechanical Extract Ventilation
Domus Ventilation, formerly Polypipe Ventilation, manufacture and supply high quality and solution based ventilation products for the domestic and light commercial building industry. Our range of products provide a cost effective way of meeting the requirements of the latest Building Regulations.
Useful Resources:
Main Product Ranges:
Fan Range:
The range includes award winning, high performing and energy efficient mechanical extract ventilation appliances and fans that are suitable for a wide variety of domestic applications and dwelling sizes.
Ideal for new build
Continuous supply and extract ventilation incorporating heat recovery – for whole house applications
System 3 in Approved Document F of the Building Regulations
Centralised ventilation unit that continuously extracts waste air
System 3 in Approved Document F of the Building Regulations
dMEV fans continuously extract the waste air at both low trickle or boost speeds
In-Line / Axial / Centrifugal Extract Fans:
Domus Extract fans remove condensation and moist air and include options ideal for new build and refurbishment applications
NEW to the range are Sapphire fans – Designed to complement internal decor with extremely quiet performance.
House Packs:
Suitable for multi-floor, single-floor and apartment configurations
Over-the-counter full ventilation system
Domus has a wide range of Accessories and Controls to use with our vast rage of ventilation solutions. These include:
Extract Fan fitting & Fixing kits
Extract Fan Control Options
MVHR Accessories / Filters / Duct Kits
Condensation Drain Kits
MEV Air Supply
Sapphire Fan Fascia
Spotvent Ceiling Light Grille
Our range of Domus ducting offers a high quality solution for domestic & commercial applications.
Ducting Kits
Rectangular / Round / Thermal Ducting
Flexible / Semi-Rigid / Acoustic Ducting
Internal / External Grilles
Fire Prevention Solutions
Domus Adapt / Domus Radial Ducting Systems
Further Technical information is available to download from the BPi download library or from the Manufacturer's own website.
BLUEBRAIN
Mechanical Ventilation Controller
DOMUS
Ventilation Ducting
DOMUS ADAPT
Ducting Systems
DOMUS CLASSIC
Extractor Fans
DOMUS CMX
Mechanical Extract Ventilation Systems
DOMUS CMX-MULTI
Mechanical Extract Ventilation Systems MEV
DOMUS CMX-S
Mechanical Extract Ventilation Systems MEV
DOMUS CURZON
Extractor Fans
DOMUS ENERGEX
Thermoactuators
DOMUS HRX-aQ
Mechanical Ventilation with Heat Recovery MVHR
DOMUS HRX2D
Mechanical Ventilation with Heat Recovery MVHR
DOMUS HRXE-AURA
Mechanical Ventilation with Heat Recovery MVHR
DOMUS HRXE-HERA
Mechanical Ventilation with Heat Recovery MVHR
DOMUS KITCHENAIRE
Extractor Fans
DOMUS MAYFAIR
Extractor Fans
DOMUS RADIAL
Whole House Ventilation
DOMUS SAPPHIRE
Decentralised Mechanical Extract Ventilation dMEV
DOMUS SOLIS AIR BRICK
Metal Airbricks
DOMUS SPOTVENT
Shower Ceiling Lights
DOMUS THERMAL
Duct Insulation
DOMUS TRIPLEVENT
Power Circuit
DOMUS VITALIS
In Line Mixed Flow Duct Fans
FLOW CONTROL PLENUM
Duct Flow Controls
MICROBAN
Rigid Duct Attenuator
NOX FILT
NOx Filtering Ventilation Ducting Systems
NOX-FILT
NOx Filtering Ventilation Ducting Systems
SAPPHIRE
Domestic Extractor Fan
SAPPHIRE GREEN LINE
Extractor Fans
Domus Ventilation launched next generation, HRXE Mechanical Ventilation
October 2021
Domus Ventilation welcomes new sales & marketing personnel
January 2021
Domus Ventilation welcomes new sales & marketing personnel

Domus Ventilation, part of the Polypipe group, has appointed two new members to the ever growing team: Russell Beardsworth as Specification Sales Manager for the Midlands / North England, and Megan Bennett as Senior Marketing Executive.
Introducing Russell

Russell brings with him over 12 years' experience in the construction sector, with the last five years being directly in ventilation. His experience as both a Project and Key Account Manager at Xpelair and Vortice, and his work in developing the latter's specification range, made him an ideal candidate for Domus Ventilation.

On his move to Domus Ventilation, Russell states: "This is an exciting opportunity for me to help further develop the specification side of the business amongst a specification team that is relatively new. I am looking forward to helping to grow the business, both in sales and product. Although I joined just before the first lockdown in March, which proved a challenging time for all, I'm now working on an exciting range of projects. Ventilation is something I feel passionate about and I get great satisfaction out of explaining the widespread benefits of ventilation and how mechanical ventilation system work." In his spare time, Russell has a further passion, cycling, and often rides for charity as well as for fun.
Meet Megan

A further newcomer to Domus Ventilation is Megan Bennett who has taken on the role of Senior Marketing Executive. Megan may be new to the ventilation industry, but her marketing skills are tried and tested. Megan has spent the last eleven years in various marketing roles with Invacare, a leading manufacturer specialising in helping people with reduced function, mobility and disability, culminating in the post of EMEA Marketing Communications Specialist. On joining Domus Megan stated "Although I am new to this field, improving daily lives of others is an absolute passion of mine. During this difficult time, indoor air quality has never been so important. I'm excited to be joining such a renowned team within the industry. With a passionate ever-growing team and upcoming product launches, 2021 is looking to be an exciting year!"
Say hello to Dean

In addition to these two new appointments, Domus Ventilation has also announced the promotion of Dean Miranda from Contractor Sales Manager for London south central and the home counties to Specification Sales Manager. Dean is now responsible for supporting consultants, design engineers and end user specifiers at the design stage of a project and providing product specification advice. This includes presenting CIBSE approved CPDs on mechanical ventilation principles and best practice.

Domus Ventilation has a well-deserved reputation for quality, supported by excellent technical support, from a market leading manufacturer and designer. It is well placed to offer immediate, practical solutions to Building Regulations Parts F & L.

For further information on Domus Ventilation, please contact vent.info@domusventilation.co.uk or visit www.domusventilation.co.uk

List all press releases