DOMUS VENTILATION
CAMBRIA HOUSE
CAERPHILLY BUSINESS PARK
VAN ROAD
CAERPHILLY CF83 3ED

Tel: 03443 715523
Fax: 03443 715524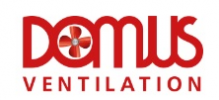 Suppliers of: Ventilation Ducting Ventilation Ducts Extractor Fans Bathroom Fans Kitchen Fans MVHR Mechanical Ventilation Heat Recovery MEV Mechanical Extract Ventilation
Domus Ventilation, formerly Polypipe Ventilation, manufacture and supply high quality and solution based ventilation products for the domestic and light commercial building industry. Our range of products provide a cost effective way of meeting the requirements of the latest Building Regulations.
Useful Resources:
Main Product Ranges:
Fan Range:
The range includes award winning, high performing and energy efficient mechanical extract ventilation appliances and fans that are suitable for a wide variety of domestic applications and dwelling sizes.
Ideal for new build
Continuous supply and extract ventilation incorporating heat recovery – for whole house applications
System 3 in Approved Document F of the Building Regulations
Centralised ventilation unit that continuously extracts waste air
System 3 in Approved Document F of the Building Regulations
dMEV fans continuously extract the waste air at both low trickle or boost speeds
In-Line / Axial / Centrifugal Extract Fans:
Domus Extract fans remove condensation and moist air and include options ideal for new build and refurbishment applications
NEW to the range are Sapphire fans – Designed to complement internal decor with extremely quiet performance.
House Packs:
Suitable for multi-floor, single-floor and apartment configurations
Over-the-counter full ventilation system
Domus has a wide range of Accessories and Controls to use with our vast rage of ventilation solutions. These include:
Extract Fan fitting & Fixing kits
Extract Fan Control Options
MVHR Accessories / Filters / Duct Kits
Condensation Drain Kits
MEV Air Supply
Sapphire Fan Fascia
Spotvent Ceiling Light Grille
Our range of Domus ducting offers a high quality solution for domestic & commercial applications.
Ducting Kits
Rectangular / Round / Thermal Ducting
Flexible / Semi-Rigid / Acoustic Ducting
Internal / External Grilles
Fire Prevention Solutions
Domus Adapt / Domus Radial Ducting Systems
Further Technical information is available to download from the BPi download library or from the Manufacturer's own website.
BLUEBRAIN
Mechanical Ventilation Controller
DOMUS
Ventilation Ducting
DOMUS ADAPT
Ducting Systems
DOMUS CLASSIC
Extractor Fans
DOMUS CMX
Mechanical Extract Ventilation Systems
DOMUS CMX-MULTI
Mechanical Extract Ventilation Systems
DOMUS CURZON
Extractor Fans
DOMUS ENERGEX
Thermoactuators
DOMUS KITCHENAIRE
Extractor Fans
DOMUS MAYFAIR
Extractor Fans
DOMUS RADIAL
Whole House Ventilation
DOMUS SPOTVENT
Shower Ceiling Lights
DOMUS THERMAL
Duct Insulation
DOMUS TRIPLEVENT
Power Circuit
MICROBAN
Rigid Duct Attenuator
NOX FILT
NOx Filtering Ventilation Ducting Systems
NOX-FILT
NOx Filtering Ventilation Ducting Systems
SAPPHIRE
Domestic Extractor Fan
Domus Ventilation welcomes new sales & marketing personnel
January 2021
Domus Ventilation COVID-19 Update
December 2020
Domus News | April 2020

During these unprecedented times, it may be easier to contact us via email at vent.info@domusventilation.co.uk. We will endeavour to keep our telephone lines manned for as long as possible should you prefer to call us on 03443 715 523. Explore our website for Technical information and literature.
List all press releases