ROCKWELL SHEET SALES LTD
ROCKWELL HOUSE
BIRMINGHAM ROAD
MILLISONS WOOD
COVENTRY
WEST MIDLAND CV5 9AZ

Tel: 0330 057 9550
Fax: 01676 523630

Suppliers of: Polycarbonate Sheets,coloured Polycarbonate Sheet, curved polycarbonate Polycarbonate Glazing Systems, Multiwall Polycarbonate Sheet, Reinforced Polycarbonate roofing, profiled Polycarbonate Domed Rooflights,
Rockwell Sheet Sales Limited is a specialist supplier of plastics for UK building industry. The company operates from two centrally located sites in the West Midlands, including a 3 hectare HQ/distribution centre in Millisons Wood, Coventry.
Rockwell offer a wide range of polycarbonate and plastic building materials and we specialise in the supply of bespoke multiwall polycarbonate glazing systems for pitched or curved roofing and vertical glazing applications. We also supply ranges of coloured polycarbonate sheets.
Coloured / Curved Multiwall Polycarbonate Sheets.
We supply multiwall polycarbonate sheet in a choice of thickness's which is supplied manufactured to the required length without quantity restrictions. With pitched and vertical glazing systems, the glazing channels and polycarbonate sheets can be supplied in lengths up to 10Mtrs, curved sheet systems can be supplied to free span openings up to 5Mtrs. To help satisfy HSE & CDM regulations we are also able to offer Class B 'Non Fragile' roofing assemblies to ACR(M)001:2005.
Our Products include but are not limited to:
Rockwell supply a variety of systems suitable for vertical glazing applications. Module 500-40 is our flagship 40mm thick interlocking polycarbonate sheet system which offers excellent thermal insulation and light transmission. Module 500-16 is a 16mm thick sheet which features the same interlocking design as its 40mm namesake and is suitable for shorter/internal spans which require lower insulation values. System 655-16 is a traditional 16mm sheet & glazing bar system which has the added benefit of being available from our stock without quantity restriction in various translucent coloured sheet finishes. Rockwell's glazing systems include a unique 'hooked edge' sheet design that by simply snapping down into open topped plastic coated steel glazing channel our glazing system allows panels to be secured without additional fixing. Our hooked edge system is quick to fit and does not require specialist installers. EasyCLIK - a simple 250mm wide x 16mm thick snap together multiwall polycarbonate sheet that is supplied manufactured to length or in standard stock lengths.
Rockwell supply a variety of polycarbonate sheets and glazing systems which are suitable for rainscreen cladding. Module 500/40 is a modern glazing system incorporating 40mm thick interlocking polycarbonate sheets. Manufactured to the required length/height in 500mm sheet widths, the durable multiwall panels have the ability to transmit the maximum available natural light into any building whilst providing excellent thermal insulation. Ideally suited for use as clerestory glazing, northlights, facades and feature rainscreens, System 655/16 is a multiwall polycarbonate vertical glazing system that combines good thermal insulation and natural light transmission with streamline aesthetics.
Rockwell supply a huge range of roofing and glazing products which are also successfully utilised for interiors, shopfitting, exhibition and set design applications.
Technical Advise.
The Millisons Wood HQ is home to the company's specialist technical team who are happy to offer advice to architects, specifiers and contractors on the suitability of Rockwell products.
Our Comprehensive Range.
Rockwell's other products include Glazing Bars, Multiwall polycarbonate sheet in thickness's from 4mm to 35mm in a choice of sheet sizes and colours; Polygreca corrugated polycarbonate sheet; Polystar - snap together, polycarbonate 'glass blocks', Hard surface coated solid polycarbonate sheet; Safe-six 'non fragile' Pvc and Grp Big Six profiled rooflights and Hygienic wall and ceiling linings. For further information please visit www.rockwellsheet.com or call 0330 057 9550
Further technical information and guidance is available on the BPi download Library
DYNOGRID
Ground Reinforcement
EASYCLICK
Polycarbonate Glazing
EASYPIU
Multiwall Polycarbonate Sheets
GRECAPLUS
Multiwall Polycarbonate Sheets
HEATGUARD
Multiwall Polycarbonate Sheets
MODULAR
Polycarbonate Sheets
MODULAR 500/16
Interlocking Polycarbonate Glazing
MODULAR 500/40
Interlocking Polycarbonate Glazing
MODULE 500/16
Interlocking Polycarbonate Glazing
MODULE 500/40
Interlocking Polycarbonate Glazing
ONDAPLUS
Multiwall Polycarbonate Sheets
PALGUARD
Abrasion Resistant Polycarbonate Sheets
PALRAM
Polycarbonate Sheets
PALSUN
Polycarbonate Sheets
PALTUF
Polycarbonate Sheets
PANELPIU
Multiwall Polycarbonate Sheets
PERFOLUX
Polycarbonate Sheets
PERSPEX FLUORESCENT
Cast Acrylic
PERSPEX FROST
Cast Acrylic
PERSPEX OPAL
Cast Acrylic
PERSPEX PEARLESCENT
Cast Acrylic
PERSPEX SPARKLE
Cast Acrylic
PERSPEX VARIO
Cast Acrylic
PERSPEX VISION
Cast Acrylic
POLYGRECA
Corrugated Polycarbonate Sheets
POLYWAVE
Corrugated Polycarbonate Sheets
REVERSPIU
Multiwall Polycarbonate Sheets
SMARTPLUS
Corrugated Polycarbonate Sheets
SUNLITE
Polycarbonate Sheets
SYSTEM 655/16
Polycarbonate Glazing Systems
Rockwell Protective Barriers
August 2020
Rockwell Exchanges Contracts on Prime Elephant & Castle Site
March 2020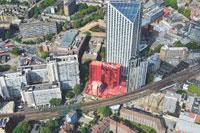 Rockwell Exchanges Contracts on Prime Elephant & Castle Site

Rockwell has exchanged contracts on the Salvation Army Headquarters at 101 Newington Causeway in the London Borough of Southwark. The freehold purchase, in the heart of Elephant and Castle, is one of the last major opportunities in the regeneration of the area and offers outstanding scope to redevelop the existing office buildings. The disposal is to support Salvation Army's relocation to new headquarters within the Borough at Denmark Hill.

Elephant and Castle has benefitted from major investment in recent years, with redevelopment proposals including the Shopping Centre and Elephant Park set to deliver a substantial amount of new residential, office and commercial space. In total, more than £4bn is being invested into the area's regeneration, with redevelopment of the former Salvation Army headquarters able to contribute significantly to the vibrancy and vitality of the town centre.

Rockwell has had an impressive start to 2020 with planning permission secured for Quay House in Canary Wharf alongside the commencement of development at 82 West India Dock Road, adjacent to Westferry DLR station, following a £106m investment deal with Aviva Investors.

Rockwell has established a reputation for its commitment to local communities, going above and beyond to ensure they benefit from investment in their area. This is achieved through partnership with local organisations, such as the London Training Centre and Boundary Community School, who are currently delivering training programmes to ensure that local people have the skills and confidence necessary to find employment in forthcoming developments.

Donal Mulryan, Founder of Rockwell commented: "Elephant and Castle is undoubtedly one of the most exciting areas in London and the Salvation Army headquarters is an exceptional site which we're delighted to be bringing forward. Rockwell has an absolute commitment to ensuring that local people benefit directly from each proposal and to working in partnership with local organisations to achieve this. I'm excited to begin work on a scheme which will have a positive impact on the lives of local people and the vibrancy of the town centre."

The Salvation Army has been advised on the disposal of 101 Newington Causeway by Savills.

Andrew Cox, Savills Development Director, says: "Savills undertook an extensive marketing campaign that generated huge interest in this landmark site. The Salvation Army believe that Rockwell had enough vision and track record to deliver on the site. Elephant and Castle is undergoing significant regeneration. This sale clearly demonstrates the depth of the market in this part of south London and the improved confidence in the London land market. We are delighted to transact with Rockwell on behalf of our key client The Salvation Army".
List all press releases