PORTLAND STONE FIRMS LTD
Suppliers of: Portland Stone, Quarried Portland Stone, Portland stone suppliers, Portland stone blocks
Portland Stone Firms are the leading suppliers of Portland stone in the UK. Operating out of three quarries and a new purpose built factory with extensive manufacturing capability. Portland Stone Firms have CE Certification on all products.
Please take the opportunity to visit the site at any time for us to give you the confidence to step into the world of historic stone.
Social Media: Portland Stone Firms on Twitter
An extensive range of renowned Portland Stone:
Whitbeds: Clean to medium shell with a small amount of white flec.
Basebeds: Tightly grained stone with little shell content.
Shelly: A Tightly grained stone with very little shell content used as a match for basebed when durability is required.
Roach: A very open textured and shelly stone often used as a feature course or where a building require a little character.
Finish: The stone can be left with a sawn face or finely rubbed to provide a high finish seen extensively throughout London.
Portland Block Stone We are the leading supplier of dimension Portland limestone. We operate 3 quarries capable of producing blocks up to 40 tonnes & rock armour.
Manufactured Stone Our factory has the latest equipment capable of producing sawn stone, ashlar and cladding. As well as standard items such as Portland stone slabs and Portland stone blocks are also able to produce bespoke items on request.
Stone Masonry and Stone Carving Our highly trained masonry team are capable of carving blocks for monumental and ornamental work.
Ashlar & Stone Cladding Portland Stone Cladding is magnificent in its impact on building design, and with modern construction methods, Portland Stone can be supplied as Ashlar making it suitable for lightweight cladding specifications.
Portland Stone Paving and flooring Specified for both commercial and domestic projects, Portland Stone paving and flooring slabs provide a durable finish to any project.
Portland Stone Balusters Balusters can be made with endless profile options using CAD. Replica reproduction and new styles can be perfectly produced. Handrails, piers and caps can be produced to match your exact requirements.
Portland Stone Steps & Staircases A variety of spiral or ramped and twist Portland stone staircases designed for your home or public buildings.
Portland Stone Columns Our lathe is capable of turning accurately small to large column stones to match individual requirements and specifications within the constraints of the stone selected. All styles are available from Doric, Ionic, Corinthian, Tuscan and Composite. Featureless columns are also available.
Portland Stone Walling A variety of random cropped split faced walling for landscaping and building purposes.
Fireplaces & surrounds Bespoke fireplaces that add elegance and style to any home. From contemporary to traditional styles.
Aggregates We also supply large quantities of Limestone Aggregate for use in general building and groundwork.
Mining Operating in Perryfield quarry, the already exposed face allows us to mine directly into the whitbed, mid tier and roach limestone beds. This gives us access to over 680,000m³ of reserve with 2 portal entrances.
BROADCROFT WHITBED
Portland Stone
COOMBEFIELD SHELLY WHITBED
Portland Stone
COOMBEFIELD WHITBED
Portland Stone
COOMBEFIELD XE
Portland Stone
PERRYFIELD BASEBED
Portland Stone
PERRYFIELD ROACH
Portland Stone
PERRYFIELD SHELLY
Portland Stone
PERRYFIELD WHITBED
Portland Stone
Mining natural Portland stone in Coombefield quarry now fully underway
March 2021
Paternoster Square and Column
March 2018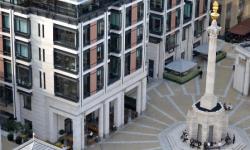 Paternoster Square and Column
Recognised as one of the City of London's most outstanding and prestigious landmarks.

Located in Paternoster Square in London, St Martin's Court was a £5m project. Overall the large site was created to provide 130,000 sq ft for a mixture of office and retail spaces.

Portland Stone Firms provided its iconic Portland limestone for the cladding of 4 buildings. Over 1,230 m3 of limestone was needed to clad the Mason's Yard building alone.

This project demonstrates the ability of our mine and quarries to produce the quantities of stone needed by large building projects.
Colonnade

The circular column walk through used our turned natural Portland stone which was capable of producing the large sizes required for the project. Each turned piece displays the typical fossil shelling of Portland that is expected.
The Column

We provided and worked the stone for Paternoster Square Column. This is now recognised as one of the City of London's most outstanding and prestigious landmarks
List all press releases