HUNTER DOUGLAS SUN CONTROL & FACADES
8 CHARTER GATE
CLAYFIELD CLOSE
MOULTON PARK
NORTHAMPTON
NORTHAMPTONSHIRE NN3 6QF

Tel: 01604 648229
Fax: 01604 212863
Suppliers of: Luxalon Cladding aluminium Cladding Sun Louvres External Cladding Facade systems
Hunter Douglas manufactures and supplies high quality, integrated sun control and façade systems. More than 90% of the Hunter Douglas products are made from recycled aluminium.
Products include a wide range of sliding shutters, motorised shutters and louvres, as well as the architecturally versatile QuadroClad ventilated (rainscreen) facade, insulated sandwich wall cladding and MPF single-skin rainscreen systems.
The international Hunter Douglas group comprises more than 160 manufacturing and assembly operations across 100 countries. Hunter Douglas systems are CWCT and LPCB approved and hold relevant British Standard certifications.
QuadroClad is an open jointed, ventilated rainscreen facade system, which offers integrated, fast-track construction for large projects with a repetetive design element. The natural ventilation of the open joints allows rainwater and condensation to escape, preventing the build-up of damaging micro-climates behind the facade.
QuadroClad is based on honeycomb composite technology that originates from the aircraft industry. It has excellent long-term weathering properties and low-maintenance characteristics, combined with superior thermal performance. QuadroClad comes in many colours, sizes and shapes and can be curved or folded. The unique frame and fixing structure enables the incorporation of other panel materials such as timber, stone and glass, as well as fully integrated windows, doors and louvres.
CHARACTERISTICS
Extremely flat panel surfaces
Large panel modules (up to 1500 x 6000mm as standard)
Longer bespoke panels (up to 10m) can be ordered
Choice of skin materials
Low weight per m2
"Total" facades system including windows, doors and louvres
Open joints for natural ventilation
Minimal fixings for fewer "cold bridges"
For new build and over-cladding projects
Sandwich Wall HP+ cladding. Hunter Douglas Sandwich Wall is a bi-modular, insulated facade system. Designed to have an extremely flat surface, the made-to-measure panels comprise two skins of metal surrounding an insulated core of either HCFC-free foam or high density mineral wool.
Panels can be cranked and curved in almost any angle or radius, providing exceptional aesthetic possibilities for architects. A total facade system can be created through integration with windows, doors and sun control. Panels are tested for air leakage, water penetration and fire resistance, and are certified by organisations including Factory Mutual, LPCB and CWCT. Sandwich Wall panels are available in a variety of coated or anodised finishes or colours, and can be plain or embossed.
CHARACTERISTICS
Extreme panel flatness
Choice of skin materials (e.g. aluminium, stainless steel, zinc, copper)
Standard widths but any panel module up to 1500mm can be produced.
Panels can be supplied up to 12m in length for both horizontal and vertical installation
Superior thermal performance (U-value) properties
"Total" facades system including windows, doors and louvres
For new-build and over-cladding projects
MPF (Multiple Panel Facade) external cladding panels are designed primarily to provide architects with a cost-effective cladding and soffit solution for the highest and longest elevations of new buildings as well as for shop fronts, fuel station canopies and over-cladding on existing buildings.
Operating on the principles of ventilated rainscreen facades, MPF is a fully integrated single-skinned system which is available in plank, tile and cassette formats. MPF has been proven to be a highly flexible system, with the 1-1.4mm panels available in a huge variety of colours, size and finishes. Panels can be easily cranked or curved and can be fully integrated with Hunter Douglas doors, windows and sun control.
CHARACTERISTICS
Panel flatness
Standard modules 200/300/400/500/600mm
Choice of coatings: Luxacote® , PVF2 or anodised aluminium
Choice of skin materials (e.g. aluminium, stainless, steel, copper)
Choice of carrier systems for fixing to various sub-structures
Can be laid flat or in variable curved format
For new-build and over-cladding projects
Can be used internally, externally and in soffit positions and canopies/covered ways
Hunter Douglas Sun Control. Hunter Douglas is the world market leader in daylight regulation and solar heat control solutions. The company provides architects with the knowledge and expertise to integrate sun control systems into any building to gain optimum performance and superior aesthetics.
A full range of sun control products are available, from louvres (e.g. Aerofins, Aerowings, Aerofoils) to folding and sliding shutters (either manual or motorised). All sun control products can be fully integrated with any Hunter Douglas facade system and manufactured to bespoke requirements.
CHARACTERISTICS
Fixed or adjustable systems with manual or motorised controls
Aluminium or Western Red Cedar timber louvres
Powder-coated or anodised aluminium finishes
Variety of shutter screen infills, including reflective fibreglass fabric
EOS PRO
Sun Control Systems
LINEARCLAD
Facade Systems
PROSCREEN
External Roller Blinds
QUADROCLAD
Facade Systems
QUADROCLAD BASIC
Cladding Panels
QUADROCLAD COMPLETE
Cladding Panels
QUADROCLAD EASY
Cladding Panels
QUADROCLAD FLEX FINS
Facade Systems
QUADROCLAD RENOVATION
Facade Systems
QUADROCLAD ULTIMATE
Cladding Panels
SINGLE SKIN CASSETTE SSC
Rainscreen Cladding
TERRART
Architectural Terracotta/Faience
ULTIMATE SCREEN ZIP
External Roller Blinds
Hunter Douglas - South Molton Street Building
August 2018
HUNTER DOUGLAS WHITE PAPER: WHY SUN CONTROL IS SO IMPORTANT FOR ARCHITECTS
July 2017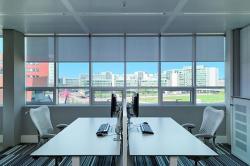 Striking the right balance of sunlight and daylight in a building is crucial to people's wellbeing, according to a new white paper by architectural products company Hunter Douglas.

It's down to architects and designers to factor in solar and light glare control when they work on building projects because doing this successfully can improve the interior comfort and energy performance of the premises.

However, including blinds at the earliest stage of a building design process can make a huge difference.

While sunlight and daylight are important sources of light and warmth, they can also cause specific problems for workers – for example, an annoying glare on a computer screen or an overheated building.

The challenge for building designers, therefore, is to ensure there is plenty of natural sunlight that does not cause discomfort.

It's why blinds offer the ideal solution, subject to a building's location, its façade orientation and the end user's profile being taken into consideration.

A study by the European Solar Shading Organization (ES-SO) estimates the energy-saving potential of dynamic sun systems could be as much as 30% for cooling and 14% for heating.

Installing blinds is an effective way to prevent glare and ensure visual comfort, with functional roller blinds reducing heat entry by 50-60% cent and light to less than 5%.

There's no doubt that we want to work in environments that have natural sunlight, and studies have shown that it has a positive effect. In one survey, office workers sitting close to a window received 173% more sunlight than their colleagues sitting further away. Conversely, a lack of daylight and outside views are two of the main contributors to dissatisfaction in the workplace.

Nevertheless, there are times when sunlight has to be shut out and blinds are the most effective way of doing that. In addition to providing a more comfortable working environment, reducing light glare can also help a business to reduce its air conditioning costs, particularly if the building has large east- or west-facing glass surfaces.

you can download the whitepaper PDF at: http://hunterdouglasblog.co.uk/brochures/hun0003-whitepaper-lichtwering-v7-uk.pdf
List all press releases