COMPONENT DEVELOPMENTS
Suppliers of: Stainless Steel Drainage Channels Stainless Steel Floor gullies Stainless Steel drains trench drains
Component Developments (CD) is a market leader in the design, manufacture and supply of stainless steel building products to the construction industry.
The CD product range includes internal and external drainage channels, gullies, various types of surface protection and also manhole covers. These products are especially suited to the leisure, food & beverage production, catering and healthcare industries.
Due to the make-up of stainless steel our products offer unique benefits for designers, specifiers and contractors across the board. The ease of cleaning ability makes stainless steel the first choice for hygiene conditions, such as restaurants, hospitals, kitchens, shower areas and other places where people congregate. Stainless steel has a proven record of success in the area where sanitation and ease of cleaning are so important.
Sales Support and Technical Advice
Manned by a team of experienced engineers, our state of the art facilities located in Telford, Shropshire, houses our design, engineering, technical sales, production and logistics departments all in one place. This allows us the freedom to create high quality products in a very short lead time, while offering a friendly and reliable service.
You Design It, We Fulfil It
We offer a comprehensive design service to help you achieve exactly what you need for the project. Equipped with the latest design software, we will produce a detailed CAD layout made to your specific requirements.
We understand that timing is of the essence and having your product made quickly and delivered to site at a time that is most appropriate to you is something we take very seriously.
CD offers a comprehensive range of stainless steel drainage channels to suit any application and floor finish, combined with the ability to produce bespoke systems. Including:
Standard Drainage Channel (3000 Series) - With a minimum channel depth of 50mm, these are ideal for use where a high volume of direct discharge waste from process equipment into the floor is required.
Super Compact Channel (3600 Series) - Conical shaped with no gratings, this drain is easy to maintain. This economical drainage channel fits flush to the floor and requires a 50mm depth.
Modular Drainage Channel (6000 Series) - Has a shallow channel depth of 40mm and is strictly restricted to 155mm overall width. The 6000 Series is suitable only for tiled, concrete or resin floors.
Our range of floor gullies includes trapped outlet gullies with a range of gratings. Ideally for use in many wash down applications including catering kitchens, abattoirs, dairies and food processing plants.
We supply both mesh and perforated floor gratings for use with our channel drainage systems. Anti-slip, smooth and heel safe options are available.
For the protection of walls, we manufacture a range of buffer rails and corner guards and skirtings in austenitic stainless steel to suit a wide range of wall finishes including tiles, fair-face block work and p.v.c sheeting.
Further to our surface protection range we supply stainless steel kerbs, which are ideal for use in Food processing factories with resin flooring. We offer three types:
Single Sided Kerbs (8100 series) - These are mainly used around the perimeter area to sit alongside the exterior wall and are then infilled with C30 concrete (or similar) making them very strong and impact resistant. Walling is then built on top.
Double Sided Kerbs (8200 series) - For sectioning an area into different rooms, the double sided kerbs are ideal. These can cross path using internal and external corner pieces and stop ends.
Retro Fit Kerbs (8300 series) - For pre-existing walls in refurb situations, retro fit kerbs offer the solution. Also ideal for use in conjunction with the single and double kerbs as a continuation of the protection in cold areas and against block walls.
All bollards and barriers can be either surface mounted or core drilled. All offering Ideal protection from forklift trucks, pallet trucks and passing trolleys.
The covers allow easy access below floor level and are designed with a recessed top to sit resin, tiles or screed flush with the floor. Standard sizes available ex-stock. Heavy duty range also available for trafficked areas to support forklift and pallet trucks.
These files are provided by the manufacturer. While Building Products Index takes every care to ensure the information is correct and up to date, we cannot be held liable for any out of date or incorrect information in them. Please check with the supplier before specifying or purchasing products.
3000 SERIES
Stainless Steel Drainage Channels
3600 SERIES
Stainless Steel Drainage Channels
6000 SERIES
Stainless Steel Drainage
MODULAR 6000
Drainage Channels
Component Developments Supply University of Birmingham Floor Drainage
December 2018
Component Developments Supply Drainage for Grosvenor House Hotel
December 2018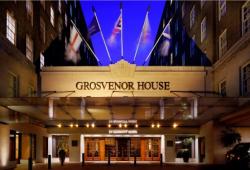 The Grosvenor House Hotel was built in the 1920s and opened in 1929 on the site of Grosvenor House, the former London residence of the Duke of Westminster. Grosvenor House underwent a four year renovation and restoration costing £142 million and reopened in 2008. This included a full refurbishment of all restaurants, guest rooms, health facilities, and public areas. The Great Room, Ballroom, Court Suite, restaurants, bars, meeting paces and 494 guest rooms that can accommodate a total of 6,000 people. Component Developments worked closely with the contractors during the refurbishment, and still supply floor drainage to this iconic hotel.

Component Developments has designed, manufactured and supplied a variety of stainless steel drainage channels and manhole covers to the kitchen areas of the hotel. Component Developments used their 3010 drainage channel profile to design the kitchen drainage channels, which were 300mm wide to prevent a box outlet and to give a neat final product. The systems had a built in fall which discouraged pooling to a type 5200 gully which included a removable waste basket, odour trap, rodding port and 110mm diameter outlet spigot. The removable waste basket allowed food debris to be caught and thus periodically removed to prevent potential system blockage, whilst the odour trap prevents foul air being recirculated back into the kitchen area. All the drainage channels were topped with Component Developments anti-slip grating, which prevented employee slippage and had a 1 tonne wheel load.

Component Developments also supplied a variety of manhole covers in various standard and non-standard sizes. All the manhole covers were recessed and double sealed to take floor finishes, and were supplied with lifting keys. Any covers over 900 x 900mm were supplied as a multi-cover to help distribute the weight of the manhole.

The overall drainage solution was a durable, long lasting, high performance floor drainage system which was capable of meeting all hydraulic and hygienic requirements whilst being durable enough to withstand large amounts of traffic.
List all press releases