GEC ANDERSON LTD
Suppliers of: stainless steel worktops purpose made worktops stainless steel sinktops stainless steel kitchen cabinets purpose made stainless steel shelving, stainless steel sinks, purpose made urinals stainless steel, catering sinks purpose made
Stainless steel Sinks, Worktops, Cabinets, Panels, Shelving and Sanitaryware.
GEC Anderson® products are durable, hygienic, versatile and practical. They are skillfully produced from high-quality brushed satin stainless steel and are available in Standard, Modular and Made-to-Measure sizes enabling us to accurately match specific end-user requirements, budgets and timescales.
GEC Anderson® stainless steel products are manufactured under strict ISO 9001 quality standards and have been widely used in domestic, commercial and public sector environments. GEC Anderson® was founded in 1962 and since this time, has been involved in a wide variety of projects - large and small. Some recent examples include St. Pancras Eurostar Terminal, Heathrow Terminal 5, Evelina Children's Hospital, V&A Museum and very many other commercial and domestic premises including offices, laboratories, domestic kitchens, shops, hotels and surgeries.
Useful Resources:
Access CAD Files on FastrackCAD - also listed against relevant products on website
BIM Files: Available on Demand
NBS Specifications - listed against relevant products on website
Sinks, worktops, cabinets, shelving and panels - made in any shape, size or configuration. Worktops are made without joins, to maximise use of available space, providing design freedom as well as total hygiene. EDGES are formed integrally with choice of lipped or square profiles with or without upstands. SINK BOWLS are seamlessly integrated with wide choice of sizes and configurations. CUT-OUTS eg. for appliances, tapholes etc. are made exactly where required. Stainless steel base, wall and drawer cabinets are also available as are panels, splashbacks and shelving.
A comprehensive range of stainless steel sanitary appliances, suitable for domestic, commercial or public use includes: WCs, Washbasins, Urinals, Baths, Wash Troughs, Drinking Fountains, Shelving, Mirrors, Sluice Sinks, Cleaners Sinks and Footbaths.
A highly versatile and economic, modular kitchen furniture system featuring hygienic, professional quality surfaces, sinks, cabinets and shelving. Units are available in 100mm sizing increments that provides great versatility combined with economy and rapid lead times. worktops stainless steel worktops purpose made worktops stainless steel sinktops stainless steel cabinets stainless steel shelving stainless steel sinks stainless steel urinals stainless steel sinks purpose made stainless steel wc stainless steel basins stainless steel baths stainless steel mirrors stainless steel wash troughs
DECIMETRIC
Stainless Steel Worktops
GEC ANDERSON
Stainless Steel Worktops
GEC Anderson installs Stainless Steel Splashbacks in Hampstead Heath Kitchen
September 2021
GEC Anderson worktops installed throughout new North London primary school
March 2021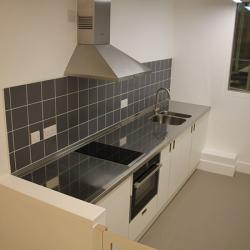 The fit-out of a new primary school building in North-West London has featured the installation of half a dozen different configuration of high quality stainless steel work-surfaces within its teaching, staff and family areas, specified for their durability and visual appeal as well as the creation of hygienic, easy to clean and maintain facilities.

The Edith Neville Primary School in Camden has been built by Orpington based Neilcott Construction for the London Borough of Camden with Hayhurst and Co. Architects leading the design team. The move into the new premises took place over the Christmas holidays and will allow the old premises to be demolished.

Project Architect, Jamie Wakefield, commented: "I had seen GEC sinks on another project and we specified them as part of a full Stage 4 design for the Edith Neville Primary School, which has been built for the London Borough of Camden. Schools inevitably get some very heavy usage, but with stainless steel it is easy to clean the surfaces up and get them looking smart again."

Jamie continued: "The different GEC fabrications feature throughout the new school as art sinks in each classroom and as tea-point countertops in various places including a family area. There is also one in the staff kitchenette and a special studio space. They look good."

The many and varied units supplied by G. E. C. Anderson include a total of 16 in varying sizes from 1440mm long x 600mm deep and up to 3073mm long x 650mm deep, all with flat surfaces for food preparation and stacking dishes, including ten units supplied with one full size sink and six with a full sink together with half sink, plus three with cut out for cooker hobs, while 300mm high slashbacks- again in stainless steel, help prevent water or waste material staining or damaging the walls.

The tops also incorporate five different edge details for such purposes as preventing water run-off.

Since its formation in 1962, GEC Anderson has built its reputation for the supply of top end stainless steel sinks and sanitaryware on a combination of innovative design, top quality materials and expert craftsmanship. In addition to the company's Decimetric system of cabinets, sinks, drainers and other equipment - widely specified for sectors including health and catering – it is able to create custom engineered solutions to exactly fit any space or specification.


List all press releases