AXIS ENTRANCE SYSTEMS LTD
UNIT 6 QUEENS PARK IND ESTATE
STUDLAND ROAD
KINGSTHORPE
NORTHAMPTON
NORTHANTS NN2 6NA

Tel: 01604 212500
Fax: 01604 212495

Suppliers of: automatic entrance doors, commercial entrance doors, sliding entrance doors, commercial automatic doors, supermarket entrance doors, office entrance doors
Axis is independently owned with over 30 years' experience as a manufacturer in the automatic door industry, working in healthcare, education, government agency and commercial sectors. Our products, which are custom made to suit specific applications, include:
From a central UK base, Axis offers a complete fabrication, installation and maintenance service.
KNOW-HOW
Axis has extensive knowledge and experience in the automatic door industry, dealing with a wide range of clients in both the public and private sectors.
Axis is an active member of ADSA – Automatic Door Suppliers Association. Detailed risk assessments to BS7036-0 and surveys ensure all installations conform to all EN16005:2012 safety standards.
We have an array of accreditations and are always seeking to improve. We ensure that our staff are trained and given opportunities to develop and grow with us. All our technical and engineering staff are certified to EN16005, CSCS Health and Safety where appropriate and receive continual product training.
AN ESTABLISHED COMPANY
Axis was formed in 2008 by the amalgamation of two very successful associated companies, namely Axis (Northampton) Ltd and Automatic Entrance Systems Ltd. Both companies had been trading for a number of years and came together onto the same site as long ago as 2000 with Axis concentrating on service and maintenance and Automatic Entrance Systems concentrating on the supply, installation and maintenance of Stanley automatic door equipment. The new, combined company retained the sole UK distributorship of Stanley automatic door equipment and the simpler corporate structure facilitated a complete service to customers requiring anything from an extensive new facade to spares and maintenance for an existing installation.
As part of continuing development and to meet customer requirements, Axis also has sole UK distributorships for Manusa Healthcare Doors and Doorson Automatic door products.
On the first October 2019, the company changed its name to Axis Entrance Systems Limited. The new name is the result of an extensive re-branding project that whilst maintaining the history and successful links to Axis, is now a more accurate representation of the current product portfolio and services.
INNOVATION
Axis is the proud developer of the Flo-Motion® manual sliding door system, a multi award winning and innovative product designed specifically for BDP Architects and installed at the new Alder Hey Children's Hospital in Liverpool.
AX85
Swing Door Operators
AX95
Swing Door Operators
AXIS UPS
Backup Power Supplies for Automatic Doors
BEWATOR
Keypad Entry Systems
CHEXIT
Controlled Exit Devices
CLEARWAVE
Touchless Automatic Door Activation Switches
COPPERSHIELD PUSH PADS
Hygienic Door Activators
DISABLED PERSONS TOILET SYSTEM DPTS
Automatic Door Operators
DOORSON 300
Sliding Doors
DOORSON 300 THALES
Sliding Doors
DOUBLE DIAMOND
Automatic Industrial Doors
DURA-CARE
ICU/CCU Manual Sliding Doors
DURA-GLIDE
Automatic Doors
DURA-GUARD
Automatic Doors
DURA-STORM
Automatic Doors
ECO PRO
Electronic Door Controls
FAAC (DISTRIBUTOR)
Car Parking Systems
FAAC A100
Automatic Sliding Door Systems
FLO-MOTION
Low Friction Manual Sliding Doors
GLAS-DOR
Glazed Fire Resistant Steel Profile and Doorsets
INNA-DOR
Internal Fire Doors
IXIO-D
Automatic Sliding Door Sensors
KESTREL
Aluminium Curtain Walling
KEYPAC
Single Door Access Control Systems
MAGIC-ACCESS
Swing Door Operators
MAGIC-FORCE
Swing Door Operators
MAGIC-SWING
Swing Door Operators
MAGNELIS
Coated Steel Sheets
MANUSA
Hermetic Automatic Doors
NET2
Access Control Systems
OUTA-DOR
External Steel Doors
OZAK
Turnstiles Passage and Speed Gates
PAC8
App-Based Access Control Systems
PALM POWERED
Automatic Door Control Panel
PAXTON NET2 CLASSIC
Door Access Controls
PAXTON NET2 PLUS
Door Access Controls
PAXTON PROXIMITY
Access Controls
PAXTON SWITCH2
Door Access Controls
SECUR-DOR
Intruder Resistant Doors / Blast Resistant Doors
SENTREX
Swing Door Sensor
SENTRONIC
Door Hold Open Units
SLIMLINE
Swing Door Operators
SMART-PROX
Touchless Switch Door Activation Systems
STAN-VISION
Surveillance Camera
STANGUARD
Threshold Safety System
STANLEY
Automatic Entrance Doors
SUPER THRIFTEE
Door Closers
TANDEM
Overhead Door Closers
THE QUIET ONE
Emergency Exit Hardware
TUFF-VENT
Louvred Security Doors
TURNIKE
Security Cylinder Gates
VANDERBILT K-42
Keypad Entry Systems
VISIO
Hermetic Door Operators
VON DUPRIN
Emergency Exit Hardware
We are exhibiting products at Healthcare Estates - Manchester 10th & 11th October
September 2023
Axis opens doors for the new Emergency Department at Walsall Manor Hospital
May 2023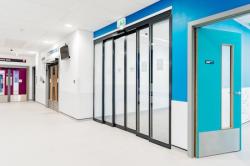 INDUSTRY: Healthcare

CLIENT: Walsall Healthcare NHS Trust

CONTRACTOR: Tilbury Douglas Construction

ARCHITECT: BDP

LOCATION: Urgent & Emergency Care Centre Walsall Manor Hospital

PROJECT: A new Urgent & Emergency Care Centre for Walsall Healthcare NHS Trust, at Walsall Manor Hospital. This £40m two-storey facility provides the Trust with 4,864m2 of additional clinical space and will help meet local demand, caring for up to 90,000 urgent admissions per year. Axis's brief for this new, high-quality, modern development was to provide and install doors for the Treatment Room, Consulting Bays, and Key Entrances of this brand-new facility.

CHALLENGES: Our challenge was the space constraints to maximise usable areas, while fulfilling the requirements of the different door openings.

SOLUTION: Our solution for the Key Entrances (Main Entrance, Ambulance Entrance and the Entrance between the Rapid Assessment & Treatment and Resuscitation departments) included five Doorson Automatic Telescopic Door Sets – three sets of Doorson Bi-parting DR300TBP and two sets of Doorson Single DR300T. To meet the requirements for airtightness, hygiene, space-saving, and ease of access to the Treatment Room, our solution was a Manusa Hermetic Door. Automatic for hygiene and ease of access, and sliding for space-saving, the Manusa also offers various operational modes to suit specific needs and can be specifically design-adapted to best suit each space. For the Consulting Bays we designed and installed 14 sets of our own, award-winning FLO-MOTION® Telescopic Manual Sliding Doors – Type T55. Each sets' two sliding leaves are connected by a sequencing device so that the primary leaf (fast door) reaches the fully opened or closed position at the same time as the secondary leaf (slow door) reaches its pre-set position.

OUTCOME: The brand new Urgent & Emergency Care Centre at Walsall Manor Hospital provides several significant benefits for patients and staff, including:

More efficient and effective working

A lighter and more spacious department

Improved patient experience

Improved working environment for staff

"BDP has worked with Axis on several projects because of its high-quality products, which provide all key requirements such as visibility and ease of operation. For this project, Axis also offered professional support, taking onboard the project's needs, ensuring a robust specification from concept design through to bespoke detailing, meeting the high standards expected in a healthcare environment."

Leigh-Anne Schofield, Architect Associate at BDP

List all press releases