CAVITY TRAYS LTD
ADMINISTRATION CENTRE
BOUNDARY AVE
LUFTON TRADING ESTATE
YEOVIL
SOMERSET BA22 8HU

Tel: 01935 474769
Fax: 01935 428223
Suppliers of: cavity wall trays abutment cavity wall trays preformed damp courses cavity wall closers abutment cavity wall closers air bricks roof ventilation soffit ventilation fascia ventilation roof
Cavity Trays Ltd -Manufacturers of Cavity trays, DPCs, Radon Protection, Roof ventilation products & Cavity closers.
The only cavity tray manufacturer awarded European Technical Approval (ETA).
Useful Resources:
Main Product Ranges:
A wide selection of Cavity Trays, profiled DPCs and ancilliary products for all construction methods. Cavity trays can be supplied in all sizes and shapes from load bearing lintels to masonry support systems. Damp proofing Courses (DPCs) are available in preformed & profiled systems to provide excellent Damp Proofing Solutions. Other products include weep vents, flashings, remedial products and arresting barriers for all damp proofing problems.
Cavity trays can also supply an extensive range of Membranes for all applications. These include: * Contaminated Land Gas Reception Sump * Gas and Water Outlets and Service Entry Points * Methane Barriers * Radon (Cavity) Barriers * Service Pipe Entry Seals (top hats) * Type N Sitesealer Membrane
Cavity Trays supply a wide range of products to solve ventilation problems on all contruction projects. Products include: Air bricks, sleeves, Ventilators, Roof vents, roofline Ventilation for Soffits, eaves and Fascias.
Cavity Trays offer a wide range of associated products to include: Masonry Attachment Profiles, Loft access doors & hatches, Eaves Protection, Bonding strips and valley gutters.
Cavity Trays supply a wide range of Cavity Closers for all construction & refurbishment methods. Products include: Bespoke Traditional Cavity Closers, Fire integrity stops & barriers, Acoustic barriers, waterproof barriers, insulated cavity closers & barriers.
Main Product categories:
Threshold cavity trays, Cavity cloaks, DPC, Remedial cavity trays, Cavity trays, Party wall trays, Cavity weeps, Wall ventilators, Valley gutters, Cavity closers, cavity closers sash frame, Fire barriers, Fire stops, Cavity closers wide cavity, Access panels fire resistant, Access panels, Cavity socks, Damp proofing membranes, Dampcourse jointing tapes, Dampcourses gas resistant, Membranes Contaminated land, Radon protection systems, Roof space ventilators, Ventilation grilles, air bricks, air brick adaptors, Ventilation roof void, Ventilation roof space.
BEAK WEEP
Cavity Wall Weep
CAVI 120
Loft Access Doors
CAVI 150
Cavity Wall Barrier
CAVI 240
Cavity Wall Closer/DPC
CAVI 30
Cavity Wall Closer/DPC
CAVICLOAK
Preformed Damp Courses
CAVICLOSER
Cavity Wall Closer/DPC
CAVILENGTHS
Preformed Damp Courses
CAVILINK
Cavity Wall Links
CAVILINTEL
Lintel & Security Shutter
CAVISTRAP
DPC Fixing Strips
CAVITRAY
Cavity Wall Trays
CAVIVENT
Peep Weep Ventilator
CAVIWEEP
Peep Weep Ventilator
CONESLATE
Roof Weathering Slate
CONTINUITY CLOSER
Cavity Wall Closer/DPC
DROPCLOAKS
Preformed Damp Course
EUROWEEP
Cavity Wall Weeps
HARDEDGE
Roofing Felt Supports
LOFTHATCH
Loft Access Door
QUICKCLOSER
Cavity Wall Closer/DPC
READY DPC
Preformed Damp Courses
SILICONBOND
Lead Flashing Sealant
SITESEALER
Preformed Membranes
SITESEALER
Oversite Radon Membranes
Cavity Wall Reveal - Improved Performance
July 2022
Cavity Trays tech manual provides best practice advice for terraces and balconies
June 2021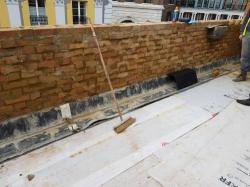 Cavity Trays' technical manual provides best practice advice for terraces and balconies

Specifiers should always consider to what extent water might penetrate a balcony or terrace outer cavity wall, and where that penetrating water might end up.

In the example shown, the exposed outer parapet wall to the high level terrace incorporates an inward-stepping DPC with a flashing under to dress over the terrace surface upstand. Whilst acceptable in theory, the arrangement is flawed. When the exposed outer skin saturates, water can track on the underside of the inward stepping DPC, feeding wet directly into the room(s) below.


In situations where there is living accommodation below the terrace, it is essential that the protective DPC arrangement steps outwardly – despite it being shown otherwise in some technical manuals.

A similar scenario exists with doorways providing access onto an upper-level terrace with rooms below. The protective arrangement in the cavity wall must step outwardly. It should also be remembered that the Building Regulation requirement of 'fins' on reveal cavity closers guides penetrating water downwardly, so any adjacent DPC horizontal arrestment detail must interface to receive and evacuate water at that level. Failure to do so can allow water to continue downwardly, discharging from closer fins into the area under - that is supposed to be kept dry.

Masonry skins of all thicknesses can saturate, including exterior skins of 225mm (two-brick ) thickness. Beware of potential under-tracking with any inward stepping DPC in a cavity wall.

The 200-page Cavity Trays Best Practice Technical Manual demonstrates how such weakness can be eliminated using preformed outward-stepping approved Cavitrays and compatible interfacings.

Cavity Trays of Yeovil is the longest-established UK company in its specialised field and the only UK tray manufacturer awarded European Technical Approval.


T: 01935 474769
enquiries@cavitytrays.co.uk
www.cavitytrays.com




List all press releases