CAVITY TRAYS LTD
ADMINISTRATION CENTRE
BOUNDARY AVE
LUFTON TRADING ESTATE
YEOVIL
SOMERSET BA22 8HU

Tel: 01935 474769
Fax: 01935 428223
Suppliers of: cavity wall trays abutment cavity wall trays preformed damp courses cavity wall closers abutment cavity wall closers air bricks roof ventilation soffit ventilation fascia ventilation roof
Cavity Trays Ltd -Manufacturers of Cavity trays, DPCs, Radon Protection, Roof ventilation products & Cavity closers.
The only cavity tray manufacturer awarded European Technical Approval (ETA).
Useful Resources:
Main Product Ranges:
A wide selection of Cavity Trays, profiled DPCs and ancilliary products for all construction methods. Cavity trays can be supplied in all sizes and shapes from load bearing lintels to masonry support systems. Damp proofing Courses (DPCs) are available in preformed & profiled systems to provide excellent Damp Proofing Solutions. Other products include weep vents, flashings, remedial products and arresting barriers for all damp proofing problems.
Cavity trays can also supply an extensive range of Membranes for all applications. These include: * Contaminated Land Gas Reception Sump * Gas and Water Outlets and Service Entry Points * Methane Barriers * Radon (Cavity) Barriers * Service Pipe Entry Seals (top hats) * Type N Sitesealer Membrane
Cavity Trays supply a wide range of products to solve ventilation problems on all contruction projects. Products include: Air bricks, sleeves, Ventilators, Roof vents, roofline Ventilation for Soffits, eaves and Fascias.
Cavity Trays offer a wide range of associated products to include: Masonry Attachment Profiles, Loft access doors & hatches, Eaves Protection, Bonding strips and valley gutters.
Cavity Trays supply a wide range of Cavity Closers for all construction & refurbishment methods. Products include: Bespoke Traditional Cavity Closers, Fire integrity stops & barriers, Acoustic barriers, waterproof barriers, insulated cavity closers & barriers.
Main Product categories:
Threshold cavity trays, Cavity cloaks, DPC, Remedial cavity trays, Cavity trays, Party wall trays, Cavity weeps, Wall ventilators, Valley gutters, Cavity closers, cavity closers sash frame, Fire barriers, Fire stops, Cavity closers wide cavity, Access panels fire resistant, Access panels, Cavity socks, Damp proofing membranes, Dampcourse jointing tapes, Dampcourses gas resistant, Membranes Contaminated land, Radon protection systems, Roof space ventilators, Ventilation grilles, air bricks, air brick adaptors, Ventilation roof void, Ventilation roof space.
BEAK WEEP
Cavity Wall Weep
CAVI 120
Loft Access Doors
CAVI 150
Cavity Wall Barrier
CAVI 240
Cavity Wall Closer/DPC
CAVI 30
Cavity Wall Closer/DPC
CAVICLOAK
Preformed Damp Courses
CAVICLOSER
Cavity Wall Closer/DPC
CAVILENGTHS
Preformed Damp Courses
CAVILINK
Cavity Wall Links
CAVILINTEL
Lintel & Security Shutter
CAVISTRAP
DPC Fixing Strips
CAVITRAY
Cavity Wall Trays
CAVIVENT
Peep Weep Ventilator
CAVIWEEP
Peep Weep Ventilator
CONESLATE
Roof Weathering Slate
CONTINUITY CLOSER
Cavity Wall Closer/DPC
DROPCLOAKS
Preformed Damp Course
EUROWEEP
Cavity Wall Weeps
HARDEDGE
Roofing Felt Supports
LOFTHATCH
Loft Access Door
QUICKCLOSER
Cavity Wall Closer/DPC
READY DPC
Preformed Damp Courses
SILICONBOND
Lead Flashing Sealant
SITESEALER
Preformed Membranes
SITESEALER
Oversite Radon Membranes
COVID-19 Update January 2021 - We are open for business.
March 2021
Cavity Trays - Are you DPC Compliant?
March 2021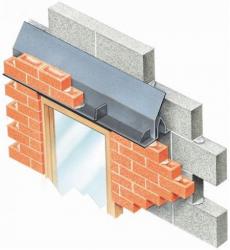 Are You DPC Compliant?

Construction is an amalgam of disciplines, in which varying Standards, build details and best practice approaches all come together in a determined sequence.

The result is usually successful, albeit not always logical.

The use of DPC over cavity wall openings is a good example.

Every opening in a cavity wall has a masonry opening dimension.

There follows a corresponding dimensioned frame to go into the opening, and an appropriately dimensioned lintel(s) to support the opening.

All measured and all scheduled.

In the midst of this, the scheduling disappears.

The important task of keeping the structure dry relies on a site operation in which DPC is unrolled, cut on site, then built into the inner skin followed by the outer skin in a manner that should harmonise with the lintel type and shape - and should in theory protect the arrangement from damp ingress.

But it regularly fails to properly do so and here are ten reasons why;

The Polythene roll DPC used is manufactured to BS 6515, and whilst this is the permitted Standard for some applications, it is not permitted to be used to form DPC cavity trays over openings!

British Standards state it should not be used.

The manufacturers of polythene DPC to BS 6515 say the same.

It is not suitable for such purposes. Furthermore, as it can offer little slip resistance, it can compromise the structural arrangement.

Alarmingly, it is currently listed as a permitted material in some Building Standards manuals and whilst it remains to be listed as a permitted material for such purposes, the exposure to damp and structural movement claims is likely to continue rather than diminish.

DPC is cut too short and does not extend sufficiently past the lintel ends.

DPC is irregular and/or does not take up the correct profile.

DPC does not project to form a defined drip lip (NHBC 6.1 D6. B) across head of frame.

Stopends are omitted and/or the DPC is not turned up to create a stop end.

First available horizontal course of inside skin is not at the ideal height to support the DPC so a lower position results in profile not conforming with Building Regulations.

First horizontal course in inner skin that can support a compliant profile is far higher – requiring a far wider DPC roll.

The DPC is cut to over-sail the lintel end by the permitted minimum of 25mm, but with lintel bearings of 100 or 150mm it means 25mm over-sail is insufficient. Thus in 50% of all brickwork situations (225mm stretcher) the DPC will not extend far enough for a stopend to be incorporated on the DPC within a naturally occurring perp joint.

Where used with an external skin concrete lintel (therefore no lintel toe as with metal lintels) the emerging DPC shows on the underside of the lintel and requires some further cutting and/or modifying to eliminate it hanging/sagging across the opening and affecting aesthetics.

Cavitrays listed alongside the lintel and window schedule provide the remedy.

Pre-shaped trays eliminate on-site variances and always harmonise with the lintel styles being used.

Cavitrays are pre-cut to length and incorporate all the correct over-sails, head drips and stopend provisions, plus they self-support so eliminate the need to search for a support course within the inner skin.

Integration is easy and swift especially with scheduled cavitrays conveniently 'packaged 'per dwelling'.

Scheduling the protective element of one of the most common construction undertakings makes sense, as does the use of the right DPC to achieve a compliant arrangement.

The British Standards state roll DPC to BS6515 should not be used and Building Regulation states material must be adequate for the purpose it is used.

Why ignore the requirement?

DPC' s might look similar, but perform differently.

Think of safety glass compared with ordinary glass, - the two might look similar until performance and compliancy is questioned?

Legal and cost responsibilities where problems arise from the use of incorrect DPC and/or incorrectly formed protection must potentially rest with both specifier and user? Cavitray showing extended over-sail past lintel end.

List all press releases