QIC TRIMS UK LTD
APOLLO BUSINESS PARK
100 RADCLIVE ROAD
BUCKINGHAM
BUCKINGHAMSHIRE MK18 4BL

Tel: 01280 818950
Fax: 01280 818955

Suppliers of: Dry Lining Trims, Suspended Ceiling Trims, Glass Partitions, Access Panels, Composite Trims, Column Rings, Partitioning Trims, Extruded Aluminium Trims.
QIC Trims UK Limited are Leading suppliers of aluminium trims and ancillary products for commercial interior fit outs, operating in the field of dry lining trims, suspended ceilings and glass partitioning systems.We supply straight and curved aluminium sections, access panels and fabricated steel products.
Our technical sales team has a wealth of knowledge and experience in the interior fit out sector, we use our experience to offer architects and designers comprehensive technical advice with support by CAD drawings, samples and hands-on practical advice. Backed up by a 36,000 square foot production facility with state of the art machinery QIC Trims UK Ltd are well established and proven to supply quality products on time and on budget.
Specialist made to order products are a large part of our offer, and our technical resources are always available to assist designers, specifiers and specialist contractors achieve the realisation of their designs within their budget.
Our Product Range Includes:
Follow us on Social Media:
Further technical information is available in the BPi download library or on the QIC Trims website.
ACCESS PANELS Fire Resistant .
ACCESS PANELS Metal Wall Tile Fitting / Tile Insert
ACCESS PANELS Purpose Made Bespoke Custom Made .
ACCESS PANELS Tiled Walls .
ALUMINIUM Curved Sections .
ARCHITECTURAL Curved Aluminium Sections .
BLIND BOX Aluminium Trim .
CEILING SUSPENSION SYSTEMS Curved .
CEILING TILE Upstand Detail Trim
DRY LINING Profiles Curved Purpose Made
DRY LINING Trim Architectural Aluminium
FABRICATIONS Curved Aluminium Sections .
FABRICATIONS Sheet Material .
PARTITIONS Double Glazed Fixings, Abutments, Head and Base
PARTITIONS Drywall Partitions Double glazed Transition System
PARTITIONS Drywall Partitions Single Glazed Transition System
PARTITIONS Glass Fixings, Abutments, Head and Base
PARTITIONS Glass Panel Fixings, Abutments, Head and Base
SUSPENDED CEILING Perimeter Profiles Perimeter Trims
SUSPENDED CEILING Perimeter Profiles Shadow Gaps / Shadowline
SUSPENDED CEILING Perimeter Profiles Shadow Gaps / Shadowline Architectural Aluminium
SUSPENDED CEILING Perimeter Profiles Upstand Perimeter Details Architectural Aluminium
SUSPENDED CEILING TILE T Trims Architectural Aluminium
SUSPENDED CEILING TILE Trims Upstand Detail Architectural Aluminium
TILE EDGE TRIMS Suspended Ceiling Tile Trim .
Fire Rating Classification – Aluminium Trims
January 2020
QIC Trims - Blind Box Case Study
January 2020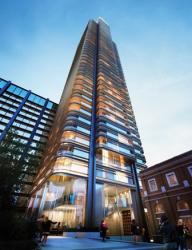 The bright and minimalist apartments at Foster + Partners residential development in Shoreditch feature QIC Trims innovative designs for concealing blinds and curtains.

QIC Trims, a leading manufacturer of trims for the interior fit-out sector, has designed window fitting solutions for one of the tallest residential projects in London – Foster + Partners' 50-storey Principal Tower in Shoreditch.

The company helped the architectural team design and extrude in excess of 5,000 linear metres of bespoke Blind Box housing for roller blinds and curtains in the development's one and two-bedroom apartments. The product had to be turned around efficiently and quickly so as not to impact a tight site programme. Further projects are now in the pipeline with the development team.

Principal Tower is part of Principal Place, a mixed-use development on the edge of the City of London in the borough of Hackney. At 175 metres, it is one of London's tallest residential buildings. The relationship between the creative, formerly industrial east end and Britain's financial centre is expressed in the tower's massing, which appears as three slim volumes.

On the Shoreditch side, the tower appears lower from ground level, while from the west it reflects the high-rise nature of the City. A central volume rises up between the two to provide an elegant marker on the skyline.

The 50-storey building has a variety of different sized apartments and a single, duplex penthouse. There are eight residences on a typical floor: four two-bedroom and four one-bedroom apartments. The rectilinear layout is extended on each side to create a cruciform plan, maximising the perimeter so that almost all of the units are dual aspect, which creates a sense of space and light in every residence.

Layouts maximise the living area, with a plan that places the entrance at the heart of the space to eliminate unnecessary corridors. The bedrooms are enclosed by solid cladding panels for privacy, while the remainder is fully glazed and protected by shading fins. Almost every residence has its own curved balcony with bronze exterior detailing – externally, this helps to soften the tower's profile, contrasting and setting it apart from the City's office buildings.

List all press releases