QIC TRIMS UK LTD
Suppliers of: Dry Lining Trims, Suspended Ceiling Trims, Glass Partitions, Access Panels, Composite Trims, Column Rings, Partitioning Trims, Extruded Aluminium Trims.
QIC Trims UK Limited are Leading suppliers of aluminium trims and ancillary products for commercial interior fit outs, operating in the field of dry lining trims, suspended ceilings and glass partitioning systems.We supply straight and curved aluminium sections, access panels and fabricated steel products.
Our technical sales team has a wealth of knowledge and experience in the interior fit out sector, we use our experience to offer architects and designers comprehensive technical advice with support by CAD drawings, samples and hands-on practical advice. Backed up by a 36,000 square foot production facility with state of the art machinery QIC Trims UK Ltd are well established and proven to supply quality products on time and on budget.
Specialist made to order products are a large part of our offer, and our technical resources are always available to assist designers, specifiers and specialist contractors achieve the realisation of their designs within their budget.
Our Product Range Includes:
Follow us on Social Media:
Further technical information is available in the BPi download library or on the QIC Trims website.
BALUSTRADES SERIES
Railing Systems
ELEGANCE
Glass Balustrades
GLASSAGE
Glass Door Fittings
INFINITY
Glass Balustrades
JULIET BUTTON
Juliette Balconies
JULIET PROFESSIONAL
Juliette Balconies
PROFESSIONAL
Glass Balustrades
QIC EVOLUTION 25
Frameless Glass Partitioning
QIC SYSTEM 100
Partition Systems
QIC SYSTEM 68
Glass Partitioning and Transition Profiles
QIC SYSTEM 68 DOUBLE GLAZED
Frameless Glass Partition Systems
QIC SYSTEM 75
Partition Systems
SKYFORCE JULIET
Juliette Balconies
URBAN FURNITURE SERIES
Street Furniture
QIC TRIMS ACHIEVE BIG SUCCESS IN FIT-OUT PRODUCTS' SECTOR
October 2023
QIC Trims' high-quality building products portfolio
October 2023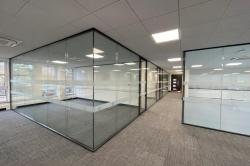 QIC Trims has strengthened its interior building products range with the acquisition of a high-quality aluminium partitioning system.

The demountable interior system, which is suitable for commercial fit-out applications in offices and public buildings such as hospitals and schools, is an ideal accompaniment to QIC's glass partitioning range. QIC acquired the rights to produce the aluminium partitioning system from Telford-based building products manufacturer Libra Systems.

Speaking of the acquisition, Neil Miller, Sales Director at QIC, said: "This is a fantastic agreement for ourselves and Libra Systems. We have purchased a quality product from a manufacturer with an established reputation for excellence. The aluminium partitioning range further enhances our reputation as a go-to provider for products that facilitate first-class commercial fit-outs."

Key to QIC's acquisition of the aluminium partitioning range was its fire-rated accreditation. It means the company is purchasing a product of market standing in terms of its usability and safety. This makes it an appropriate addition to QIC's building product offering. The company's portfolio also includes ceiling trims, plasterboard trims, glass partitions and a recently added 'Matrix-Mesh' ceiling tile range, with each custom-designed product an enabler to creating inspiring interior spaces.

Simon Scowcroft, Managing Director at Libra Systems, said the decision to sell its aluminium partitioning range will allow the company to focus on further developing its core product offering. The privately-owned company, which was founded 50 years ago, is one of the UK's leading distributors of drywall metal products. Hence, greater resources will now be afforded to expanding its stud and track solutions for drylining.

Simon said: "When we decided to sell the aluminium partitioning range, QIC Trims was the first company we approached. Their client base includes many established contractors, so our tried-and-tested product seemed an ideal fit for their portfolio. We hope this acquisition will open up further business between ourselves and QIC Trims."

For more information on QIC Trims products and services, call +44 (0) 1280 818 950.
List all press releases