DANI ALU UK LTD
Suppliers of: Aluminium Edge Protection, Guardrails, Barrial fixed aluminium safety railings for flat roofs, Glazed balustrades, balconies and roof-terraces, Waterproofing, Couvernet aluminium copings compatible with Barrial railings.
Aluminium construction products from dani alu - Helping you make the most of your project requirements
We're a leader in the development, manufacture and supply of aluminium building products.
We specialise in guardrails, balustrading and aluminium building profiles. Our passion is finding innovative solutions for the most complex of project requirements.
A family-run business since 1978, dani alu in the last forty years has become a leader in designing, manufacturing and marketing aluminium systems for buildings. At the heart of innovation for roof-terrace, façade and balcony products, the quality of our aluminium systems has made dani alu's reputation both among professionals and contractors.
Our Product range consists of:
Our Panorama range of aluminium balustrading systems are made to measure and constructed in aluminium always offering a suitable solution for any roof terrace or balcony - be it glazed or railed and available in fixed and even freestanding options.
Barrial, our market leading range of aluminium edge protection systems are considered the most aesthetically pleasing systems available. In fixed and freestanding versions, we have a solution available for any type of flat or low pitched roof, ensuring the safety of the whole roof area.
Using our high-quality aluminium flashings and profiles is not only important for designing modern flat roofs and facades but also ensures a professional transition to other parts of the building. We have over 40 years of experience in this sector which has allowed us to create a large range of leading flashing systems.
Barrial roof light railings system is a guardrail system preventing falls through a roof light. This system is adaptable to various types of existing rooflight.
Barrial Korridor is a safe passage, evacuation and rescue route system.
Delimit is a roof-to-terrace markup system that allows access to certain work areas to be defined or a tracking area to be re-created. It is made of aluminium posts, weighted by counterweights and connected by a chain.
Fixed of free-standing aluminium support systems for technical equipment found on roofs.
Social Media:
Or take a look at our videos:
Further technical information is available in the BPi download library or on the DANI ALU website.
BANDONET
Parapet Extension
BARRIAL
Aluminium Roof Edge Systems
BARRILEST
Ballasted Roof Services Support
DALLNET C
Tiling Accessories
DALLNET H
Aluminium Cladding & Roofing
DALLNET H HABILLAGE
Aluminium Protection and Cladding fpr Slab Edges
DALLNET N
Balcony Finishing Profiles
DALLNET O
Balcony Drainage
DALLNET R
Balcony Finishing Profiles
DANILAC
Polyester Powder Coatings
DANIVIT
Stainless Steel Fixing
DELIMIT
Safety Roping System
FACANET
Facade Joint Covering Strip
HELIAL D
Solar Panel Supports
ITEAL
Facade Support System
KORRIDOR
Roof Walkway Systems
MARCHENET
Handrail Support
ORIGAL
Gravel Protection Strip
PANORAMA®
Balcony Systems
PROTEGENET
Window Cill Protection
RIVNET
Aluminium Roof Edge Systems
RIVNET FOLIO
Membrane Fixing Protection Strip
SHERPAL
Supporting Structure for Roofs
Non-Penetrative Balustrading from Dani Alu
February 2020
Why would you consider anything other than aluminium roof edge protection?
March 2019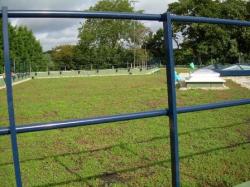 Dani Aluminium have been designing, manufacturing and supplying innovative aluminium systems across Europe for over 40 years.
Why we use aluminium

Aluminium is a high performing construction material that is incredibly durable. Our roof edge protection systems are tested and compliant to all UK required standards. Being manufactured from the highest-grade aluminium, ensures they are strong, corrosion-resistant and always fit for purpose. Using 'Barrial' from Dani Alu safeguards your roof over a much longer lifespan than alternative, heavier materials.

Extruded slimline posts and small diameter rails make Barrial edge protection systems the most aesthetically pleasing system of choice. Moreover, Barrial is available in several free-standing and all conceivable fixed options, meeting any roof edge protection requirement. Involving Dani Alu Ltd at the design and specification stage can achieve a surprisingly cost-effective and compliant solution.

Aluminium is unique due to its high strength to weight ratio. Being one-third the weight of steel, our roof edge protection systems are lightweight weight; making them easier to transport, handle on site and install, reducing the risk of work-related injury. Thanks to aluminium's inherent sturdiness, you can be certain that our Barrial systems will provide a perfect solution for your project.

Besides routine cleaning for aesthetic reasons, neither bare nor our powder-coated aluminium roof edge protection systems require any maintenance unlike some alternatives. With a minimal amount of maintenance needed, lifetime costs are reduced significantly, further exemplifying why aluminium is the material of choice for roof edge protection.

Once your building has come to its end of life, our aluminium roof edge protection systems are easily recycled. Aluminium can be repeatedly recycled using sustainable processes, ensuring that users of our systems can demonstrate their commitment to sustainable construction.

Dani Aluminium's roof edge protection systems are the perfect solution for both new build and retrofit projects. With our Barrial systems there is no risk of rust, decay or denaturing over time and using a modular design, installation is effortless for any project requirement.
For more information, please visit our website – www.danialu.co.uk
List all press releases