KALLISTO STAIRS
Suppliers of: Precast Concrete Spiral Stairs, Precast Concrete Curved Staircases, concrete stairs, concrete staircases, precast stairs, precast concrete staircases
Kallisto Stairs - Precast Concrete Spiral Staircases - Handcrafted to Your Specification
Kallisto Stairs is part of the Milbank Concrete Products Group who have over 70 years' experience in the production of high quality precast concrete products. Our expertise has been commissioned for staircase installations in some of the most prestigious venues in the UK, working with architects, engineers and designers to produce stunning, durable precast spiral stair case installations.
Kallisto brings together your ideas and will expertly design bespoke stairs to create stunning visual impact, combining exquisite design, craftsmanship and cutting edge technology to complement and enhance the architectural features of your project or home.
We offer a highly professional service working alongside you to bring together your vision and design that will allow us to construct a product that suits the finish you hope to achieve. When you work with Kallisto, our bespoke staircase design company, you can be sure that you will achieve exactly the excellence you envisioned.
Advantages of Precast Stairs:
Price
Precast concrete stairs are cheaper than a stair cast insitu on site due to the efficiencies we have within a factory environment.
Programme
A precast concrete stair can be installed in a day and often at the same time as the structural flooring. Insitu poured concrete stairs often take weeks to build, cast, strip and finish.
Providing an immediate working platform a precast stair can be used as soon as it is installed. Insitu poured stairs will require alternative access routes to the upper floors while they are being built.
Using a flexible steel formwork system enables the precast stairs to be made accurately and to a high quality. Precasting allows the repeated use of formwork whereas insitu concrete pouring results in the formwork being disposed of on each project.
Construction Benefits
Fire Resistant
In most cases eradicate in-situ concrete
Speed of Installation, minimising time spent on site
Health & Safety – In most cases, once installed acts as an immediate access route and can easily be installed with the addition of a temporary handrail
Further Technical information is available to download through the BPi PDF library or through the Manufacturer's own website.
SPIRAL STAIRCASES Commercial .
SPIRAL STAIRCASES Concrete .
SPIRAL STAIRCASES Domestic .
SPIRAL STAIRCASES Precast Concrete .
SPIRAL STAIRCASES Precast Concrete Purpose Made Bespoke Custom Designs
SPIRAL STAIRCASES Purpose Made Bespoke and Custom Designs .
STAIRCASES Architectural .
STAIRCASES Precast Concrete .
STAIRCASES Precast Concrete Curved
STAIRCASES Precast Concrete Landing Combined
STAIRCASES Precast Concrete Purpose Made Bespoke and Custom Designs
STAIRCASES Precast Concrete Winding
STAIRCASES Prefabricated Precast Concrete
Milbank's 'Kallisto' division deliver another impressive stair
March 2019
Kallisto's Stairs Supply Denham Film Studio
September 2017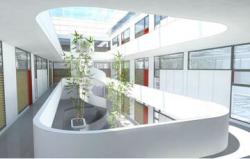 Denham Film Studio

The Denham Film Studios are a unique collection of 224 conversion and new build homes, including 154 one, two and three bedroom apartments and 70 four and five bedroom family townhouses.

Features within the new development will include a retained and restored cinema with bar and a community hall/fitness space. The new properties are designed around garden squares, landscaped grounds, rill water features, private gardens and protected woodland complete with parking and garaging.

The main Grade II listed building will be converted into 49 elegant apartments, around this will be two new green squares and communal gardens, bordered by three new four storey apartment buildings providing 105 new homes. Around the eastern side of the site there will be avenues of new three and four storey terraced housing, and to the northern section two and three storey detached townhouses; all overlooking communal landscaping and private gardens.

Under current plans the retained cinema – which was used to screen movies to Hollywood directors including Stanley Kubrick, Albert "Cubby" Broccoli and Steven Spielberg - will be refurbished and turned into a cinema theatre and club for residents; retaining an important link to the history of the site.

Kallisto's Role
Weston Homes, one of our top clients, approached us to investigate if we would be able to provide two precast concrete helical staircases at our factory in North Essex, incorporating 150mm wide by 900mm high concrete handrails to tie up with the art deco style balustrading to the circulation areas of their flagship development site in Denham.

Constructing these flights insitu would have proved to be challenging in terms of generating the flowing soffit and erecting the necessary formwork which would have needed to remain in place for at least 4 weeks after the second flight had been cast.

A staircase with a built in handrail of this size has to our knowledge never been made off-site in a factory environment and was a real technical challenge to not only structurally design but to also tie in with the buildings design. There were also restrictions on transport to site and how they would be lifted into position to consider due to the sheer size and weight of each individual flight.

Although immensely challenging we were completely satisfied with the final result and the effort by the whole Kallisto team certainly resulted in a well designed, manufactured and installed finish product.

The Developer
Over the last two decades, Weston Homes Plc has continually striven to produce innovative, high quality homes to appeal to purchasers from all walks of life. Their aims have remained constant; to match traditional skills to the very latest technologies in an on-going desire to produce homes to the best specification and standards possible.

Weston Homes prides itself on achieving the coveted What House National Building Developer of the year 2010 award, which is testament to their commitment and recognition that our quality is second to none in the country.

The variety of developments we have produced is impressive; from traditionally styled bricks and mortar houses and apartment blocks to contemporary ground-breaking designs in steel and glass, ranging from 20 units through to complexes with hundreds of homes.
List all press releases