KALLISTO STAIRS
Suppliers of: Precast Concrete Spiral Stairs, Precast Concrete Curved Staircases, concrete stairs, concrete staircases, precast stairs, precast concrete staircases
Let Kallisto bring your luxury staircase to life...
Kallisto Stairs - Precast Concrete Curved & Helical Staircases - Handcrafted to Your Specification
As a division of Milbank Concrete Products, we have over 75 years of exceeding our customers' expectations and our name is synonymous with quality within the precast concrete industry. Our philosophy is firmly rooted in our drive and ambition to establish the most extraordinary creations. The definition of success for us is delivering a curved stair design that is perfectly in line with your requirements as our customer.
Our expertise has been commissioned for curved concrete staircase installations in some of the most prestigious venues throughout the UK, incorporating both commercial and residential construction. We work with Architects, Engineers and Designers on both staircase design and manufacture to produce stunning, durable precast concrete spiral staircase style installations.
However innovative your vision, with a Kallisto precast concrete helical staircase, there is no need to compromise on aesthetics versus durability, or on elegance versus functionality. In addition to our concrete stairs, we also design and manufacture a range of curved concrete step units including cantilever staircases and a variety of accompanying precast concrete products such as bespoke curved landings.
How we're making a difference
We have been proactive in adapting our processes to work towards carbon neutrality, introducing both a wood pellet fuelled biomass boiler and electric vehicle charging points for staff and visitors.
On top of this, we have successfully transitioned 100% of our production machinery, including fork trucks, loading shovels, shunters, dumpers, cherry pickers and prestressed concrete manufacturing machines from the use of regular diesel to HVO – a hydro-treated vegetable oil biofuel.
By adopting 100% HVO, greenhouse gas emissions produced by our machinery reduced by up to 90%, with a 35% reduction in particulate mass and a 30% reduction of CO2 company wide.
Advantages of Precast Stairs
How much do our stairs cost?
Our precast concrete stairs are inexpensive when compared to a stair cast in situ due to the efficiencies within a controlled factory environment.
How long do they take to install?
Our curved and helical precast concrete staircases can be installed in a day and often at the same time as the structural flooring. Insitu poured concrete stairs usually take weeks to build, cast, strip and finish.
Are they safe and secure?
Precast concrete staircases can be used as soon as they are installed - they provide an immediate working platform. Insitu poured stairs will require alternative access routes to the upper floors while they are being built.
Are they as high-quality as in-situ stairs?
Using a flexible steel formwork system in a controlled offsite factory environment enables our precast stairs to be made accurately and to a high quality. Precasting allows the repeated use of formwork, whereas in situ concrete pouring results in the formwork being disposed of on each project.
Why are Precast Concrete Stairs the smarter option over in-situ stairs?
Efficiency - Our curved staircases are quick to install and are designed and supplied to exact build fit and specification, accelerating the build process and minimising time spent on site.
Health & Safety – In most cases, once installed, our concrete stairs act as an immediate access route for follow on trades and can easily be installed with the addition of a temporary handrail.
Fire Rating - Our curved concrete staircases are completely fire resistant.
Quality - All precast components are manufactured off-site in an enclosed casting environment, avoiding delays due to inclement weather conditions.
Cost - In most cases, our precast stairs eradicate the use of costly traditional in-situ concrete methods.
Flexibility – Our precast stairs can be installed within a variety of applications including steel framed structures or tied directly into your concrete floors using projecting reinforcement.
Work with us
To ensure we can give you our fullest attention, we see clients by appointment only. To arrange an appointment, to submit an enquiry or to ask any questions, please contact our office on 01787 220564 or by emailing us: info@kallistostairs.co.uk
For further information, please visit our website www.kallistostairs.co.uk.
Social Media: Facebook / Linkedin / Instagram / YouTube
Further Technical information is available to download through the BPi PDF library or through the Manufacturer's own website.
SPIRAL STAIRCASES Commercial .
SPIRAL STAIRCASES Concrete .
SPIRAL STAIRCASES Domestic .
SPIRAL STAIRCASES Precast Concrete .
SPIRAL STAIRCASES Precast Concrete Purpose Made Bespoke Custom Designs
SPIRAL STAIRCASES Purpose Made Bespoke and Custom Designs .
STAIRCASES Architectural .
STAIRCASES Precast Concrete .
STAIRCASES Precast Concrete Curved
STAIRCASES Precast Concrete Landing Combined
STAIRCASES Precast Concrete Purpose Made Bespoke and Custom Designs
STAIRCASES Precast Concrete Winding
STAIRCASES Prefabricated Precast Concrete
Who knew concrete could look this good?
May 2022
Kallisto Stairs - Lime Grove Mews
February 2022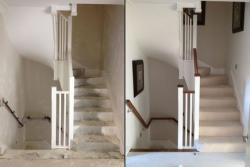 Lime Grove Mews
Located in the heart of Shepherd's Bush, Lime Grove Mews combines classic English architecture with contemporary designer luxury. Lime Grove Mews will bring an exclusive collection of elegant apartments & Regency style villas to West London.

Situated amongst leafy parkland and nestled within the traditional Victorian streetscape, Lime Grove Mews is within minutes of direct transport links into central London's world-renowned retail and financial districts.

The exteriors resemble the Regency style architecture featuring mellow brickwork, which reflects the surrounding vernacular. With the classic combination of London stock brick, render/stone detailing and reconstituted slate roofs, their timeless façade hides their modern interior. These interiors have been intelligently designed for the ultimate 21st century living experience. All apartments will enjoy high specification fixtures and fittings throughout.

Kallisto's Role
There were numerous reasons for specifying precast concrete for the stairs in this scheme:

Quietness combined with the inherent solidity of concrete delivers a feeling of substance and quality to the homeowner.
Speed of construction offered considerable benefits, namely, stairs were delivered and fixed with each floor.
Construction site kept free of associated construction materials.
Safe and uninterrupted access to the upper floors post installation allowed trades to
continue other tasks.
A superior final finish is achieved with a final plaster skim or cosmetic timber facing.

The Developer

St James began life in 1996 as a joint venture between the Berkeley Group and Thames Water. Many of its first developments were on brownfield land where water was, or had been, a feature: for example at The Hamptons in Worcester Park or New River Village in Hornsey, north London.

Since then St James has established a reputation as a design conscious developer who continues to regenerate redundant sites as attractive developments whose design has a positive impact on the environment. Not all involve water; and many include the refurbishment of important historic buildings, such as Queen Mary's Place in Roehampton or Kingsway Square in Battersea.

As well as private developments of homes and apartments, projects also embrace commercial property, recreational and community facilities, with creative solutions that deliver every aspect of sustainable mixed use development and respond to the needs of today's homebuyers and communities.

During high quality precast concrete solutions for the construction industry and their experience and reputation led to them being chosen to partner St James on this project.

Kallisto has invested in the latest variable curved, helical and spiral stair production moulds, allowing them to offer a fast turnaround at the highest quality for even the most challenging projects.

The scheme at Lime Grove Mews required no less than 13 different stair types, all with varying riser heights and both clockwise and anti-clockwise turns. These were constructed at Kallisto's factory in North Essex then delivered and installed on site by their dedicated transport and expert fixing teams.

Earls Colne Business Park, Earls Colne, Colchester, Essex, CO6 2NS |

01787 220564 | info@kallistostairs.co.uk | Kallisto Stairs is a division of Milbank Concrete Products Ltd

List all press releases