APS SAFETY SYSTEMS LTD
UNIT 1 INVERGYLE COURT
BROOMLOAN PLACE
IBROX BUSINESS PARK
GLASGOW
LANARKSHIRE G51 2JR

Tel: 0141 880 6688
Fax: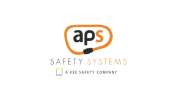 APS Safety Systems Ltd designs, supplies, installs and recertifies a wide range of roof safety products and systems. Part of the Kee Safety Group, a leading worldwide supplier of fall protection solutions and safety railing systems.
Our range of products provide solutions to ensure that work at height can be carried out safely and securely. Protection systems such as rooftop guardrails provide permanent edge protection while our slope mounted roof anchors, life lines and anchors provide personal fall arrest or restraint protection, depending on the application.
Useful Resources:
Social Media: Find us on Twitter / Linkedin / YouTube
Slope Mounted Roof Anchors
APS Safety Systems range of Slope Roof Mounted Anchors provide an easy to install, cost effective solution for pitched roof safety. The range features the standard roof mounted anchor, a top fix system for when aesthetics are a concern and an adjustable ridge anchor for varying beam sizes. Our range is fully tested to EN795.
Rooftop Guardrails
We offer a wide range of Rooftop Guardrails to include Modular Free Standing Systems, portable Roof Edge Protection and Collective Edge protection for Metal Roofs. These systems are ideally suited to comply to all Rooftop guardrail certification.
Lifelines and Anchors
The Keyline Lifeline System is an engineered wire based fall protection system ideal for areas where guardrails are not suitable. The Kee i-bolt® range of safety anchors are Class A1 safety anchors designed to provide fall protection when carrying out external work such as window cleaning or building maintenance from inside the building. The Mobile Man Anchor is the ideal solution for when temporary protection is required for short term work such as maintenance of roofs where edge protection has not been installed.
Safe Access Solutions
We offer a wide range of Products to include:
Freestanding Exterior & Interior Demarcation Products
Rooftop Walkway Protection
Lightwieght Aluminium Walkways
Rolling Platforms and Mobile Safety Cages for Fragile Roofs
Vertical Fall Protection
Ladder safety Products
Safety Gates
Rooflight Protection
Ground Based Guardrails
As well as Rooftop Safety, we also supply a range of DDA Compliant Handrails, Guardrails and Barriers constructed using Kee Klamps Tubular fittings allowing versatile design to meet any requirements.
Bespoke Fabrications
APS Safety Systems is able to fabricate a range of bespoke ladders, gantries, railings and structured steel work when off the shelf solutions are not suitable or possible.
Further Technical information is available to download from the BPi Download Library or from our website.
CABLOC
Fall Arrest Systems
FOLDSHIELD
Roof Edge Protection Systems
KEE COVER
Rooflight Fall Protection
KEE DOME
Rooflight Protection Rails
KEE I-BOLT
Safety Eyebolts
KEE KLAMP
Roof Guardrail Connection Systems
KEE LITE
Tubular Construction System Fittings
KEE WALK
Rooftop Walkways
KEEGUARD
Rooftop Guardrail Systems
KEELINE
Safety Wire Systems
KEY SAFETY
Safety Barriers
MOBILE MAN ANCHOR
Portable Safety Anchors
RAILOK
Fall Arrest Systems
THREDKOAT
Threaded Recess Coating
TOPFIX
Roof Edge Protection Systems
VALLEY-WALK
Rooftop Walkways