ROBUST UK LTD
Suppliers of: louvred steel doorsets, steel security doors, steel fire doors,
Established in 1997 Robust UK are the British arm of Robust Steel Doors, part of Robust AB based in Sweden.
From our centrally located offices in Staffordshire we are able to provide a high quality service supporting a wide range of customers throughout the UK.
Our range of steel doors include:
Our external steel doors (OUTA-DOR) offer exceptional value. Robust doors are supplied complete with hardware fitted as standard to comply with the required specification. Available in a choice of durable powder coated, we also have a range of attractive woodgrain PVC laminates and profiled doors to allow steel doors to step away from their "industrial" image.
Our OUTA-DORs are manufactured in corrosion resistant magnelis as standard allowing us to offer an industry leading anti corrosion warranty of up to 10 years as standard.
All doors are fully CE marked to comply with latest regulations
Our internal steel doors (INNA-DOR) are suitable for use in most applications where timber is traditionally specified. Our steel doors offer increased security and are supplied fully assembled with hardware fitted as standard. Robust fire doors are tested to BS476 and BSEN1634.
Our fire rated steel doors are designed to contain and prevent the spread of fire for a specified period of time. Our fire doors are available in both latched and unlatched configurations. Every door is made to order and we can offer side and overpanels where required. Sizes and hardware are matched to comply with the various fire rating classifications
We offer 2 options for security rated doors, TUFF-DOR and SECUR-DOR.
TUFF-DOR security doors are available attack tested to three different LPS 1175 security ratings: SR2, SR3, and SR4.
Complementing these doors is our TUFF-VENT door, a security rated fully louvred door tested to PAS24
SECUR-DOR security doors tested to STS202 BR2 and BR3 along with doors tested to PAS24 2016,
Our SECUR-DOR 4 is also blast tested to EXR2 of BSEN 13124-2
Steel profiled glazed doors are available in both fire rated and non-fire rated specifications. Single and Double configurations are also available either fully glazed or with mid rails.
Acoustic Doors have been tested to BS EN ISO 140-3: 1995. Our standard doors offer a excellant level of acoustic performance, but for higher acoustic performance we custom manufacture doors tested to 45dB and 50dB.
Fully louvred steel doors are perfect for where a continuous airflow is required to ventilate a room. Robust louvred steel doors are stronger than traditional lightweight aluminium louvres and can be specified with side and over panels. We can also manufacture and supply louvred screens and enclosures.
In addition to our fully louvred doors, we can also fit louvre panels into our standard flush doorsets and fire doors.
Stainless Steel Doors.
Robust stainless steel doors are manufactured from grade 304 or 316 stainless steel sheet. Suitable for environments requiring corrosion protection. Stainless steel doors are also available in a wide range of coloured, textured and patterned finishes to suit specific design requirements.
Stair Riser Access Doors.
Increasingly specified in highrise buildings Robust can bespoke manufacture fire rated steel access doors where easier and larger access is required for access to building services such as telecommunication cables and supply pipes.
Social Media:
Further technical information is available in the BPi download library or on the Robust website.
GLAS-DOR
Security/Fire Doorset
INNA-DOR
Internal Steel Doorsets
OUTA-DOR
External Steel Doorsets
SECUR-DOR
Security Doors and Doorsets
VENT-DOR
Louvred Security Doors
Probyn Court Sheltered living accommodation in Stoke-on-Trent
June 2020
Robust UK - Coronavirus update: restarting production
April 2020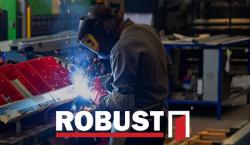 Following the Prime Ministers announcement last Tuesday regarding a partial lockdown of the country, we took the difficult decision to temporarily close our factory. This was an important measure to ensure the health and safety of our staff and minimise the risk of infection.

Since then, we have investigated all options available to allow us to continue to manufacture under troubling circumstances. After reviewing government guidance on 'keeping your business open', we are now endeavouring to continue production for the foreseeable future. However, we will be prioritising the manufacture of projects which have been identified for medical use. These include virus treatment centres, hospital facilities or projects for ongoing or new infrastructure maintenance. If you have a job which you believe falls into these categories, please contact us so they can be prioritised for completion.

Our trade network includes several clients who are currently working on projects which form part of the essential supply chain in the fight against COVID-19. These include suppliers of additional isolation ward facilities, pharmaceutical projects and other services necessary to maintain key supply chains. Therefore, it is essential that we continue manufacturing to ensure we can continue to support trade clients who are still working on these critical projects throughout the UK.

Our production team will now operate under modified working methods with fewer staff and different shift patterns. This allows us to comply with government guidance on social distancing and limit the risk of infection. Also, our office staff will continue to support customers from home and are available to contact via email or phone. Please contact Tel: 01782 592900 or
Email sales@robust-uk.com
We believe we can continue manufacturing safely under current guidance and play a small part in a vital supply chain.

We hope this alleviates any concerns you may have, and we will continue to update you as the situation progresses.

Please stay safe out there!
List all press releases