PROMAIN UK LTD
PROMAIN HOUSE
KNOWL PIECE BUSINESS PARK
WILBURY WAY
HITCHIN
HERTFORDSHIRE SG4 0TY

Tel: 01462 421 333
Fax: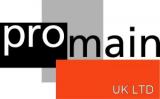 Suppliers of: Floor paints, antibacterial paints, hygienic paints, industrial paints, line marking paints, roof paints, solar reflective paints, marine paints, floor coatings, antibacterial coatings, hygienic coatings, industrial coatings, roof coatings, solar reflect
Promain are official partners to companies such as Ardenbrite, Axalta, Bedec, Bird Brand, Blackfriar, Bollom, Carboline, Centrecoat, Classidur, Coo-Var, FLAG, Glixtone, Hempel, International Paints, Jotun, Johnstones Trade, Keim Mineral Paint, Mapei, Nullifire, Osmo, Owatrol, PPG, Protecta-Kote, Remmers, Rust-Oleum, Sika, Selemix, SkyVac, Sherwin Williams, Solignum, Tikkurila, Teamac, Traditional Paint Co, Treatex, Zinga, Zinsser Click here to see our full list.
We are pleased to help you find the correct paints, and concrete repair materials for your needs. If you need help locating the right product to solve your problem please call.
Promain supply the following Approved Systems:
Please use the following links to view further information on these product types:
Promain are the UK's leading supplier of aerosol paints and aerosol spray paints. Whether you are looking for aerosol spray paints to rust inhibiting aerosols we have the full range of products.
As the leading suppliers of anti slip floor paints and other anti slip products, Promain offer a range of coatings and products which are designed to ensure the safety of people who work/live in slippery areas, and walk on slippery surfaces.
Promain are the UK's leading supplier of water based and solvent bourn barn paint, suitable for use on surfaces such as featheredge wooden boards, waney edge cladding, Marley cladding, metal profile plastisol, wood, timber and UPVC roofing and walls.
Promain are the UK's leading supplier of water based and solvent bourn cladding paints which are suitable for use on surfaces like metal profile plastisol, wood, timber and UPVC roofing and walls.
As the UK's leading supplier of Conrete Repair Mortar, Promain offer an extensive range of products that can help resurface and repair both interior and exterior concrete.
Promain supply a vast range of driveway and patio paints which are perfect for ensuring that your driveway, patios and paths look their best at all times.
Promain are the UK's leading supplier of fire resistant paints and intumescent coatings. The chance of a fire occurring is always a worry but with the range of fire resistant products we supply, you will be making sure that your property is as safe and protected as possible.
Promain offer advice on a range of epoxy floor paints, oils and varnishes for all industrial, commercial and domestic applications. Rustoleum and PPG Sigma heavy duty 100% epoxies are just a couple of the floor products we have available, with a wide range of colours to choose from.
Promain are able to offer the full range of paints specified by the Highways Agency known as Item numbers, these are paints that have been tested and approved for the Highways Agency providing them with a quality controlled range of products.
Promain are the UK's leading supplier of home and garden paints, ideal for almost every home and garden project you can think of. We supply paints, varnishes and oil solutions for almost any horizontal or vertical surface
Promain provide our customers with a range of hygienic and antibacterial paints and coatings that can be used on walls and floors to ensure a clean environment at all times.
Promain are one the UK's leading suppliers of high performance line marking paints, available for a range of surfaces and substrates, including concrete, grass, tarmac and hard wood floors.
Our range of marine boat paints includes boat coatings and anti fouling paints are perfect for all of your boating needs.
Promain UK Ltd supply a comprehensive range of metal paints and coatings, perfect for providing additional protection to the surface/material/substrate in question.
Promain have been supplying specialist paint strippers, artex removers and water based paint removers for many years.
As the UK's leading suppliers of paints and coatings to the rail industry including Railtrack RT 98 and Section 12 paints Promain Paints offer a vast range of paints for use on a variety of surfaces from Rolling Stock to Platforms, Communal Areas and Building Structures.
Promain offer a range of flexible and high performance renders from leading suppliers such as Mapei and Keim. Please contact us for further information on these new products.
Promain pride themselves in the fact that they are the industry leaders when it comes to supplying quality and trustworthy roof paint coatings, roof primers and cleaners for both flat roofs and concrete interlocking tiled roofs with coatings for bitumen and flat rolled mineral felt roofs.
Promain are the UK's leading supplier of school playground graphics which are perfect for nurseries, primary schools, and secondary schools looking to bring colour and fun to any playground.
Promain supply you with an extensive range of sports paints products for the refurbishment of sport facilities, such as Tennis Courts, Sports Court, Gym Halls, Netball Courts, Multi Use Games Areas (MUGA), Playgrounds ect.
As one the UK's leading suppliers of ceiling and wall paints, Promain offer a range of coatings designed for application to interior and exterior walls. Clear sealants and cleaners, anti graffiti, waterproofing, anti-carbonation, communal area, fluorescent luminous, stain block, cladding, anti-climb and suspended ceiling paints make up the high quality range of wall and ceiling paints we offer to our customers.
Promain supply a large selection of wood treatments ranging from Wood Cleaners to Fencing Stains, with a variety of the best brand names including Owatrol, Rustoleum and Osmo.
Promain are the UK's leading supplier of high quality painting accessories, designed for all of your painting requirements. From paint brushes to protective gloves, you can't go wrong with the products that we supply at Promain.
Further technical information is available to download from the BPi Download Library or through the Promain website.
3M THORTEX COPON (SUPPLIER)
Paints
AXALTA
Polyurethane Mastic
BOLLOM (SUPPLIER)
Coatings
BRADITE
Low Slip Aggregate
COO-VAR (SUPPLIER)
Coatings
FLAG PAINTS
Paints and Coatings
GLIXTONE (SUPPLIER)
Paints
HEMPEL PAINTS (SUPPLIER)
Paints & Coatings
INTERNATIONAL
Metallic Zinc Primer
JOTUN (SUPPLIER)
Paints & Coatings
LEIGHS PAINTS (SUPPLIER)
Paints
MAPEI (SUPPLIER)
Coatings
REMMERS
Restoration Mortar
RUSTOLEUM MATHYS (SUPPLIER)
Coatings
SCOTCHCOTE (SUPPLIER)
Fire Resisting Coatings
SHERWIN WILLIAMS (SUPPLIER)
Protective and Marine Coatings
SIKA COATINGS (SUPPLIER)
Coatings
SMARTKOTE (SUPPLIER)
Coatings
SOLIGNUM (SUPPLIER)
Timber Coatings and Preservatives
TEKNOS
Exterior White Paint
THE TRADITIONAL PAINT COMPANY (SUPPLIER)
Paints
TIKKURILA (SUPPLIER)
Paints and Coatings
TOR COATINGS (SUPPLIER)
Coatings
TRIMITE (SUPPLIER)
Paints
ZEST POLYURETHANES (SUPPLIER)
Coatings
ZINSSER (SUPPLIER)
Paints
Flood Culvert Protection From Zinga
November 2019
Painting Logos At Thorpe Park Splash Ride
November 2019
We were recently contacted to specify the paint for logos at Thorpe Park theme park in Surrey.
Painting Logos

One of the best places to advertise your company is right at your feet. Logos can be painted in high-traffic areas, so people can see them, especially guests.

Painting logos is an art form in itself. Promain can provide suitable paints for artists to hand-paint logos and other decals on company floors and walls in a variety of colours. With a wide range of options, we have an array of quality paints for both industrial flooring and commercial spaces internally and externally.

Keep in mind, however, that hand-painting is fundamentally different than simply applying a vinyl graphic logo. Painting a logo down onto a floor with a high quality paint will last, no matter the footfall. This is of course if you follow the correct preparation.

Our "create your own logo" paint system below is ideal if you are:

Painting company logos
Paint business logos
Painting company logo designs
Looking to paint logos and names
Painting company logos free hand
Intending to paint brush and roller logo
painting company name on floor
painting company logo on floor

Read below to see how Promain specified paint products to Thorpe Park in Surrey.
Introducing The Project

Owned and operated by Merlin Entertainment, Thorpe Park is one of the UK's most loved theme parks. Since it's opening in 1979, Thorpe Park regularly has over 1.8 million visitors per annum.

Due to the frequency of the site being photographed by the public, Thorpe Park loan out the floor and roof area around the Tidal Wave ride. This helps companies get frequent exposure online via social media sites such as Instagram and Facebook.
The Contractors

Richard Hollyer from Hollyer Projects won the project. Richard has worked for various high end entertainment companies including Tussauds Group (former owners of Thorpe Park). Hollyer Projects has a wide range of international experience that they have built up over the last 20 years.

For more info see their website here –
http://www.hollyerprojects.com

Hollyer Projects employed the services of scenic artist Sarah Baker to carry out the logo painting. Sarah had previously worked with colleagues to carry out the scenic painting at Thorpe Park's Saw Ride a few years ago.

This new project consists of painting words of the Oasis logo on the floor along with their slogan.
Painting Logos: Promain's Floor Paint Specification

Tony on Promain's technical team proposed various options for the project. Initially, Promain suggested ProtectaKote UVR as an option. However, it is only available in a set range of standard colours. Therefore, a second option was suggested – Teamac Chlorvar followed by a clear topcoat where anti slip clear polymer beads could be back rolled in. Chlorvar is available in a most RAL and BS shades but not Pantone colours. This option would be ideal as the painting could be carried out in the companies corporate colours.

One issue we had about using Teamac Chlorvar Chlorinated Rubber is that this a relatively thin film build. Henceforth, it would not hold the anti slip aggregate. With this in mind our technical department had to think out of the box. They looked at solutions used on Highways applications. These products are subject to much higher levels of wear and tear. This is why chlorinated rubber line marking paint is used on major roads throughout the UK. They are subject to not only water but de-icing salts. These de-icing salts will attack most paint coatings in a relatively short space of time.

The solution was to use an anti slip MMA (methyl methacrylate). The product that was proposed was used in high wear areas on tarmac roads. This made it suitable for application to the tarmac areas adjoining the entrance to the Tidal Wave Ride.
About MMA

MMA is a widely used paint formulation used for line marking in commercial situations mainly externally as it has high VOC's. It is a reliable, durable, fast return to service paint coating.

MMA's use peroxide as an activator and the amount of activator can be varied dependant on ambient temperature. This is to increase or decrease the speed of curing. MMA's are often applied using a drawbox (see image).

MMA benefits from an extremely fast return to service. However, it also has great durability making it a great choice for this project.
Application of The Paint Logo Design

MMA was identified for painting the company logo. The MMA contained an anti slip aggregate which was chosen as the location is in the splash area of the ride. This means that the ground will be almost constantly wet during the parks opening hours. Thorpe Park in Chertsey, UK was visited by 1.8 million people to it's 490 acre site in 2017. Henceforth, the logo design needed to withstand the high level of footfall.

Thorpe Park Logo Painting

To get the best finish, the previous logo would have had to be scarified to remove it. This however would have left scaring on the black top which is unsightly and far from ideal. To get around this, it is best to replace the whole section of tarmac with new.

New tarmac however needs to oxide before the application of paint. This oxidisation process will take a minimum of 8 weeks of weathering and UV degradation. As the Park closes for annual maintenance over the winter this extended time frame was not an issue. This also meant we had to find a solution that would be able to cure at lower temperatures.

Below is a great picture of the finished logo design:

Thorpe Park Logo Painting
Painting Logos: Conclusion

The site opened to the public at the end of March 2019. Promain look forward to a continued future relationship with Richard and Sarah.

Are you looking to draw your own logo, paint logo designs with industrial paint? Or are you looking for theme park paint? Contact our technical team today for an in depth specification for your requirements.

We can also discuss logo painting systems for:

paint logo on concrete
paint logo on glass
how to paint logo on brick wall
paint logo on metal
how to paint a logo on wood
List all press releases