ICONIC Awards 2023: Award for HEWI magnetic shower holder
October 2023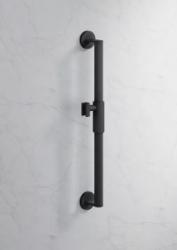 ICONIC Awards 2023: Award for HEWI magnetic shower holder

For our innovative magnetic shower holder, we were recently awarded the Iconic Award 2023: Innovative Architecture – awarded Best of Best. In the category "Bathroom Accessories", the innovative solution won over the jury of experts.
A new feeling of comfort

The new, patented magnetic shower holder from HEWI is much easier to use and, in the spirit of universal design, is an optimal product for all people and especially for differently-abled users. Characteristic features are easy, magnet-based height adjustment by sliding the shower head, intuitive one-handed operation, a fully rotatable cone bracket, and the conscious lack of the buttons and knobs usually found on such products. Thus, the shower holder can be used without strain and even by those with motor limitations. Wet hands no longer matter, as the traditional clamping mechanism has been replaced by the novel magnetic principle, thus eliminating the need to exert pressure when adjusting the shower holder.
JURY OPINION ON THE MAGNETIC SHOWER HOLDERS

"The HEWI magnetic shower holder is universal design par excellence: intuitive and easy to operate with one hand, hygienic, easy to clean thanks to smooth surfaces, and long-lasting thanks to the absence of mechanical locking knobs. Can be combined with shower rods of different lengths and various rail variants of the System 900 from HEWI. The user thus always has a secure hold. Particularly praiseworthy is the attractive design, which carries no trace of the bland after-taste of age- or disability-friendly design. The choice of five surface options offers real variety for a contemporary bathroom interior."
ICONIC AWARDS: INNOVATIVE ARCHITECTURE

With the Iconic Awards: Innovative Architecture, the German Design Council honours the best of the best. The impartial design and architecture competition awards prizes to holistic projects in the fields of product design, architecture, interior design and brand communication. The awards are primarily given to new, comprehensive ideas that stand out for their forward-looking achievements - including HEWI. True to the motto: Visionary architecture. Innovative products. Sustainable communication.


Resources for HEWI - SANITARY AND ACCESSIBILITY SOLUTIONS