Dulux Explore Colour of the Year 2022 - Bright Skies™
November 2021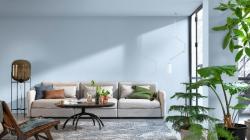 Explore Colour of the Year 2022 - Bright Skies™

Every year the Dulux Colour specialists at our Global Aesthetic Centre assemble a top team of international design experts to discuss the new global trends that will affect us all. Using these insights and a wealth of colour expertise, the team then chooses a Colour of the Year, and builds four new, easy to use paint palettes around it to help interior designers, decorators and building design professionals to create better, more comfortable homes and public spaces all over the world.

An airy, light blue that's fresh, open and invigorating, Dulux Trade Colour of the Year, Bright Skies™ reflects the limitless skies around us. It delivers a flavour of the natural world and brings a breath of fresh air to a space. The soothing tone integrates nature into daily life, transforming spaces into a restorative escape from everyday stress.

Resources for DULUX TRADE PAINTS