World class training for the trade
May 2021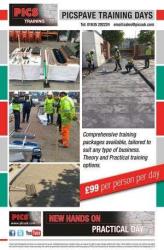 World class training for the trade

If you are interested in the business opportunities that exist within the industry and are thinking of setting up or expanding your operation, or indeed looking for refresher courses for you or your team, you are at the right place. Training is offered for classroom theory, refresher and on-site training for all products and systems, as well as contractor support across all types of installation challenges.

Since 1992 we have trained upwards of 5,000 people in the various industry sectors we supply and support.. Many hundreds of these formed their own business and still operate successfully today.

Our imprinted concrete training course is designed for those that are new to the industry, or those who want to develop their existing practical experience through structured training. The course takes place over 2 days, the first day focusses on imprinted concrete theory followed by practical application on day two.

You can find out more information and book online by visiting our website, or to speak with one of the team, call the office on 01635 202224.


Resources for PATTERN IMPRINTED CONCRETE SUPPLIES LTD