Dulux Introduces 99.9% VOC free1 Airsure range to minimise poor indoor air quality
December 2020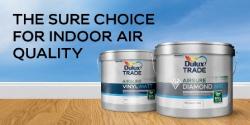 Dulux Trade introduces 99.9% VOC-free1 Airsure range to minimise poor indoor air quality

Dulux Trade is strengthening its commitment to reducing the environmental impact of paint with the launch of a new product range that is 99.9%1 free of volatile organic compounds (VOCs).

Both BREEAM2 and LEED3 compliant, the products in the Airsure range can help customers meet the most stringent sustainability objectives5.

The range will initially include new Airsure Diamond Matt and Airsure Vinyl Matt - offering great quality, performance and coverage, while helping to minimise the impact on indoor air quality4 with a lower or equal carbon footprint6 compared to the standard formulations.

Paul Murgett, AkzoNobel Sustainability Manager, comments: "With the UK population spending on average around 80-90% of their time inside buildings6, indoor air quality is an important consideration for us all.

"VOCs evaporate away from paint into the air even at room temperature. Once in the air and exposed to sunlight, they react with nitrogen oxides already present to create pollution, which in high concentrations can affect health.

"Although the pollution impact of the VOCs from paint is very small, less than 2% of the total amount of VOCs emitted, we know they contribute to indoor air pollution6, and that is why we're pioneering new ways to minimise the amounts emitted by our paints.

"We're proud that by being BREEAM2 and LEED3 compliant our new Airsure range is independently tested as meeting the highest of green building standards, helping architects and project managers meet sustainability objectives5.

"As you'd expect, the new Airsure range delivers professional quality paint, offering the same high quality performance Dulux Trade is renowned for."

Airsure Diamond Matt is available in the full Dulux Trade tinted colour range and provides the same tough, durable finish as Diamond Matt, with scuff, scrub and stain resistant technology that means it meets Class 1 ISO 11998 and Type C BS 7719 scrub ratings.

The Airsure Vinyl Matt is suitable for all normal interior walls and ceilings, giving the excellent opacity, coverage and finish that Vinyl Matt provides.

The range is the latest in a line of sustainable products from Dulux Trade.

Last year AkzoNobel unveiled Dulux Trade Evolve Matt - the first paint offering from a major UK brand to be made using 35% recycled paint content. Dulux Trade also expanded its range of water-based trim paints by introducing Dulux Trade Diamond Satinwood in more than 14,000 different colours, increasing the options for customers to specify a more sustainable trim product that gives enhanced durability to help extend maintenance cycles.

Paul adds: "We're constantly using the latest research and technology to innovate, providing new solutions for architects, specifiers and contractors. There is more innovation in the pipeline to expand the Airsure range in 2021, giving an even greater choice of products to ensure our customers can meet the increasing sustainability requirements5 of their clients."

The Airsure range is available from 7th December 2020.

To find out more please visit: https://www.duluxtradepaintexpert.co.uk/airsure.
Resources for DULUX TRADE PAINTS