HOPTON HOLIDAY VILLAGE GETS A NEW FACE LIFT WITH THE HELP OF BOLTON GATE
September 2020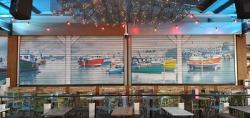 CASE STUDY: HOPTON HOLIDAY VILLAGE, GREAT YARMOUTH

Architect: Leisure Concepts
Contractor: ELM Contracts

Product: Sonaroll Acoustic Roller Shutters

A refurbishment has been recently carried out at this holiday park in Great Yarmouth which included the division of the large entertainment area to achieve a flexible, multi-use space. This features a sports bar one side with the other side hosting various activities such as exercise classes, kids' activities, shows etc.

Bolton Gate's Sonaroll Acoustic Roller Shutters were specified to divide the two spaces to close off the areas whilst providing reduced sound transmission when closed and when open, allowing the whole space to be used as a show-bar.

The 100mm flat-faced laths allowed graphics to be applied maintaining a nautical theme with some shutters reflecting a boatyard scene post and other shutters had artwork applied to make the steel laths appear as distressed timber. The inclusion within the graphics of a central faux timber post effectively divided each shutter into two visually allowing two different scenes per shutter which proved very effective.

For more information on this project or to discuss your own specific requirements call us today on Tel: 01204 871001 or alternately Email us at: sales@boltongate.co.uk and our technical team will be happy to help.
Resources for BOLTON GATE CO LTD