Integral colour for concrete that has superceded traditonal concrete dyes and concret
July 2016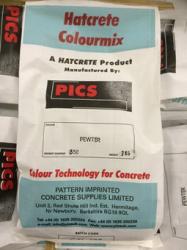 Integral colour for concrete that has superceded traditional concrete dyes and concrete pigments.

HATCRETE® Colourmix is a water-reducing, workability-enhancing admixture that strengthens and integrally colours new concrete. It can be used in pre-cast or cast in-situ applications and can be colour matched to blend in or complement the surrounding landscape - please see pictures above for completed projects using Colourmix.

HATCRETE® Colourmix is not a conventional concrete dye or concrete pigment and has totally superseded other methods of colouring concrete. It is a precision manufactured concrete admixture with stringently controlled properties which displays numerous advantages over basic concrete dye and concrete pigment.

Ready to use accurate dosage.
Available in 23 standard colours.
Custom colours made to order.
Colour consistency guaranteed.
Increases concrete strength.
Absolute minimal wash down requirements.

HATCRETE® Colourmix concrete colouring admixture widely extends the otherwise very limiting aspects of ordinary grey concrete and is used wherever an integral colour is needed.

HATCRETE® Colourmix concrete colour is pre-weighed and packaged within water-soluble bags. Each bag is sufficient to colour 1 cubic metre of concrete, or smaller batch sizes as specified, and is formulated to be added directly to the mixer truck.

For smaller batches: HATCRETE® Adcolour is a similar product to HATCRETE® Colourmix but with alternative processing agents designed to assist ready mixed concrete production. It is available in the same range of colours but packaged in 20kg bags suitable for small users and pre-casters who need to batch different quantities of coloured concrete.
Resources for PATTERN IMPRINTED CONCRETE SUPPLIES LTD