RADMAT BUILDING PRODUCTS LTD
HOLLAND HOUSE
VALLEY WAY
ROCKINGHAM ROAD
MARKET HARBOROUGH
LEICESTERSHIRE LE16 7PS

Tel: 01858 410372
Fax: 01858 410572

Suppliers of: Flat Roof Waterproofing, Structural Waterproofing, Hot Melt Bitumen Membranes, Waterproofing, Green Roofs, Roof Gardens, Access Decking Podiums, Car Park Roofs.
Radmat Building Products.
Radmat Building Products is an independent British company marketing a range of waterproofing systems for wherever it is required to waterproof a structure or part of a structure.
Social Media: Twitter / Facebook / Linkedin
Radmat Building Products are suppliers of high performance waterproofing materials marketed via specification assistance to architects, consulting engineers and quantity surveyors. The company is committed to providing technical support to the specifier and construction team with the elements of service that give comfort and a satisfactory waterproofing solution to meet the parameters given. Our range of products include:
A Radmat Blue Roof system offers an effective means of providing a Sustainable Drainage solution (SuDS) in inner city and urban environments, attenuating rainfall at roof level to provide controlled drainage of rainwater from the site. Suitable for zero falls flat roofs, terraces and podiums a Blue Roof can be finished with paving, ballast or a green roof system: delivering amenity and rainwater source control without having to locate storage tanks underground.
MedO is a green roof solution that uses established green roofing technologies in a simple and straightforward way. A variety of green roof solutions can be created - from low maintenance sedum matting and wildflower meadows, to landscaped roof gardens with lawns, shrubs and water features.
PermaQuik 6100 Monolithic membrane roofing system is a one part, hot applied, seamless rubberised self-healing membrane made from bitumen, natural rubbers, and a blend of polymers, further reinforced with a high tensile polyester fabric. This mix combines excellent waterproofing performance with toughness, flexibility, and strong adhesion to a variety of substrates.
ParaFlex is a fast curing, cold applied polyester resin waterproofing system. It is 'wet on wet' between layers so it doesn't need to be left to cure between coats. This means a faster application to give a continuous monolithic waterproof material.
Esha is universal waterproofing and roofing membrane not only made from recycled end-of-life bitumen polyolefin products it is also 100% recyclable. A patented manufacturing method Esha is a shrink-free, fully adhered membrane that is more flexible and stronger than conventional membranes and has greater stability and durability.
EshaFlex membranes feature Groove Technology®, a patented underside finish that ensures the heat acts only where it is needed, reducing warming of the membrane and increasing melting of the PE foil.
Single Ply Membranes for use as mechanically fastened or adhered roof waterproofing on flat or pitched roofs. Suitable for refurbishment and new build applications.
Radmat Protherm Quantum - The world's thinnest inverted insulation system
A global leader in the manufacture of high-performance materials, Kingspan Insulation has worked exclusively with Radmat to develop Quantum as the system choice for any inverted roof, terrace or balcony.
ALUBASE XL
Roofing Membranes
ESHA FLEX
Roofing Membranes
ESHA GUM
Self-Adhesive Roofing Membranes
ESHA RBM
Roofing Membranes
ESHA UNIVERSAL
Roofing Membranes
ESHABOND
Membrane Adhesives
ESHAFLEX
Reinforced Bitumen Membranes
ESHAFLEX FIRESAFE
Roofing Membranes
ESHAGREEN SBS
Bituminous Waterproofing Membranes
ESHAGUM
Reinforced Bitumen Membranes
ESHAPLAN
Roofing Membranes
ESHAPLAN B
Single Ply Roofing Membranes
ESHAPLAN FB
Single Ply Roofing Membranes
ESHATHERM
Vapour Pressure Layer Membranes
ESHATHERM BLACK MINERAL
Roofing Membranes
ESHAUNIVERSAL
Roofing Membranes
ESHAVENT
Vapour Pressure Layer Membranes
PARAFLEX
Liquid Membrane System
PERMAQUIK
Traffic Bearing Waterproofing
PERMAQUIK 6100
Liquid Membrane System
PERMAQUIK PQ 2016
Fabric Reinforcement
PERMAQUIK PQ 2060
Reinforcement Sheet
PERMAQUIK PQ 2063
Reinforcement Sheet
PERMAQUIK PQ 2178
Glass Ply Reinforcement
PERMAQUIK PQ 6100
Bitumen Waterproofing
PERMAQUIK PQ 6145
Bitumen
PERMAQUIK PQ 6170
Bitumen
PERMAQUIK PQ ECTOFLEX 4020
Concrete Waterproofing
PROFAST
Roof Membrane Fastening System
PROFLOW
Rainwater Outlets
PROSAFE
Roof Safety Systems
PROTHERM QUANTUM
Roof Insulation
PROTHERM QUANTUM HYBRID
Inverted Roof Insulation Systems
PROTHERM QUANTUM PURE
Inverted Roof Insulation Systems
RADMAT MIN-K
Vapour Permeable Membranes
RADMAT PROCLAD
Insulation Boards
READYSEAL
Liquid Applied Cold Resin Membrane
SEDUMPLUS
Green Roof Vegetation Mats
XENERGY SL-EP
Inverted Roof Insulation Board
Green & Blue: joined up thinking to reduce flood risk
December 2017
Radmat supplied roofing systems to Alder Hey in the Park
March 2017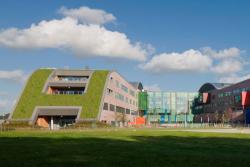 Leading flat roof waterproofing system provider Radmat Building Products has supplied an award-winning roofing system for the new £237 million Alder Hey in the Park children's hospital in Liverpool. The system provides high standards of environmental performance, long term waterproofing integrity and has enabled the creation of three stunning green roofed 'fingers' that connect the hospital with the surrounding parkland.

• The UK's first NHS hospital for children built entirely in a park

• Sustainability award winner: Green Roof Project of the Year 2016 (UK Roofing Awards)

Alder Hey is the first hospital in Europe to be built entirely within a park. The 52,600m2 main hospital and 9,500m2 outpatients department was designed by architects BDP in consultation with patients, their families, the Princes Foundation and National Arts for Health, and was inspired by a drawing made by a 15-year-old patient. The 270-bed hospital is one of the most sustainable ever built, with more than 50% of its energy generated on site.

Laing O'Rourke appointed Radmat approved contractor, Prater, to construct the green roof on the strength of its technical expertise and previous experience on major healthcare projects and green roof systems.

A key feature of the hospital's design is the three iconic green roofed 'fingers' that curve downward from the fourth floor of the building to the ground level at a 45-degree angle, connecting the hospital wards with the surrounding parkland.

The structure posed installation challenges and in order to safely waterproof the steep slopes the installation team to work using a mixture of abseiling equipment and telelifters to apply two coats of a Liquid Applied Membrane, which was developed for use in verdant roof gardens. The liquid applied system was chosen for speed of installation and its elastomeric properties, allowing it to expand and contract with the building to ensure a reliable seal. The ease of application also meant a safer process for those working on the less accessible areas of the roof.

This was followed by installing Radmat's ProTherm Inverted Roof Insulation, specifically designed to give effective, long-lasting insulation on inverted roofs. The green roof was completed with a substrate-based Wildflower Meadow System.

The main hospital and outpatient's department have already won a number of RIBA Awards and can now add a Roofing Award to the many accolades it is no doubt going to receive. Radmat and Prater were awarded the 'Green Roof Project of the Year 2016' in the Sustainability category of the UK Roofing Awards for their work on the hospital, which is a home-from-home for children who need care, and gives them access to play areas, fresh air, natural light and striking views of the park.
List all press releases