Delta Membrane - Waterproofing solution to a Basement close to a lake
October 2023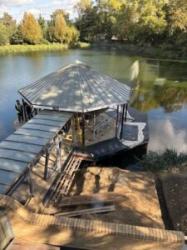 Imagine waking up to the tranquil sound of rippling water and stepping outside to a stunning view of nature and wildlife.

The scope of the project was to provide a waterproofing solution to a luxurious lake side home. The new build property will sit within close vicinity of a 400 ft lake.

The developer, a successful London property developer, approached Delta to undertake the waterproofing design. The developer, having previously had a prosperous relationship with Delta, once again sought Delta's expertise in this project success.

The property itself being new build, was constructed from a Type B, waterproof reinforced concrete to provide a first form of waterproofing protection, with both Type C, and Type A, waterproofing solutions being incorporated to the structure to provide two forms of protection.

It is essential for the success of any project involving below ground structures that strategies for dealing with all external sources of groundwater, surface/flood water are considered from the very earliest stages of the planning and design process. Particularly when a structure is sited within metres of a body of water.

When it comes to residential, commercial or any structure below ground, waterproofing is a critical component within the construction process for protecting and preserving a building.

Methodology

Applying all principles of waterproofing design (BS 8102:2022 Protection of below ground structures against water ingress. Code of Practice.), this project required a strategic, deliverable, approach. Following site inspections and desk top studies, consideration was given to the need for combined protection, the need for continuity in the solution, the form and feasibility of repair of the systems, the weather/environment effect on systems, and the durability of the systems and performance over time.

With no one-size-fits-all when it comes to waterproofing design. The property would sit in a high-water table, with de-watering required throughout the excavation process to temporarily lower groundwater levels, to allow stable conditions below the natural groundwater level.

The basement once constructed will sit 2 metres below the water level of the lake. With sump pumps being installed at an even lower level (approximately 4m below the surface of the lake).

Prior to the installation of the Type C system, coved fillets were created at critical floor/wall junctions. Koster Polysil TG 500 was used to prevent the leaching of free lime in the new concrete. Koster Polysil TG 500 if often used in combination with Delta cavity drainage membranes and basement drainage systems.

Delta MS 500 was securely fixed to the internal walls using Delta's specialist fixing plugs, with Delta MS20 installed to floors.

Below the floor membrane perimeter drainage channels were sited within the rebates allowing for suitable drainage of any future water ingress and this being diverted to suitable discharge point (on this occasion a mechanical pump system).

Part of this 'controlled system' is basement drainage. Any water ingress which penetrates the basement, is directed into perimeter drainage channels which this then efficiently disperse to a sump pump station. Once collected in the sump pump chamber, the water is then pumped to a suitable evacuation point.

The need to service and maintain the drainage elements of type C waterproofing systems is paramount to long-term success. Inspection ports were included in the perimeter channel with a groundwater sump pump located to give easy access for periodic servicing.

A Foul water pump station was incorporated into the design, to discharge foul water from the basement's bathroom facilities.

After the Type C System was installed the all-important integrity testing was undertaken to exercise the waterproofing system in worst case scenario.

Working in partnership with the developer, Delta designed a bespoke Type A waterproofing approach to the light-well of the property. Light wells being open element of the structure will require a suitable waterproofing approach. Basement light-wells are earth retaining and are subject to lateral penetration from groundwater. Lateral penetration is a caused when the external ground level is higher than the building, so water and moisture is able to penetrate the walls. Light-wells can also be affected by rainwater, with heavy rain, light-wells can fill up, with the potential for water to cascade into the basement. By waterproofing the envelope of the structure, this avoids potential risk. Incorporating Koster NB 1 to the light-well was a simple solution. Koster NB 1 with its ability to cope with both negative and positive pressure ensured that the accommodation areas would be kept dry, while the surface water pump station would manage any excess rainwater, to ensure the area is permanently protected and kept dry.

Incorporating a sump pump system for managing external surface water from light-wells is a great cost-effective solution.

Products Used

Delta MS 500
Delta MS 20
Koster NB 1 Grey
Koster SB Bonding
Koster Repair Mortar
Koster Polysil TG 500

Case Study Results

This unique project required a complex waterproofing design. A key element to the success of this project has been the partnership between manufacturer/waterproofing designer and developer. The developer has embraced Delta's technical approach to fully understand Delta's design principles, products, and compliance with specific standards for quality, reliability, and performance.

We wish the developer and his family lots of love and happiness in their new home.
Resources for DELTA MEMBRANE SYSTEMS LTD