Rainbow Rockpanel colours at new North Wales primary school
November 2023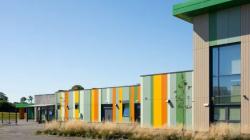 Award-winning Wynne Construction were appointed main contractor by Anglesey County Council for the new Ysgol Corn Hir school, which is situated on the outskirts of Llangefni, North Wales. The new £10m development, part funded by the Welsh Government through the Sustainable Communities for Learning Programme, will provide bilingual education for up to 270 children aged between four and eleven.

Offering the latest facilities and resources, including modern and well equipped classrooms and outdoor areas suitable for play and learning, the school is constructed to BREEAM Excellent standards and is a very energy efficient building, which, among many other energy saving measures, features photovoltaic panels and air source heat pumps.

Lovelock Mitchell Architects were design lead. Senior Associate, Peter Fisk, explained the decision to specify Rockpanel, "The material palette for the Ysgol Corn Hir project has been selected for its robustness, modularity, and complimentary aesthetics. Notably, Rockpanel's diverse colour spectrum permitted us to select a set of natural, but vibrant hues for the early years facade that created a playful juxtaposition with the natural rhythms of the slate and timber elements to the main hall and entrance areas of the building, while maintaining an overall aesthetic befitting the building's rural context."

The school really makes a visual statement and radiates a feeling of positivity, clad in vertical columns of varying widths using a selection of RAL-matched bright green, yellow, orange, medium and light teal. The bands of colour run floor to roof of the main single storey structure, in line with contemporary grey framed windows and entrances. Then Rockpanel, predominantly in the bright green, is used to great effect above a full height, pillared portico and for an ajoining wing of the school as vertical pillars under a deep horizontal canopy, with additional sections clad in the other colours from the palette listed earlier.

Design and technical support always on-hand

Roofing and cladding specialists, Kynaston Contracts, were responsible for the installation of Rockpanel facades at Ysgol Corn Hir. Kynaston Project Coordinator, Emlyn Williams, "We were appointed the roofing and cladding contractor on this great looking new school in Llangefni where amongst other things we installed Rockpanel to the exterior elevations. John Porter was very helpful in aiding the design team, in particular when it came to the fixing calculations and recommendations on the project. Given the opportunity we would welcome using the product and working with John again."

Rockpanel's John Porter, "This was a great project which really shows what can be achieved with the intelligent use of colour. In addition to virtually endless colour match possibilities, the scope of surface finishes offered by Rockpanel includes Natural Woods, Metals, Stones, and our unique iridescent Chameleon. In the architecture of the future, natural, recyclable products like Rockpanel will be indispensable."

The external facade for all seasons and all reasons

Rockpanel facades panels are made from a core of naturally occurring, non-combustible volcanic rock – stone wool – embodying them with superior durability and fire resilience, making them virtually maintenance-free and insensitive to moisture and temperature changes. That means they will stay looking as good as the day they were installed, throughout their long life.

Rockpanel is light and easy to work with, saving installation time and money. It is often delivered precision cut but can also be adjusted on site using simple tools. It is able to play it's role in helping ensure efficiency in terms of sustainability as the stone wool from which it is made, is naturally replenishing and the panels themselves are made from a high percenatage of industry waste materiels which might otherwise end up in landfill. Then, once it has reached the end of its useful life (proven to be at least 50 years), it can be disassembled and made in to new stone wool products with no losss of quality.

*Disclaimer: Due to changes in our assortment, it is possible that the designs shown in this case study are no longer available. Feel free to contact us in case of doubt.