ION Glass - Ten reasons to enhance your home
November 2023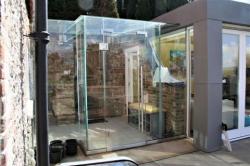 1. Every Ion Glass project is fully bespoke to meet your exact requirements
2. Our extensive scope of work includes glass linkways, glass doors and porches; internal and external balustrades; shower enclosures and staircases
3. We specialise in fully frameless glass with minimal fittings and concealed hinges
4. Our glass works equally well in a new build, renovation project, listed building or contemporary home
5. Ion's computer aided measurement systems ensure accurate measurements whether it's a sloping ceiling, an arched door or a spiral staircase
6. We supply all fittings and fixtures, custom produced if required
7. Our teams will manage your job from concept to competion, including all the installation logistics
8. Your domestic glass installation will be fully compliant, meeting all structural requirements - we are fully 'CHAS Elite' certified.
9. We have the expertise to manage even the most challenging installations, including structural glass fins and beams, elliptical curves or unusual dimensions
10. Our installation teams receive regular accolades from our clients, not just for their technical skills but for their polite and professional approach in every situation.

A glass linkway turned a draughty passageway into a functional and weatherproof area between the house and the garage in this modern family home.

External balustrade to a staircase, bolt fixed and back-painted to conceal the exposed edge of the stairs.

This suspended glass linkway with a non-slip glass floor connects the original heritage building with a new extension.

Take a look on our website for inspiration on many other reasons to choose Ion Glass for your residential project.
Our expert team at Ion Glass would love to talk to you about your bespoke glass. We'll discuss your individual requirements and ensure the result fits flawlessly, works perfectly and looks just as good as these!

We provide a full technical support and installation service whether you are managing a project for a church or heritage building or commissioning glass doors for leisure, residential, or commercial properties.

For more information on our solutions in, glass doors, glass screens, internal or external balustrades, structural glass porches, glass linkways or other architectural glass installations call us on 0345 658 9988, send us an email via info@ionglass.co.uk or click on the enquiry form on our website.