Wykamol Group - Local Investment for Burnley General Hospital Development
November 2023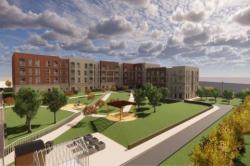 The Wykamol Group has been appointed the preferred waterproofing supplier on the £16m development of the 93 care apartments at Burnley General Hospital.

Over 25 drawings and specialist designs were needed for Labc and the engineers dealing with this prestigious project at the hospital.

Burnley-based Wykamol has been awarded the waterproofing supply contract for the retaining walls and lift pits, by Ring Stones Maintenance and Construction, who are part of the Calico Homes group. This project, designed by Brock Carmichael Architects, will provide much-needed assisted living within the neighbourhood. The apartments aim to improve the care for the elderly and reduce the risk of social isolation.

We're proud to be associated with such a rewarding project for the local community. As a bonus, Burnley General Hospital is only 3 miles from our Head Office, meaning the project materials don't have to travel far from where they were manufactured.

Olympic Construction Ltd, in partnership with Wykamol Group Ltd, will design and install a combined type A & C waterproofing system to the land retaining walls, to comply with BS:8102:2022. This system will ensure that the buildings remain dry and structurally sound, protecting the occupants and the building's integrity.

This project is just one of the many designs Wykamol Group Ltd has successfully executed. The company has completed numerous projects across the UK and Ireland, ranging from small residential developments to large commercial projects.
What sets the company apart is its ability to work with clients and partners to deliver projects on time and within budget without compromising on quality.
Wykamol Group Ltd

The Burnley General Hospital project, for example, will not only provide much-needed accommodation for the elderly, but will also include a community space, communal gardens, a well-being hub, and a bistro. These facilities will serve as the social epicentre of the development, bringing together people from different walks of life and reducing social isolation.