Rundum Meir - Can you get taller garage doors?
November 2023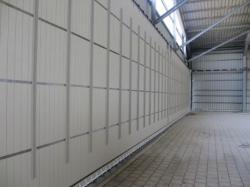 Can you get taller garage doors?

Most standard garage doors will normally be made to a height of around 2.1m or 7 feet. Whilst this may be right for the majority of typical garages, this is not ideal for every type of building or usage of a garage.

The good news is that extra tall garage doors are available offering a height of up to 4m in timber and up to 5m in aluminium with a bespoke garage door from Rundum Meir. This is because every Rundum Meir garage door is made to order and based on one of four core operating systems, which means it is not only possible to specify very wide opening doors up to 12m, but also doors with additional height.

Extra tall garage doors are often associated with industrial or commercial buildings, including aircraft hangars, to provide easy access for high vehicles or to allow for the manufacture of very large products in an indoor environment, such as modular buildings. And here, Rundum Meir can provide a robust solution which can be designed to meet very specific operational and aesthetic goals.
However, there are a whole host of building types and applications that lend themselves to taller than average garage doors, and they can make an impressive statement in new building designs too.

Why your home could benefit from an extra high garage door

One of the main reasons why many of us will avoid using a garage to park the car is because standard size doors can mean the opening is only just big enough to drive through. And it is also important to consider that today's cars are often much larger than in previous generations.
The new Land Rover Defender, for example, stands at 1.97m from the ground, but it is not the only tall vehicle available. The rise in the popularity of SUVs and people buying high specification campervans means many homeowners could do with their garage doors being just that little bit bigger!

Side opening doors provide more headroom

With standard size one-piece up and over and overhead sectional doors, the available opening height may be slightly less than what is possible because of the way the door is positioned when in the open position. This is why a side sectional or side sliding 'round the corner' door will offer slightly more and less cluttered headroom.
Rundum Meir garage doors that open to the side follow a track that runs down one of the internal walls when opened. As a result, the overhead space is clear – this can be beneficial for access and for utilising the internal space above head height should it be required, including for storage.

Aesthetically distinct

Building conversions from industrial to residential may feature large openings which can be retained with relative ease using an extra tall garage door. This could deliver an attractive aesthetic feature which is preferential to infilling the opening in part to accommodate a standard size door.

As Rundum Meir bespoke garage doors can be manufactured in a wide variety of timbers, high strength extruded aluminium, and – depending on the door style – clad with glass, steel, bronze and other metals, there is also virtually unlimited creative potential for the door. This could even be created to replicate an existing style in conversion projects, which can allow for a new door to be installed whilst preserving the building's character.

If you require technical assistance to incorporate an extra tall or extra wide garage door in your project, please visit www.rundum.co.uk or call 0151 280 6626.