Simplifying Waste Management with Glasdon Jubilee™ Duo 220
October 2023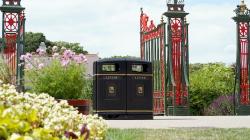 Glasdon is a market leader in the design, manufacture and supply of award-winning litter and recycling bins. Pioneering street furniture design since 1959, Glasdon produce tried and tested solutions to overcome the daily challenges of waste management.

Introducing the latest addition to the Glasdon Jubilee™ range – the Glasdon Jubilee™ Duo 220. This model is specifically designed to simplify waste disposal, ultimately aiding organisations in starting a waste management programme or enhancing their existing practices.

With its dual waste-capturing capabilities, a generous 220L capacity and a host of beneficial design features, the Glasdon Jubilee™ Duo is the top-of-the-line solution for your waste management programme.

New Waste Collecting Capabilities, Same Great Aesthetic…

The Glasdon Jubilee Duo 220 is a space-saving waste bin that consolidates two waste streams into one slimline unit. It can hold up to 220L of waste with its two 110L liners made of steel or Durapol® material, resulting in less frequent emptying and reducing the chance of material cross-contamination.

Remaining faithful to the co-ordinating products within the range, the bin incorporates the timeless aesthetic of Victoriana-inspired bins. Paired with traditional coloured banding and a prominent litter legend, the waste container seamlessly harmonises with British architecture and charming landscapes. The distinctive ribbed design also complements contemporary surroundings while acting as a clever deterrent against unwanted fly posting.

Constructed from durable Durapol material, the bin's robust composition allows it to withstand harsh weather conditions and acts of vandalism such as graffitiing. Durapol can be easily and quickly wiped clean of graffiti and the material is even recyclable after its service life.

With more and more consumers conscious of their environmental impact, the Glasdon Jubilee Duo 220 is also available as a recycling variant to meet the demand for on-street waste sorting. The Recycling Bin lets you choose the waste types you want to capture and support your area's waste recycling programme. You can merge streams such as plastic bottles with aluminium cans, or paper waste with mixed recyclables.

What Else Does the Duo Offer?

Dedicated Shaped & Coloured Recycling Apertures and Graphics

Reduce cross-contamination with easily identifiable waste streams using colour co-ordinated recycling apertures and graphics.

3-Point Interlocking Double Door

A fail-safe gravity action with slam shut operation securely engages the door, whilst a corrosion-resistant, minimal, unique keyed locking mechanism ensures the unit can only be accessed by operators. One key is required to open two doors.

Keyed or Keyless

Available in either a keyed or foot-activated keyless model, removing the need for operator keys.

Overhanging Aperture Shelves & Anti Cross Contamination Shield

Ensures that litter falls directly into the liner. This will lead to low levels of maintenance, as minimal cleaning inside the bin unit is required.

What Optional Extras are Available?

Recycling Aperture Panels.

Prevent the cross-contamination of waste with dedicated aperture panels, ensuring the correct use of the chosen waste stream.

Hood Ashtray.

Effectively deter cigarette littering. Coordinating with colour and identifiable graphics.

A4 Poster Frames.

Include sponsorship opportunities or display local campaigns. Easy to personalise and effortless to change.

Mouse Hole & Bait Box Area.

Secure and safe vermin control with easy maintenance access.

Talk to a member of the Glasdon team today via their LiveChat service or email enquiries@glasdon-uk.co.uk to discuss how the new Glasdon Jubilee Duo 220 can benefit your waste management scheme.