Silver Kite Special Dimmer Switch
October 2023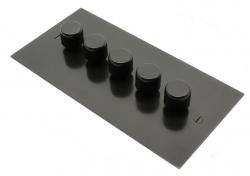 We can supply special electrical accessories like this 5 gang dimmer.

In fact, one of the units is a push/push switch not a dimmer.

This combination of switches could not fit on a standard plate, so a longer plate had to be made, and a special wall box supplied.

The finish is "dark imitation bronze metal antique" (DIB) finish, just one of fourteen luxurious finishes we can apply to any of our products.