Dales Fabrications - Colour Refresh
October 2023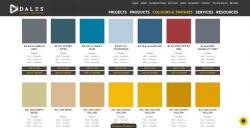 Dales are proud to boast an extensive and ever evolving colour range. Our colours page is refreshed quarterly to best reflect range size & availability. As part of the most recent update, 26 new colours have been added to our RAL & BS colours page, ranging from bolder colours such as Irish Green and Post Office Red to more understated shades like Goose Grey & Gardenia.

Providing such an extensive range means we can help you find a finish to suit any project. Moreover, our range is designed with trends & demand in mind. For example, one of the most specified colours is grey, so our RAL & BS range alone currently contains over 40 different kinds of grey.

When ordering colour samples, Dales advise it is at the customer's discretion to confirm availability and delivery times as stock levels fluctuate so regularly. If you require a sample within a particular timeframe, please call us on 0115 930 1521 and we can confirm stock availability and lead-times.