DuPont Tyvek® Underlay for Proven Long-Term Performance
August 2022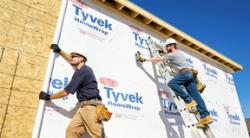 Tyvek® Underlay for Proven Long-Term Performance

The demand for vapour-open membranes has grown strongly in the last fifteen years, leading to a highly competitive market filled with different underlay players and technologies.

Today's breathable roofing underlays play a vital role in high-quality pitched roof and wall constructions, where they take care of windproofing, vapour breathability and waterproofing. To protect your investment in the long term, however, it pays to choose proven products that will function reliably throughout their entire lifecycle. After all, one leaking roof membrane is all it takes to render the entire roof structure ineffective, leaving the building and its interior vulnerable to damage from water ingression.

As a result, more and more professionals now specify quality solutions from the name they trust: DuPont™ Tyvek®.

Functional Layers: Quality and Thickness Are Critical

The thickness and the quality of the functional layer in an underlay are what determine its durability (secondary water shedding function) during construction work, and afterwards. The functional layer of DuPont™ Tyvek® is approx. six to eight times thicker than the microporous layer of most common multi-layer membranes.

Ageing Damage Factor in Underlays

A key factor that determines how watertight underlays will be in the long term is their ability to withstand the ageing processes caused by UV radiation and high temperatures.

Exposure to UV radiation often occurs during construction, when breathable membranes are left uncovered for longer periods. Prolonged exposure to high temperatures can also impair watertightness; this frequently occurs with metal roofing, which is more prone to heat build-up.

Tyvek® Outperforms Multi-Layer Breathable Roofing Underlays
In a comprehensive ageing test conducted by the Independent SP Technical Research Institute of Sweden, DuPont™ Tyvek® breathable membranes outperformed all the multi-layer breathable underlays that were tested. The test programme concluded that even after exposure to direct UV and sustained high temperatures, Tyvek® membranes can still provide years of effective watertight protection.

During the tests, which were performed according to EN 13859 regulations, all breathable underlays were subjected to direct UV, and their continued water resistance was then tested to class W1.

Tyvek® demonstrated higher durability and significantly superior resistance to UV exposure.

Next, all breathable underlays were exposed to temperatures of 90°C (above the CE requirement of 70°C), and their continued water resistance was tested to class W1. Again, Tyvek® demonstrated high durability and superior resistance.

Durable Condensation Protection

Thanks to their highly durable functional layer, Tyvek® underlays not only safeguard watertightness over the long term. By ensuring durable windproofing and vapour breathability, they also protect surfaces and structures better against condensation than tested multi-layer breathable underlays.

So by combining Tyvek® and AirGuard® solutions, it is possible to create structures that are extremely energy efficient – and will stay that way for years to come.

You can read more on the long-term durability of DuPont™ Tyvek® in our Proven Alternative to Most Common Multi-Layer Breathable Roofing Felt article.