Profab Achieving first class aesthetics and fire performance
July 2022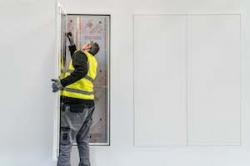 As the UK's first manufacturer to bi-directionally fire test its riser doors, Profab Access understands the importance of ensuring the highest standards of compliance and certification.

That's why it has developed the VEGA 1500 Fire Rated Series Riser Door, which provides architects and specifiers with an affordable yet compliant solution, ideal for installation throughout education, student accommodation and social housing applications.

Extensively bi-directionally tested by Efectis in France and Ireland, the riser door is suitable for use in shaft walls, standard flexible wall constructions and with all board manufacturers.The lightweight, easy to install solution provides professionals with permanent and safe access to mechanical and electrical services housed within a riser core.

As the riser door sets are fire tested from both sides for 60 minutes and are supplied with comprehensive certification, architects and specifiers can be sure the doors will maintain their frame and integrity for this period, preventing the spread of fire throughout the building.

The VEGA 1500 Series Fire Rated Riser Door is supplied as standard with Profab Access' revolutionary PRECISION adjustable frame, which completely transforms the installation process and reduces fitting times by up to 30%.

This is achieved through the product's unique construction, which enables the frame to be fully adjusted to meet the specific dimensions of each structural opening. Featuring a continual adjustable steel packer system, the PRECISION adjustable frame ensures the installation is fit for purpose by providing the highest standards in accuracy, whilst also removing the requirement for traditionally used packers during installation.

The engineered frame also features built in factory applied intumescent fire rated mastic strips to the outer frame, which provides fire stopping between the wall and the frame. This eliminates the reliance of the correct thickness of intumescent mastic bead being applied, removing any potential margin for error and ensuring compliance and adequacy of the entire installation.

To ensure the highest standards of performance and compliance are consistently provided, the VEGA 1500 Series Fire Rated Riser Doors are also 35dB acoustic rated, smoke sealed and airtight to Part L.

Available in both single and double door configurations, the VEGA 1500 Series' value engineered construction achieves a flush, concealed finish that provides first class functionality and safety, without compromising the overall interior design scheme.

Also available as non-fire rated versions, the riser doors features a quick release pivot hinge and pre-fitted locks to further reduce installation times, without compromising on quality.

The VEGA 1500 Series is supported by a wide range of BIM Level 2 and CAD files to aid the specification process and streamline the initial design stages, with every riser door manufactured at Profab Access' UK headquarters to provide the quickest possible lead times.

For further information on Profab Access and its range of riser doors, access panels, and steel doors, call +44(0)1827 719051 or visit www.profabaccess.com.