Edge Forward with BLÜCHER Wastewater Treatment Systems
November 2021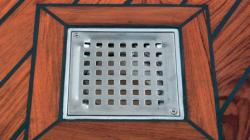 Clean and hygienic conditions in cabins, kitchens, and sanitary facilities are key to efficiency and well-being on-board. Properly treated stainless steel has a unique smooth surface that guarantees maximum flow capacity and excellent hygiene. Due to its low surface roughness, bacterial growth on stainless steel is significantly less than what you would find on ordinary steel surfaces. Our stainless steel wastewater treatment system has proven its functionality and reliability in over 3,000,000 meters piping installed in more than 2,000 vessels.

Our stainless steel products have been developed in a modular system to provide an optimum solution for any deck construction. The products can withstand a high degree of vibrations and function within a wide scale of temperatures.

The BLÜCHER® EuroPipe push-fit pipework system is lightweight, easy to install, and completely interchangeable between vacuum and gravity systems. In black and grey water systems, BLÜCHER® EuroPipe can be installed from the sanitary fittings to the valves just before the sewage tanks to prevent the spreading of fire both up and down.

Our wastewater treatment system carries the approval of leading international classification authorities, including ABS, BUREAU VERITAS, Lloyds Register, NK, DNV, Gl, RINA, and USCG. They are fire tested and MED/USCG approved to class A0-A60.