Why hot water cylinder commissioning is so important to get right?
May 2021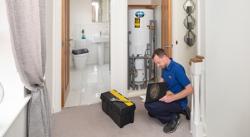 Why hot water cylinder commissioning is so important to get right?

27 April 2021 Kingspan Water & Energy

Installing a hot water cylinder - you may have done it once, or you may have done it a thousand times. But what about commissioning?

In this month's blog, we take a look at the differences between installing and commissioning a hot water cylinder, and why it's so important to get the standards for both right.

What's the difference between hot water cylinder installation and commissioning?
Commissioning is what comes after you've got a hot water cylinder all safely plumbed in and wired up, installed in line with the relevant Building Regs. In England and Wales these are Building Regulation G3, in Scotland the Technical Standard P3, and in Northern Ireland it's Building Regulation Part F.


Like installing a cylinder, commissioning is a job for professional plumbing and heating engineers and definitely NOT for DIY-ers to try! Commissioning gets the hot water cylinder safely ready for action.

What does hot water cylinder commissioning involve?

There are a few variations to commissioning, depending if the cylinder is direct or indirect. Broadly, it involves purging the sterilisation liquid and filling the cylinder with water before flushing, filling, checking the water pressure, using a corrosion inhibitor, making sure the applicable heat source is working as it should and that water is stored at the right temperature, and checking all the safety valves, pipework and discharge pipework are all in tip-top shape.

Then there are two other important steps – completing a commissioning checklist (such as the Benchmark Code of Practice Scheme checklist, also referred to as a Benchmark Logbook) and notifying Building Control. More on both of these below.

What is the Benchmark Code of Practice Scheme?

A commissioning checklist needs to be completed to comply with the Building Regs. And why invent your own? There's a great best practice commissioning checklist available from the Benchmark Code of Practice Scheme, run by the Heating and Hot Water Industry Council.

Some manufacturers, such as Kingspan, are members of the Benchmark Scheme. This means that as a plumbing and heating engineer you should install, commission and service Kingspan hot water cylinders in a way that's Benchmark-compliant. This validates the guarantee.

The Benchmark Commissioning Checklist includes all the gubbins you'd expect – the make, model and serial number of the cylinder, the installer's Unvented Registration Number, details of where the cylinder has been installed, details of primary circuits, temperature and pressure, etc.

Simply complete the checklist and leave it with the householder. It can also act as their subsequent cylinder servicing record.

Most of the manufacturers now include the Benchmark Commissioning Checklist within their Installation & Maintenance Instructions so make sure you don't discard them as soon as you unpack the cylinder.

Why do Building Control need to be notified?

This is all about compliance with Building Regs. Unvented hot water cylinder installations need to be notified to Local Authority Building Control, which should be done by the installer either directly to the authority or through a Competent Persons Scheme. You'll be pleased to hear that a qualified plumbing and heating engineer fits the bill as a competent person! A Building Regulations Compliance Certificate will then be issued to the householder. This includes a Notification Number for the householder to add to the Benchmark Commissioning Checklist.

Why is commissioning a hot water cylinder so important?

It may seem like there's a long list to get through when commissioning. However, like all things, once you're used to the method and the paperwork it's a great way to show off your expertise and reputation for doing the right thing with customers.

After all, plumbing has a vital role to play in protecting public health – something we raise awareness of each year during the World Plumbing Day, which is celebrated on 11th March.
With so many variables that need checking, temperature of the stored water, incoming water pressure, system balancing and back flow prevention, and correct discharge pipe work configuration, to mention just a few, you shouldn't underestimate the vital safety role you play every day.

As this blog has outlined, correct commissioning is important not only for the safe operation of the cylinder and to comply with Building Regs, but it also gives the householder confidence that standards have been followed and the cylinder will be covered by the manufacturer's guarantee. That's a whopping 25 years (10 years for heat pump models) for Kingspan's unvented cylinders.

Where to find out more about commissioning

Whetted your appetite to find out more?

Manufacturer's installation guides are a good source of information on commissioning, and you should definitely give them a read before you start a new installation.

Information about the Benchmark Scheme can be found on the Heating & Hot Water Industry Council website.

The Benchmark Scheme's old website was centralheating.co.uk, but has now migrated to Installers First – make sure you sign up and sign in to access their resources, including Benchmark Checklists for various types of installations, including vented cylinders, gas boilers, solar thermal and heat pumps.


Interested in having your cylinder commissioned and activated?

Our expert engineers will carry out bespoke commissioning services on all Kingspan products, ensuring trouble-free system operation from the start. Areas of expertise include wastewater, rainwater harvesting systems, hot water cylinders, solar thermal systems and Fuel and AdBlue storage tanks.

For more information call our team today on 0333 240 6868, or visit our website.