The Advantages of Precast Concrete Stairs
April 2021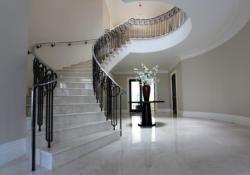 How Much Do Our Stairs Cost?
Our precast concrete stairs are inexpensive when compared to a stair cast in situ due to the efficiencies within a controlled factory environment.
How Long Do They Take to Install?
Our curved and helical precast concrete staircases can be installed in a day and often at the same time as the structural flooring. Insitu poured concrete stairs usually take weeks to build, cast, strip and finish.
Are They Safe and Secure?
Precast concrete staircases can be used as soon as they are installed - they provide an immediate working platform. Insitu poured stairs will require alternative access routes to the upper floors while they are being built.
Are They as High-Quality as In Situ Stairs?
Using a flexible steel formwork system in a controlled offsite factory environment enables our precast stairs to be made accurately and to a high quality. Precasting allows the repeated use of formwork, whereas in situ concrete pouring results in the formwork being disposed of on each project.