Guide to PICS Exposed Aggregate Concrete System
April 2021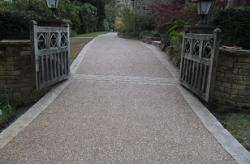 PICS Exposed Aggregate concrete system is a decorative concrete finish achieved by carefully selecting the aggregate colour and internal Colourmix to be added to the concrete mix to ensure a uniform colour from slab to slab. The aggregate is then revealed both by first removing the top 1-4mm of the concrete cement matrix by a washing-off process. This product is aimed at all aspects of paving, both decorative and commercial applications, and is often combined with pattern imprinted or other decorative finishes. With minimal maintenance, PICS exposed aggregate is a more durable and hard-wearing alternative to some resin bonded or bound systems.

Full guide link – Pattern Imprinted Concrete website.