Greenbarnes Lectern, Wall & Post-Mounted Signs
March 2021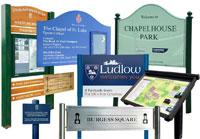 Greenbarnes Lectern, Wall & Post-Mounted Signs

Although starting with a primary focus on the manufacture of noticeboards, it soon became apparent that many of our church, school and local authority customers also had a need for high quality, realistically priced signage.

As a result of this demand, over the ensuing years we have built up not only an extensive catalogue of standard, off-the-peg designs to cater for most common applications, but also a varied portfolio of bespoke projects covering signs, interpretation and wayfinding.

A vast selection of signs, encompassing lectern-mounted information and interpretation panels, aluminium signs (both basic flat plate and more stylish "sign tray" types) and aluminium fingerposts is available here for browsing, specifying and buying directly online.

If you cannot find exactly what you are looking for there, or you are just seeking inspiration, then why not try browsing through our user-specific galleries for churches, local authorities and schools? Here you will find illustrations not only of examples of our standard signs in everyday use, but also of some of the bespoke signs that we have created to meet the specific requirements of individual customers and markets worldwide. Its transits protect people and assets from multiple hazards, and are renowned for their durability, reliability and flexibility. They are also widely used to seal pipe and cable entry points within the manufacturing, power, infrastructure and process industries.