Storing your car collection with our SingleUp 3015
November 2020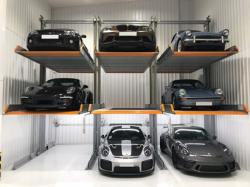 The Klaus SingleUp 3015 is a real towering stacker system. If sufficient head height is available it accommodates three mid-size vehicles in a very confined space. It is ideal for car dealerships or a vintage car collection such as our recent installation for our client based in Jersey, Channel Islands.


All the parking spaces have a generous height of up to 180 cm. The entire construction is robust and low-maintenance. All of the system's parking spaces are accessed from below. The lower parking space must be empty before the upper platforms can be lowered and used. Therefore, the upper platforms are ideal for long-term parking, e.g. display vehicles, while the lower parking space can be accessed at any time for short-term parking.