AXIS - Healthcare Doors: Never a simple 'open-and-shut' case!
November 2020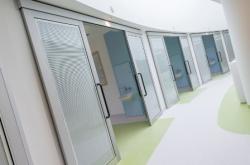 Healthcare Doors: Never a simple 'open-and-shut' case!

New build and refurbishment projects for the UK healthcare sector are some of the most challenging around – seldom straightforward and always requiring expert knowledge and understanding for every aspect and phase.

Doors are no exception. The range and choice of doors for the healthcare sector is huge and includes doors for:

Building & Department Entrances
Treatment Rooms
Consulting Rooms
Operating Theatres
X-Ray and Scan Rooms
Wards
Waiting Areas
Corridors & Storage Rooms
Offices
Recreational Rooms
Kitchens & Canteens
And More Besides

Aesthetics and Function

As well as the need to be aesthetically pleasing and in keeping with the environment, each type of door has specific functional requirements, dictated by the type and frequency of the traffic passing through the door and of course what or who lies behind or beyond each door.
The permutations and requirements are endless.

And that's why healthcare organisations rely on the world class expertise, experience and product portfolio of Axis Entrance Systems.