Greenbarnes Poster Cases & Snap Frames in MmT
September 2020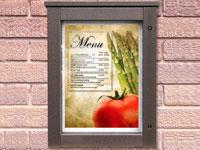 Greenbarnes Poster Cases & Snap Frames in MmT

Greenbarnes offers buyers the most comprehensive selection of noticeboards and poster cases available from a single source anywhere in the UK and guides users through the process of customising boards in a wide variety of ways to fit their exact needs, whilst at the same time showing the cost of each choice as it is made.

This unique tool allows potential customers to create, store, pricing and compare multiple specifications, ensuring that you have made all the information necessary to make an informed choice.

External, lockable, poster cases in Man-made Timber
For locations where the usual aluminium poster frame just won't do, but where ongoing maintenance is an issue, our Man-made Timber Smallboards, made from recycled plastic provide a unique and durable solution.

Combining New Materials with Traditional Looks
Man-made Timber is a recycled plastic material with a dark brown, textured finish, and an appearance closely resembling that of natural timber. Unlike real timber however, it will not rot, warp or split and requires no ongoing maintenance other than the occasional wipe over to keep it looking its best, thus ensuring very attractive levels of "whole-of-life" cost when compared to alternative products. MmT cases are also ideal for use in marine environments.

Well Considered Details
There is more to our MmT poster cases than just the framing material however. These cases are a result of over 25 years experience of building notice boards and poster cases, so whether it is the self-healing rubber pinboard (from which pin holes disappear), the stainless steel piano hinge or the neat and compact fasteners that keep the door closed tightly against the integral weather seal, you can rest assured that every detail has been not only thoroughly considered but has also stood the test of time.

To explore the possibilities, specify a case or even buy it online, just click on the "Buy" button. Our interactive tools will guide you through the process with help available at the tip of your cursor wherever you see the ? symbol. You can stop and start the process at any point and once you have saved a case you can log back in using only your email address you pick up where you left off. You are not committed to buying and we won't harass you with emails of phone calls – so why not give it a try?